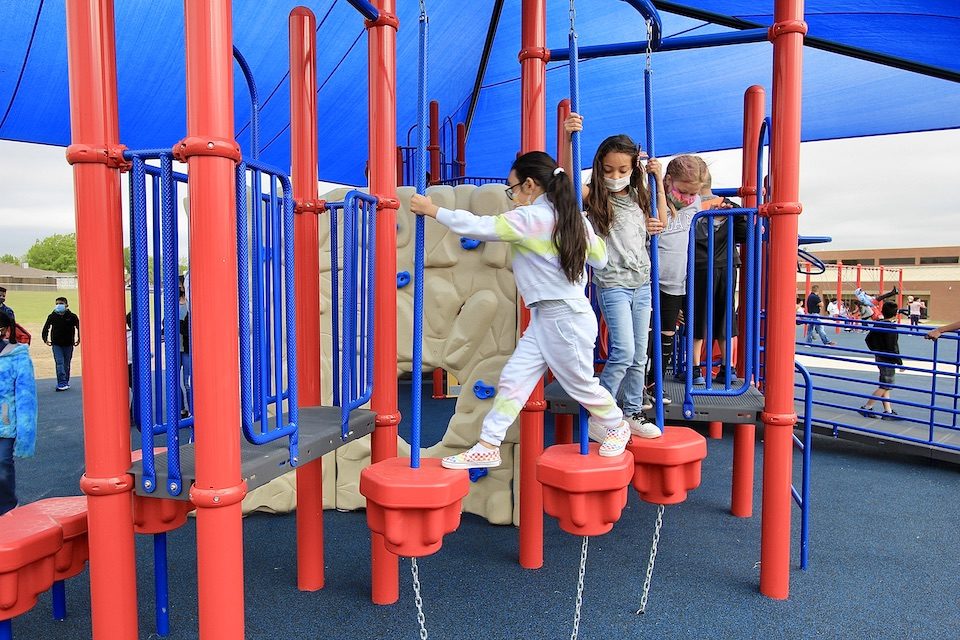 Playgrounds funded by 2019 Bond
The dark ominous clouds and gusty winds couldn't dampen the students' enthusiasm Wednesday morning as they filed outside. Their face masks failed to hide the anticipation in their eyes or their excited chatter.
A teacher rolled out a speaker blaring music that did match the mood … "I'm walking on sunshine, whoa …"
"I like it," one young student said out loud as he walked past the brand new playgrounds and took his place with every other Bebensee Elementary student.
Corey Robinson, the Arlington ISD project manager who oversaw the installation of the new playgrounds, overheard.
"What do you like best?" Robinson asked the student.
"Everything!" he yelled back.
Indeed, there's a lot to love about Bebensee's two new playgrounds, funded by the 2019 Bond.
The playgrounds are designed to serve all students – all ages and all accessibility levels – and Principal Charlotte Carter made sure every student got to participate in the excitement of christening the new playgrounds.
All of Bebensee watched – including virtual students as teachers Zoomed them in by holding up their laptops – as eight students cut the construction tape surrounding the playgrounds and officially opened them for business.
And then the students got down to business, putting the playgrounds to good use, smiling, laughing, running, climbing, swinging, sliding and yelling their approval.
New playgrounds for every elementary
Bebensee is the second district elementary to open new playgrounds funded by the 2019 Bond. Pearcy STEM Academy christened its last month. They are just the first two schools.
Thanks to the support of the Arlington community, the bond is funding two new playgrounds for all 55 district elementary schools, one for pre-K through first grade, and the other for second through sixth grade. The playgrounds include shade structures, accessible play equipment and rubber surfaces. While the equipment is standard from campus to campus, schools get to make their own color selections.
"Of all the things I get to do, opening an accessible playground has to be the highlight," said Kelly Horn, Arlington ISD executive director of Facility Services. "For all the kids to be able to play really makes your heart feel good."
The playgrounds are being installed in three phases, with 17 elementary schools in phase one.
Up next is Ashworth Elementary, opening later this month.