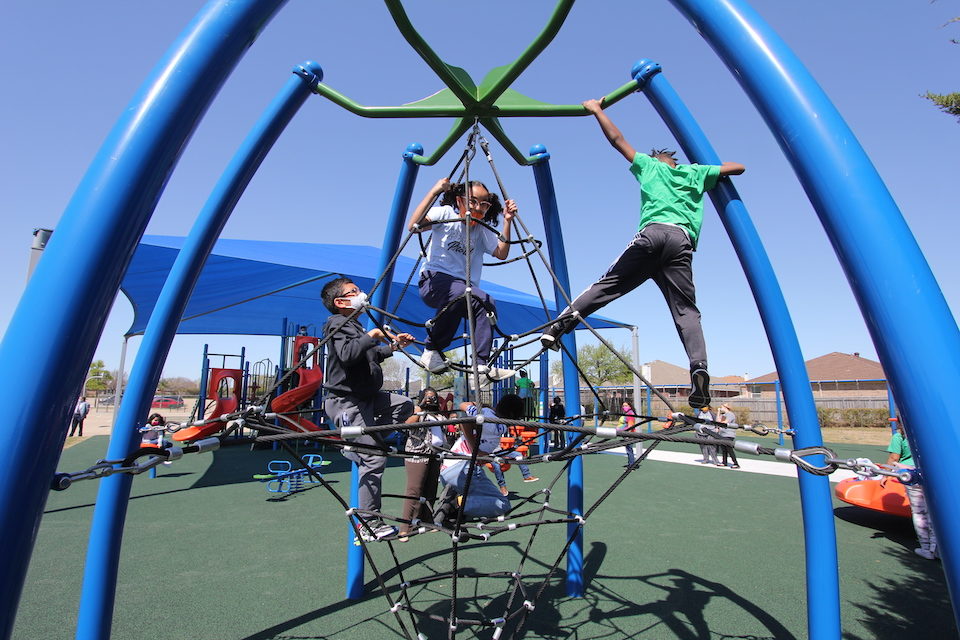 Third graders rush playground after ribbon cutting
The third-grader practically flew up the stairs toward the twisting slide.
"Oh my goodness!" she said, streaming her thoughts aloud. "This is awesome! Awesome. So many choices!"
Moments earlier, Pearcy STEM Academy Principal Codi Van Duzee, flanked by Arlington ISD Superintendent Dr. Marcelo Cavazos, snipped the caution tape surrounding the brand-new playground with a pair of oversized scissors. The class of third graders watching nearby cheered and then rushed to their new digs.
The new playground at Pearcy is thanks to the support of Arlington's taxpayers who approved the 2019 Bond in November 2019.
The bond is funding two new playgrounds for each district elementary, one for pre-K through first grade, and the other for second through sixth grade. The playgrounds include shade structures, accessible play equipment and rubber surfaces. While the equipment is standard from campus to campus, schools get to make their own color selections.
Pearcy's playgrounds are the first in the district to open and are already a hit on day one.
"There are so many different elements on the playground that are exciting," Van Duzee said. "There are so many different things that the students have never had before. This is going to hold their interest."
Erynn, a third-grader, agrees. When asked what her favorite part of the playground is, she found it hard to decide.
"The merry-go-round," Erynn said, pointing in its direction, "and that," she said, pointing to a teeter-totter. "And the wiggly things over there. And the lemonade stand."
She might have added more to her list, but she needed to get back to spinning on the spinning chair with her eyes closed.
Accessible
One of the most important features of these playgrounds is their accessibility, from the rubber surface to the equipment.
"I am thrilled that they are ADA accessible," Van Duzee said. "The pea gravel and stairs of the previous playgrounds meant that children in wheelchairs or on crutches couldn't play with their friends, but our new playgrounds have a smooth ground surface and ramps to make the equipment accessible to all."
Careful planning went into the design of the new playgrounds to make sure they will serve every child in the district.
"Of all the things I get to do, opening an accessible playground has to be the highlight," said Kelly Horn, Arlington ISD executive director of Facility Services. "For all the kids to be able to play really makes your heart feel good."
More playgrounds coming soon
The playgrounds are being installed in three phases, with 17 elementary schools in phase one. Pearcy led the way, and now Ashworth's and Bebensee's new playgrounds are almost ready as well, with a number of others not far behind.
To stay up to date on all of the 2019 Bond projects underway, or to see what's happening and your child's school, visit Bond2019.