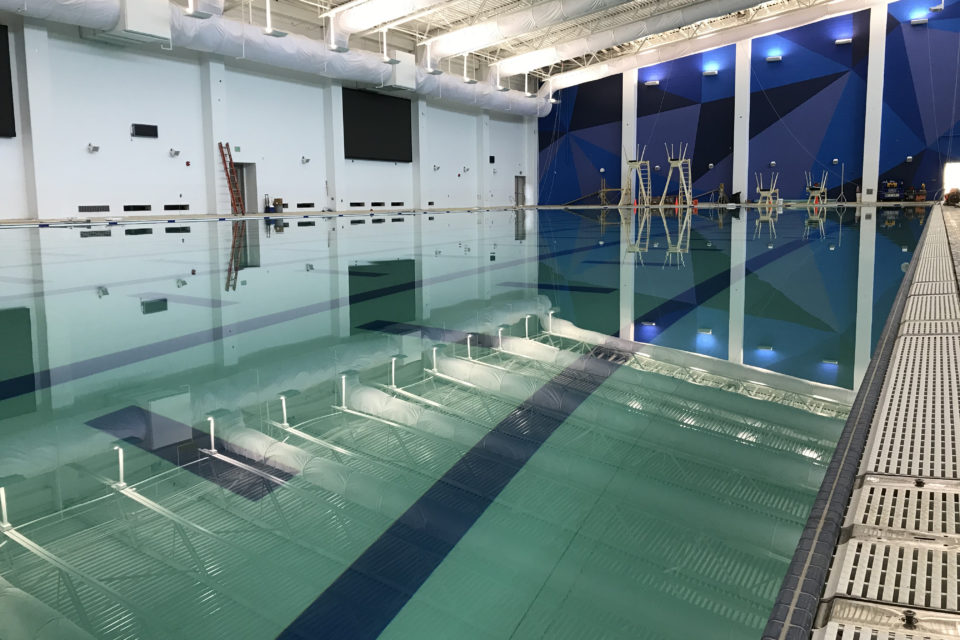 New Arts & Athletics Complex nears completion
It took several days to fill all the way, but Arlington ISD's new pool in the soon-to-open Athletics Center is now full of water! The diving boards are now being installed as the natatorium gets closer to welcoming the district's swimmers and divers.
See the pool fill up.
The first-ever natatorium for the Arlington ISD includes the 50-meter pool with moveable bulkheads, a diving area, warm-up pool and seating for 1,000 spectators. Part of the district's new Athletics Center, a 2014 Bond project, the facility includes the natatorium and an arena for basketball, volleyball, wrestling and elementary gymnastics.
Right next door to the Athletics Center is the district's future Center for Visual and Performing Arts. The CVPA is also opening this fall as the final stages of construction wrap up. The new facility will serve the entire district, grades Pre-K-through-12, with world-class performance and demonstration venues. It includes a 1,250-seat concert hall, 425-seat theater, classroom space, art and dance studios, instrument repair center and art gallery.
Watch this time-lapse video of the construction of both new facilities as they go from the ground up to nearly complete.
See the latest construction progress photos of the AC and the CVPA.
The two facilities, which comprise the Arlington ISD Arts and Athletics Complex, is located in Arlington's Entertainment District next to AT&T Stadium.