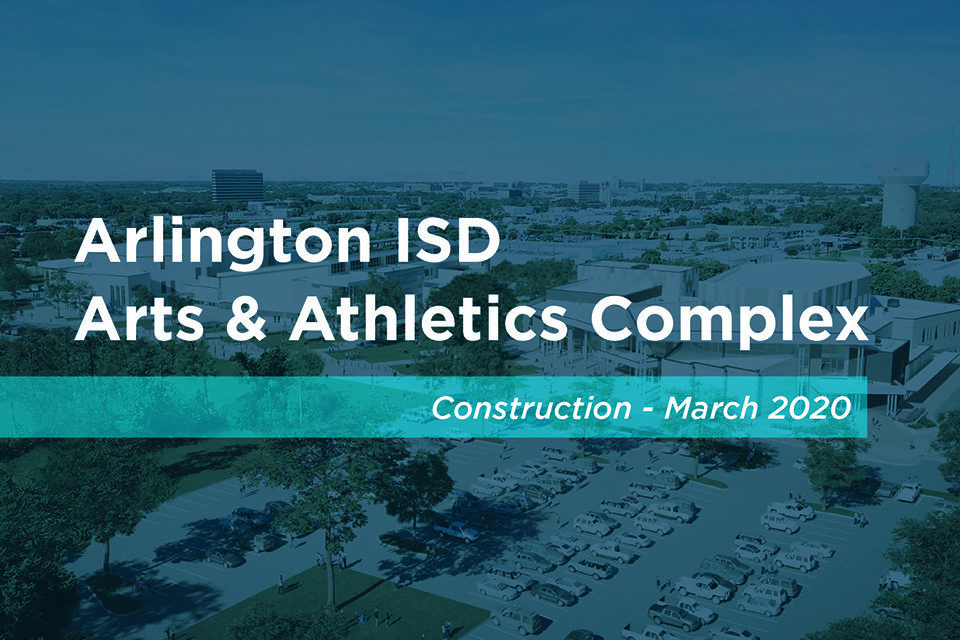 The Arlington ISD's future Arts and Athletics Complex, which includes the Center for Visual and Performing Arts and the Athletics Center, are still on track to open early fall 2020. Roofing is almost complete and construction crews are getting close to getting the buildings dried in. 
Check out the construction highlight video below, which includes time-lapse photos, aerial pictures and video inside the two facilities.
 
 
The Center for Visual and Performing Arts will serve the entire district, grades prekindergarten-12, with world-class performance and demonstration venues. It will include a 1,250-seat concert hall, 425-seat theater, classroom space, art and dance studios, instrument repair center and art gallery.
The Athletics Center will give the district its first-ever natatorium. The natatorium will include a 50-meter pool with moveable bulkheads, a diving area, warm-up pool and seating for 1,000 spectators. In addition to the natatorium, the Athletics Center will house a 1,200-seat arena for competition wrestling, basketball and volleyball. The space will also be used for a new elementary gymnastics program.
Peek inside the Arts & Athletics Complex construction video for an inside look!
Arlington ISD is committed to growing whole and well-rounded young adults who are prepared to excel in college, career and beyond. The district's mission is that every one of its more than 57,000 students will graduate exceptionally prepared for college, career and citizenship. With top educators, an outstanding core curriculum, a growing number of specialized programs and state-of-the-art facilities, the opportunities for all students from pre-K through high school are endless.