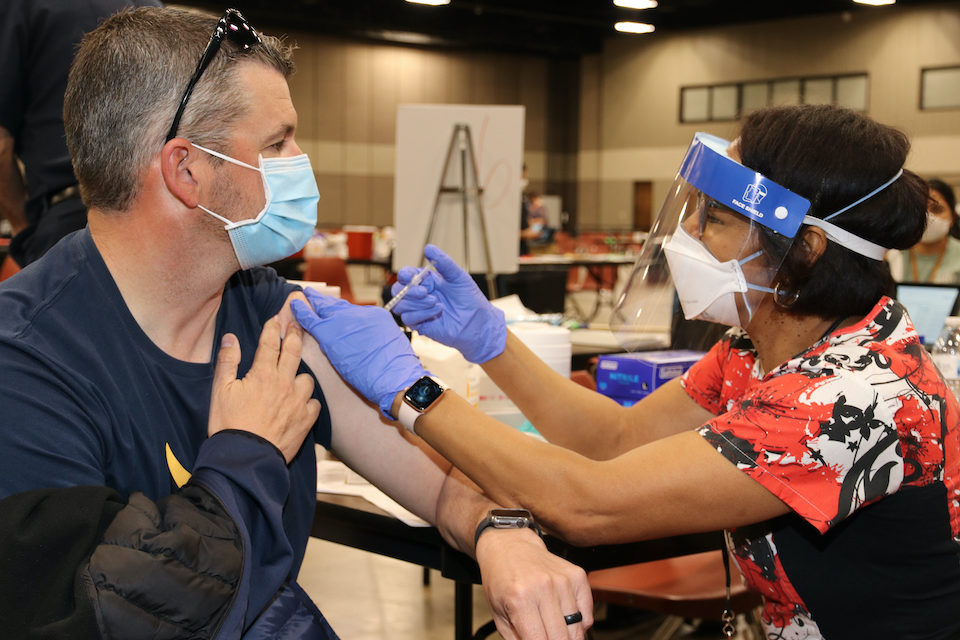 Employees get one-dose Johnson & Johnson shot
There are thousands of sore arms in the Arlington ISD today. More than 2,600 to be precise.
That's because all Arlington ISD employees, including substitute teachers and part-time workers, were given the opportunity to get the one-dose COVID-19 Johnson & Johnson vaccine yesterday. The mass vaccinations came thanks to a partnership with the Arlington Fire Department and were administered at Arlington's ESports Stadium.
"It was a great day for the Arlington ISD," said Arlington ISD Superintendent Dr. Marcelo Cavazos. "There were so many smiling employees who were happy to be able to take another step in the fight against the pandemic. None of it would have been possible without so many great partners who came together to help our district."
It was an all-hands-on-deck operation that included dozens of district personnel, from Cavazos to district security officers, bus drivers, school nurses and more, along with fire department employees, police officers and U.S. Marines, who all worked together to shepherd the 2,600+ district employees swiftly through the process. For most employees, it took less than an hour to park at either the district's new Arts and Athletics Complex or AT&T Stadium, ride a district school bus to the ESports Stadium, disembark, enter the building, get their temperature taken, get directed to a table where the shot was given, wait 15 minutes to ensure no significant side effects, and then hop on another bus back to their car.
For Kristal Reedom, who works in food service at Pearcy STEM Academy, the ease of the process helped calm nerves.
"I was very nervous at first, but everything seemed to be running very smooth, so that's a good thing."
Within 20 minutes, Reedom had parked and been vaccinated and was already waiting her 15 minutes before she could leave.
"I'm relieved and just hope I don't get any side effects."
For Sommer Saad, the STEM lab manager at Johns Elementary, the vaccine isn't just about protecting her health.
"It wasn't just for me. It was for the kids and for my family."
She knows this will help protect the elderly in her family and the students in her classes. Saad visits every classroom each week to do STEM lessons and can't wait to get back to doing group activities with the students.
"It's nice to know we're one step closer to being back to normal," she said.
Getting us closer to normal is why Cherilyn Powell, the school nurse at McNutt Elementary, was one of several district nurses who joined the fire department staff in administering shots.
"I really feel strongly about service," said Powell, a nurse for 25 years and a military veteran.
Powell wants to remove "the burden on the students' shoulders" so they can all get back to school.
"It's a calling, a blessing and a privilege to help my community," she said. "If they would say we're doing this again tomorrow, I'm in."