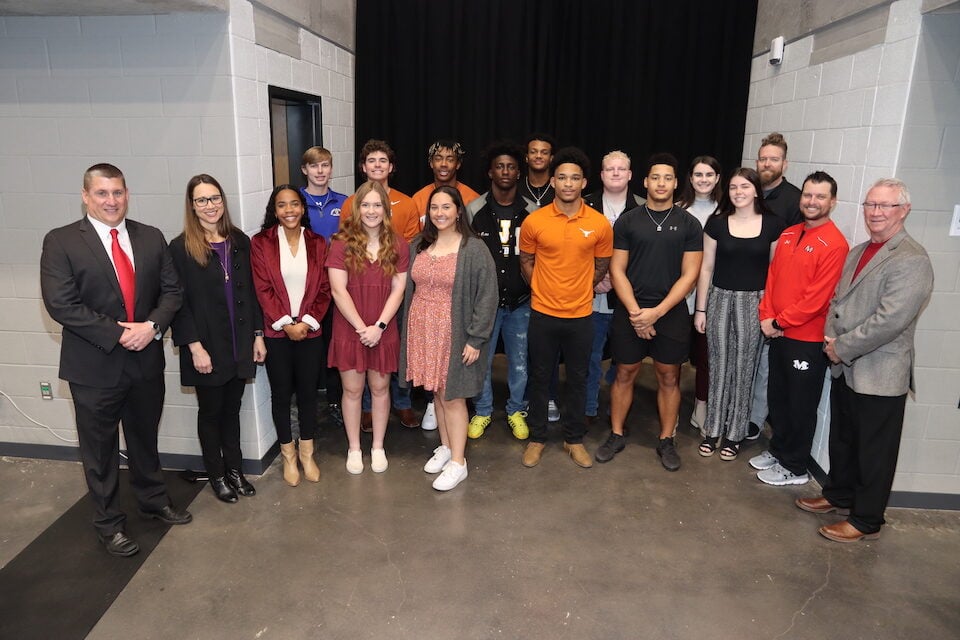 Follow your dreams!
Promise and perseverance were on full display at Arlington ISD's National Signing Day ceremony Wednesday morning. More than 40 students representing all six traditional high schools gathered at the Arlington ISD Athletics Complex before family, friends, coaches and administrators to celebrate a milestone moment in their lives.
"Today, for me, meant that anything can be possible," Sam Houston High School senior Perla Flores said. "To see everyone here, all these students, we were able to accomplish something. Looking around the room, I was able to see that every single person is able to go somewhere. We all have so many opportunities."
Flores is headed to Midwestern State University on a track/cross country scholarship. The 44 students from nine different sports recognized are heading to 35 colleges and universities on athletic scholarships totaling $1.9 million, according to Arlington ISD officials.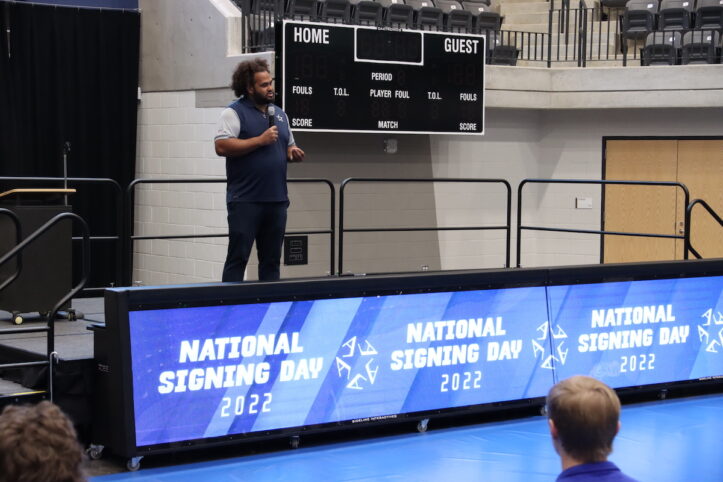 Former Dallas Cowboys lineman and guest speaker Joe Looney addressed the students, sharing memories of his journey, as well as the road that lies ahead for those taking the next step in their athletic and academic careers.
"I wanted to tell them that while college is a fun experience, make sure you take it serious," said Looney, who played for the Cowboys from 2016-21 before retiring. "There are also lots of distractions that can get you out there. I wanted to give them some wise words.
"It was amazing today to reminisce and think about the past. They have so much ahead of them. The opportunity they have is so great. They put themselves in such a wonderful position. It's great to see these young people taking advantage of their opportunities."
Know your why
Seguin High School football player Quinton Harris reflected on hard work and dedication that went into Signing Day.
"To see a lot of the athletes in our area moving on to bigger and better things warms my heart," Harris said. "Everyone is going up to the next level and going to make themselves proud and be a better person in life."
Dealing with the loss of his father in March 2020, the TCU signee has strived to honor his memory and make a positive impact in all facets of his life.
"He's always been my drive to go harder and be the better man," Harris said of his father. "My brothers were good athletes, and they went through all this, and my dad always taught me to keep focused. His last words were to make my mom proud. I want to make him proud. Hopefully, I can continue to do that for him. That's what got me to this point."
You make Arlington ISD proud  
This Signing Day class has dealt with several challenges throughout high school that could have derailed their aspirations. Coming out on the other side is a testament to their strength and resolve.
"National Signing Day is one of my favorite days of the year," Arlington High School football coach Scott Peach said. "We get to celebrate the accomplishments of our senior athletes who get a chance to move on and accomplish great things in their lives. We're very proud to have a small part of that.
"I think with this group it's even more special because the challenges that this group has had to face with COVID and Omicron. It's been easy for our youth across the country to just sit at home and not move forward in life. For all these young people to make the decision to fight and to work hard to chase their dreams and do it during a pandemic is incredible."