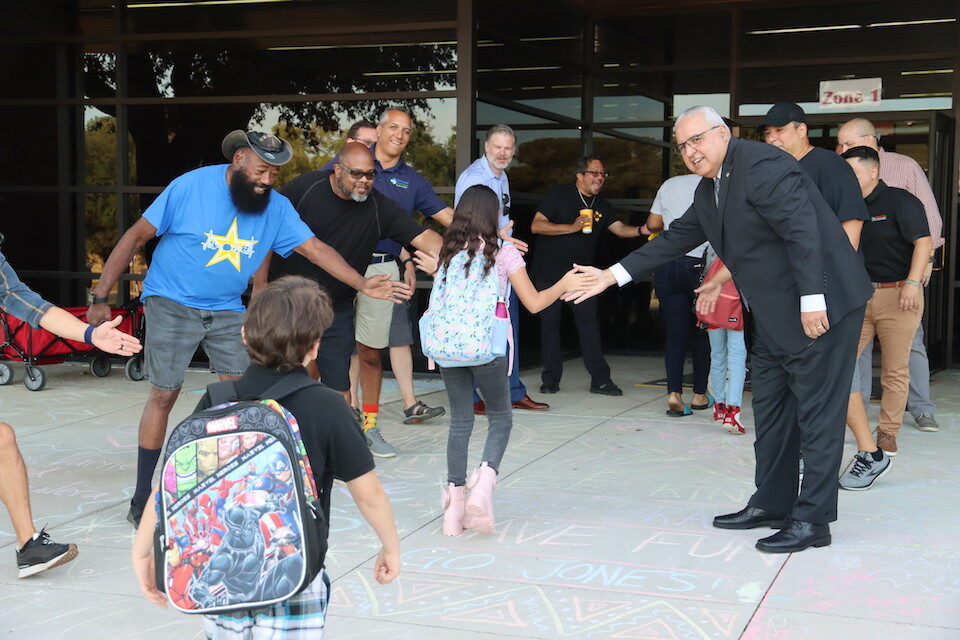 It was a great first day
Arlington ISD Superintendent Dr. Marcelo Cavazos traveled across the district Monday to see how the first day of school was going. His tour of six schools required 40 miles of driving and included 19 classroom visits, five Facebook Lives and even one PTA meeting.
What did he find?
It was a super first day. And apparently, the macaroni and cheese in the cafeteria is pretty good. 
There were lots of highlights, from pre-K to high school, but here are just a few from each of the six schools on the tour.
Jones Academy of Fine Arts and Dual Language
Dr. Cavazos started the day by joining Jones' dads as they clapped in the new and returning students at the front door. Then he went to a kindergarten class where many of the first-time students were feeling nervous.
Except one. Cavazos stopped to help him with a puzzle, but it turned out he didn't really need help. And he happens to be a comedian.
"What's an alligator's favorite food," the kindergartener asked Cavazos, who had no idea.
"Gator tots. It's derived from tater tots," he explained to the superintendent.
See the super first day photos.
Crow Leadership Academy
Nothing makes a first day great like new playgrounds, especially the ones that just opened at Crow. That's the lesson Cavazos learned at the leadership academy.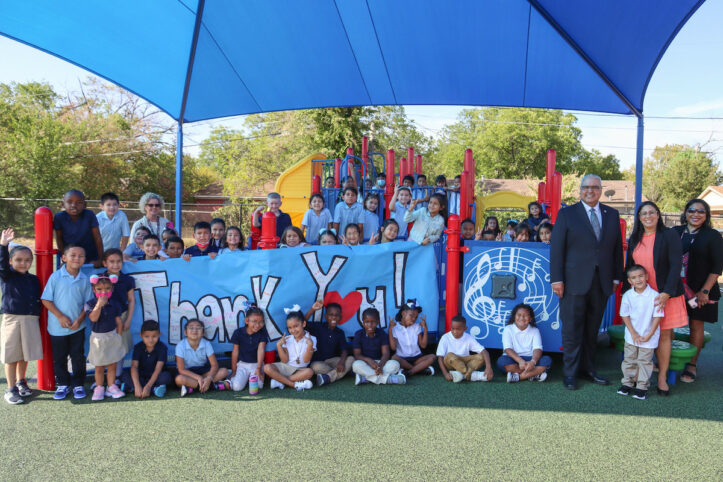 When he explained to a second-grade class what his job is, one boy named Ian asked, "So you're the one who made them build a new playground?"
Cavazos was suddenly the big man on campus.
"Thank you! It's much better!" Ian shouted over a host of students' excited exclamations. "It's like three playgrounds in one!"
"The playgrounds are the only reason I came to school," another student said.
"Are you like the president," another asked. "Have you met Joe Biden?"
Lamar High School
Cavazos started his visit at Lamar with a class of ninth graders in the new Lamar P-TECH program. The early college program has 126 students from across the district and will prepare them for careers in cybersecurity and business.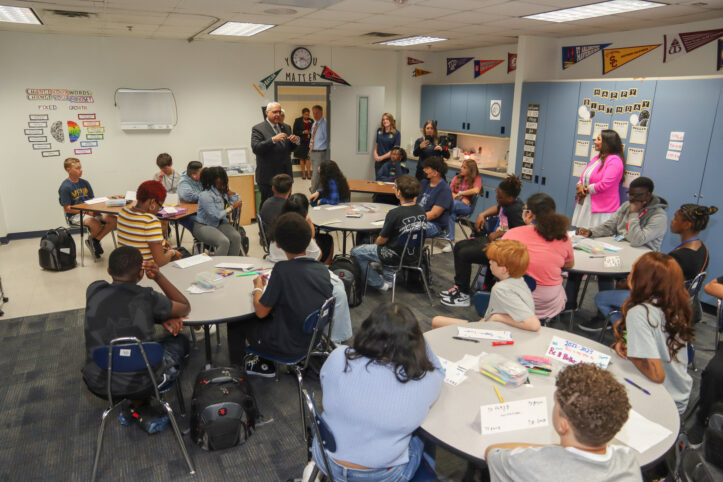 Cavazos always gives the students a chance to ask him questions, and the P-TECH students had some good ones. One girl asked how he handles stress.
"What do you do when you have a lot on your plate?" she asked.
Cavazos admitted his job as superintendent is stressful but that he gets a lot of joy out of it because he loves it.
"I remember my purpose," he said. "Always return to your purpose."
His purpose, he said, is the students. And his job is to ensure they all have an exceptional learning experience and graduate prepared for the next stage in their lives.
Ditto Elementary
Playgrounds were an important topic of conversation at Ditto, too. After most students in a first-grade class told Cavazos that the best part of their day had been recess, one asked a serious question.
"Why does there have to be a new playground?" he asked.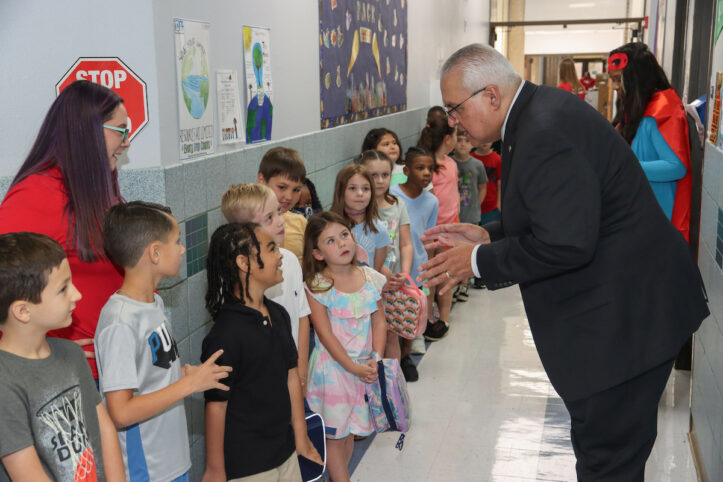 The student was concerned because demolition of the current Ditto playgrounds started yesterday. And even though they enjoyed recess, the students hadn't been able to use the playground.
Cavazos explained that the new playgrounds, coming in October, will be better, with shade structures and soft surfaces.
"No more rocks?!" one student asked about the pea gravel.
No more rocks.
"Whoopee!" he shouted.
Even without a playground for the first day, it was still fun thanks to Principal Bell Williams and her staff. Dressed like a superhero, complete with a cape, Williams talked about how much she loves the first day.
"It's a true celebration and we try to make it that way for our students," she said. We set the tone on the first day … We want our students to know they are loved and cared for."
Ousley Junior High
The junior high students at Ousley didn't have as much to say as the elementary students, but they admitted to Cavazos that they were having a good day. And in each class Cavazos visited, they offered the same reason for why it was so good.
The teachers.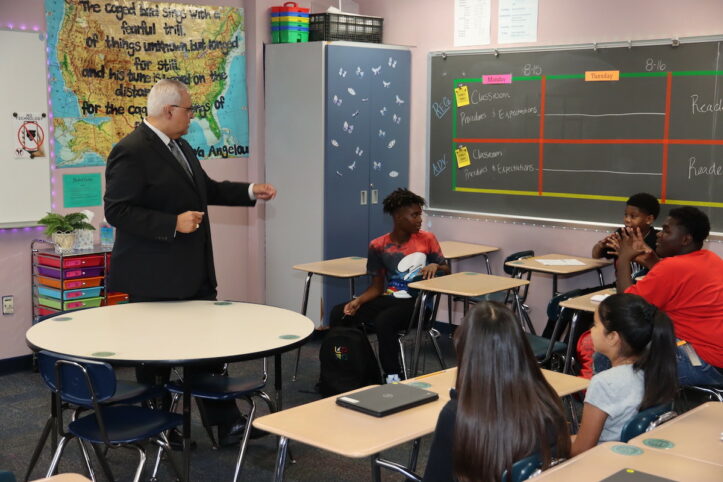 "The teachers are very welcoming," said Raniya, an eighth grader and aspiring attorney.
But then one eighth grader steered the conversation in an entirely different direction.
"Sauce," Trustin said when Cavazos asked the students if they had any questions.
Then he clarified. "We need some better sauce at lunch. Barbecue or honey mustard."
"Sweet and sour, too," another student said.
Pearcy STEM Academy
It was getting close to the end of the day when Cavazos reached Pearcy, but teachers and students were still going strong and having fun.
In Ms. Vasquez' fourth-grade class, students were engaged in a group challenge to build skyscrapers out of index cards. They were already beginning to learn about engineering principles.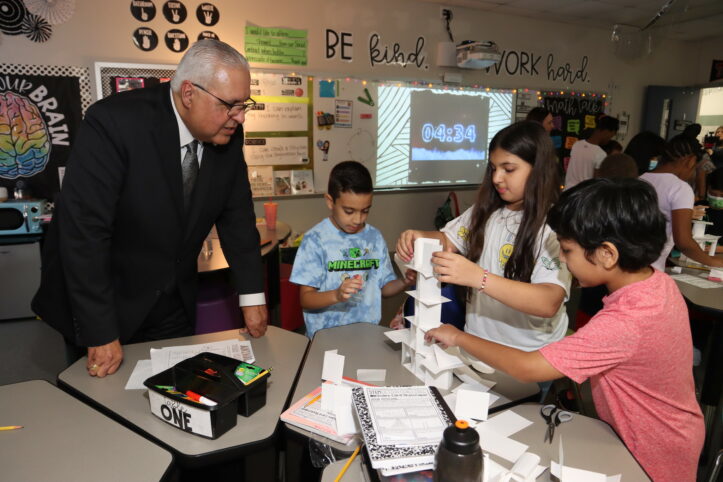 And in Mrs. Lase's English class, Cavazos joined in an activity called snowball writing. Each student – and Cavazos – had a paper with three writing prompts. They would answer a prompt – with complete sentences – then crumple up their paper into a snowball and throw it at a bullseye on the board. Then they would pick up someone else's snowball, unfold it and answer the next prompt. After three rounds, Cavazos read to the class what he had written for his third prompt: "What fictional character would you like to be?"
"Charlie Brown," Cavazos said.
He went on to explain that Charlie Brown has a lot of interesting friends, is a good guy, and though he doesn't often win, he always perseveres.
That's when a student raised his hand.
"But doesn't Charlie Brown always get pummeled in the end?" he said.
Super Fun Day
Every school was different and unique. But one thing was the same all around.
It was a super fun day full of great students and great teachers.
And Cavazos had a similar message for all of them. He offered encouragement and thanks in every classroom he visited.
"You're exceptional fourth graders," he told Ms. Vasquez's class at Pearcy. "You have a great teacher and you're going to have a great year. Thank you for being great students."