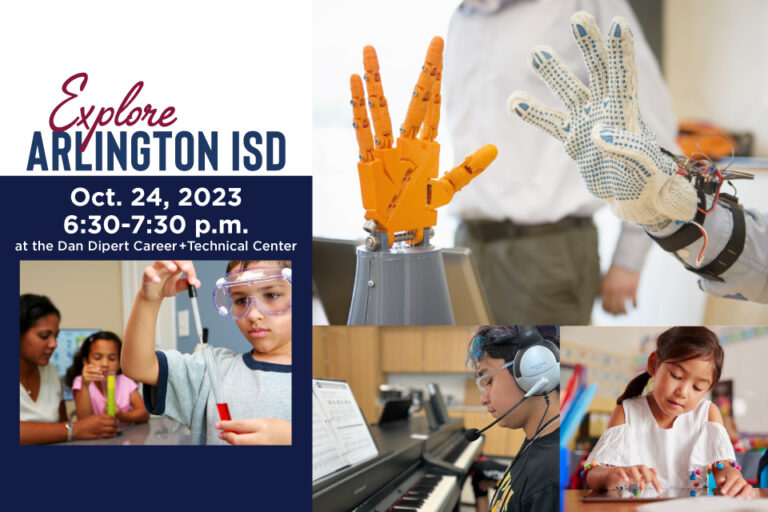 Circle your calendars for Tuesday, Oct. 24.
That's when the window for enrolling students for specialized programs for the 2023-24 school year opens.
And what better way to kick off that window than with a big event? And this year's Explore Arlington ISD is bigger than ever.
That's what happens when you continue to provide new opportunities for students.
This year's Explore Arlington ISD in-person event is slated for Tuesday, Oct. 24, from 6:30-7:30 p.m. at the Dan Dipert Career and Technical Center.
EXPLORE NEW OPPORTUNITIES
Explore Arlington ISD gives students and parents a chance to find out about all the specialized programs the district offers. For the 2023-24 school year, that will include another option as students in our fine arts and dual language junior high can continue to pursue their passion at Arlington High School and Fine Arts and Dual Language Academy. The school will welcome freshman FADL students in the fall of 2024.
That just continues a tradition of choices in the district. Last year we added two new Pathways in Technology (P-TECH) early college high schools at Sam Houston and Seguin high schools, giving the district four P-TECH options for students.
Explore Arlington ISD will also give parents and students a chance to talk to representatives from Corey and Jones academies of fine arts and dual languages, Crow Leadership Academy, Pearcy STEM Academy, Wimbish World Language Academy, Gunn Junior High and Fine Arts and Dual Language Academy, Arlington College and Career High School, Arlington Collegiate High School, the STEM Academy at Martin High School as well as our four P-TECH schools.
Representatives from the Center for Visual and Performing Arts will be there as well. Plus, you can get questions answered about everything from pre-K to advanced academics.
APPLICATION WINDOW OPENS OCT. 24
Explore Arlington ISD marks the opening of the application window for our specialized programs. That window opens at noon on Oct. 24 and closes on Jan. 17, 2023, at 5 p.m.
Register to attend Explore Arlington ISD here.