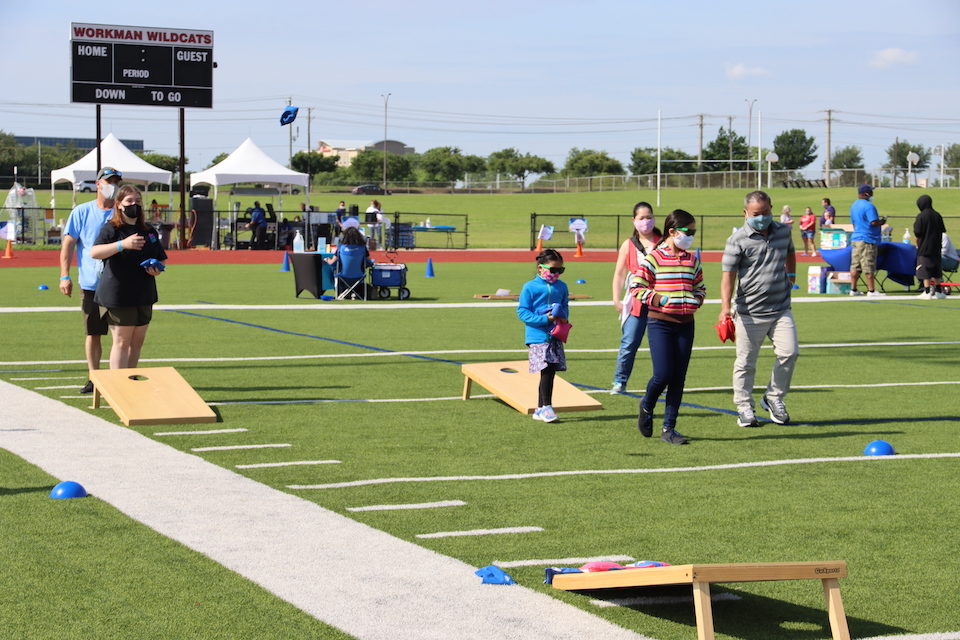 Live music, games and more!
While Arlington ISD high school students were engaged in an esports tournament with Arlington Police Department officers at the Esports Stadium Arlington, a bunch of younger students and kids were hanging out with their dads and families at a football field in central Arlington.
After a year away due to COVID-19, Father FEST was back on Saturday at the Workman Junior High football field. With entertainment from an Arlington ISD staff band, Jane's Dance Studio and the Asian Dragon Dance Team, plus games and activities for the whole family, the wait was worth it.
The fun and free hot dogs also came with a lot of resources to help parents get ready for the summer. Free vision screenings, YMCA and summer camp information, exercise tips and more made the event educational as well.
"Father FEST 2021 was another great success!" said Eric Phillips, Arlington ISD family engagement specialist. "We had great weather, an awesome turnout, superb entertainment with tasty food. Families really enjoyed themselves and took advantage of all the resources and opportunities that were offered by all of our community partners. It was exciting to have this event back in person to see and interact with our Arlington ISD families while providing  them tools for a successful summer." 
Father FEST is an initiative of Arlington ISD Dads Engaged for Excellence, a program designed to encourage dads, uncles, brothers and all adult males to serve as positive role models and become more active in their students' education.
Learn more at aisd.net/dads.