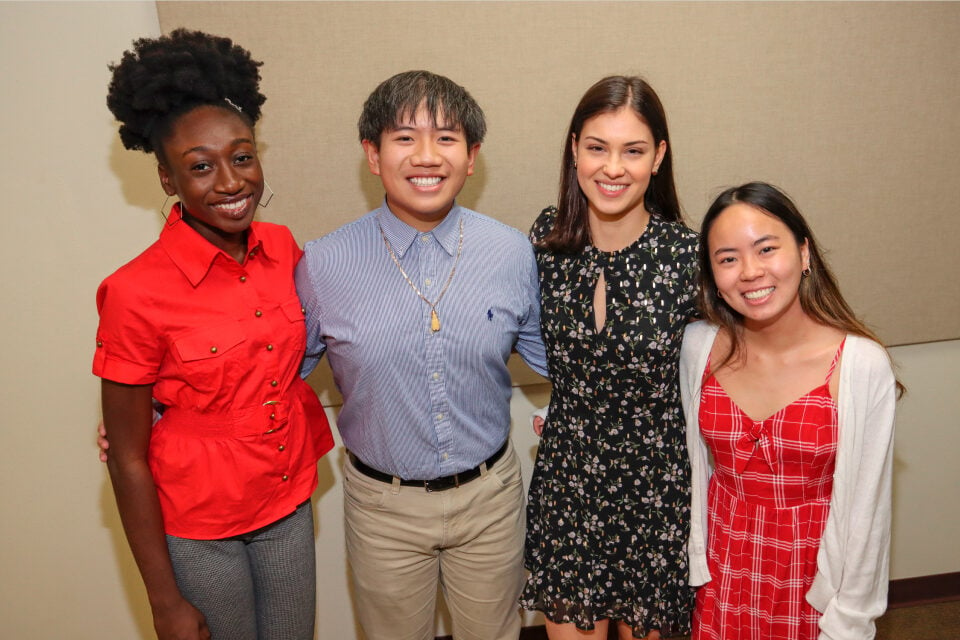 Once Nicole Tacconi starts her freshman year at Princeton University, she won't have far to go to find some familiar faces.
Tacconi, who is graduating from Martin High School and has been at the STEM Academy, can take a train to New Haven, Conn., to visit with Renee Antwi, who is graduating from Sam Houston High School and then heading to Yale University.
If the two of them need a little more company, they can drive together for a couple of hours to Boston, where they can visit with Kerry Nguyen or Jennifer Nguyen. Kerry Nguyen is Sam Houston's valedictorian and will study at Harvard alongside Jennifer Nguyen, another product of the district's STEM Academy at Martin and the school's valedictorian.
It's been that kind of year for the district. The Arlington ISD has four students, each of them in the top 2% of their graduating class, headed to Ivy League colleges this fall. All three of the prestigious universities have acceptance rates of less than 7%. Of course, that doesn't factor in the Arlington ISD!
"I never really understood the weight of being accepted at an Ivy League school," said Kerry Nguyen. "I know it means we all worked hard to get to this point. I don't think I really understood everything that was involved."
The Ivy League road for each of the Arlington ISD scholars couldn't have been more different, yet they will all be there this fall.       
"I know that each of us that got in truly deserves it," Kerry Nguyen said.
Princeton
Tacconi, who went to Ditto Elementary and Young Junior High before Martin, didn't apply to very many colleges. When it got serious, her focus was on Princeton, fellow Ivy League school Cornell and the University of Texas.
But once she found out a little more about Princeton, she was sold. She wasn't sure she'd get in, but she wanted to give it a shot. She feels like she hit the mark.
"Something I really loved about Princeton was the close community it has," said Tacconi, who plans to study architecture or computer science. "Even with the dorms, like 99% of students live in the dorms all four years. The class sizes are incredibly small, like 20 kids or less. Princeton is also very liberal arts focused. I wanted a well-rounded education and Princeton lets me combine my passions."
Tacconi also likes the fact that Princeton has a focus on service. That suits her because she loves to connect with people.
Now that she's in, she has realized the accomplishment of getting accepted to such a prestigious school.
"If you haven't been through the application process, people don't know how hard it is," she said. "I know a lot of smart kids who don't get in. Everyone is extremely happy for me. I have a lot of support and encouragement."           
Harvard
Jennifer Nguyen, Tacconi's classmate, loved the application process. She even put together a spreadsheet of essay topics because she was applying to so many schools.
How many? Well Harvard, Yale, Princeton, Columbia, Cornell, MIT and Stanford, just to name a few. What else did all those schools have in common? They all wanted Jennifer Nguyen to go to their college.
While that's amazing, the college acceptance journey for Jennifer Nguyen didn't start off so well, as UCLA and Brown both waitlisted her. And those were the first two schools she heard from.
"After I opened the first letter, I was a little discouraged," Jennifer Nguyen said.
But she didn't need to be, as the acceptance letters started rolling in. Jennifer Nguyen narrowed her choices to Harvard and Stanford before deciding to go east.
"Harvard had the best financial aid package, but Stanford was almost dead even," said Jennifer Nguyen, who began her Arlington ISD career in pre-K at Williams Elementary. "Harvard has a really strong STEM school. I wanted a well-rounded education at a liberal arts school."
So, when Ivy Day, which is when Ivy League schools make their admission announcements, rolled around, Jennifer and her mom were a little anxious.
"It was just me and my mom and we casually opened things," she said. "I wasn't super hopeful. I opened Harvard last, and it was crazy. After receiving the news, I waited until the financial aid came out. I knew I wanted to go there. I was hoping the financial aid would match up and it did."       
Harvard, too
Kerry Nguyen, who is also Harvard bound, had the school on his wish list but wasn't sure it would become a reality.
"I applied to Harvard to see if I could make it," said Nguyen, who began his Arlington ISD journey in pre-K at Hale Elementary. "Now I'm going to one of the best institutions in the nation. I've always wanted to go there, but those are dreams because it's so unlikely to happen. Now it's a reality. I thought it would be a reach school, so I wasn't going to be too sad if I didn't get in."
Not getting in probably wasn't a reality. Kerry also applied to Yale, USC, Rice, TCU and UT Austin. Of course, he was accepted at all five schools.
Kerry Nguyen got the notification about his acceptance while he was tutoring some students. He excused himself from the tutoring to check and see if he got in.
Once he did, it was pasta time.
"My Mom cried," said Kerry, who plans to study physics. "My dad said good job. He doesn't show extreme emotions, but I know deep down he was proud of me. We did celebrate over really good chicken alfredo."    
Yale
While Kerry Nguyen and Sam Houston classmate Renee Antwi are friends now, they'll be rivals in college. Antwi is heading to Yale.
Why Yale for Antwi, who could have also gone to Rice, Brown, Columbia, Emory or Drake? Well, Yale has a great reputation for helping first generation college students from low-income families.
And then there was the orchestra.
"They have a pop orchestra, and no other school has it," said Antwi, who was in orchestra at Sam. "I knew I needed to be a part of this. I love playing my instrument. Playing at my school is different. There's not much flexibility. You have to follow everything by the book. I found out a pop orchestra is more of expressing self through music, so everyone has a good time."
Antwi, who is also a Richard Greene Scholar, was leaning toward TCU early in the college process. But Yale had everything she wanted, including one of the few schools that has a major in cognitive science.
"I got the notification in my email," she said. "I was going to wait until later, but I opened the email and saw confetti. That was unexpected. I stepped outside and called my mom and said, 'We did it!'"
Yes, Antwi did it. And in the Arlington ISD, she has plenty of company.
Show Your Spirit On Social
Parents, if you share pictures of your 2022 graduate on social media, be sure to tag your teen's high school on Facebook, Twitter and Instagram with the hashtag #ArlingtonISD. Class of 2022 graduates, we know you're excited about your big day, and we're excited for you. Tag your high school and use the hashtag #ArlingtonISD, too. Congrats grads!