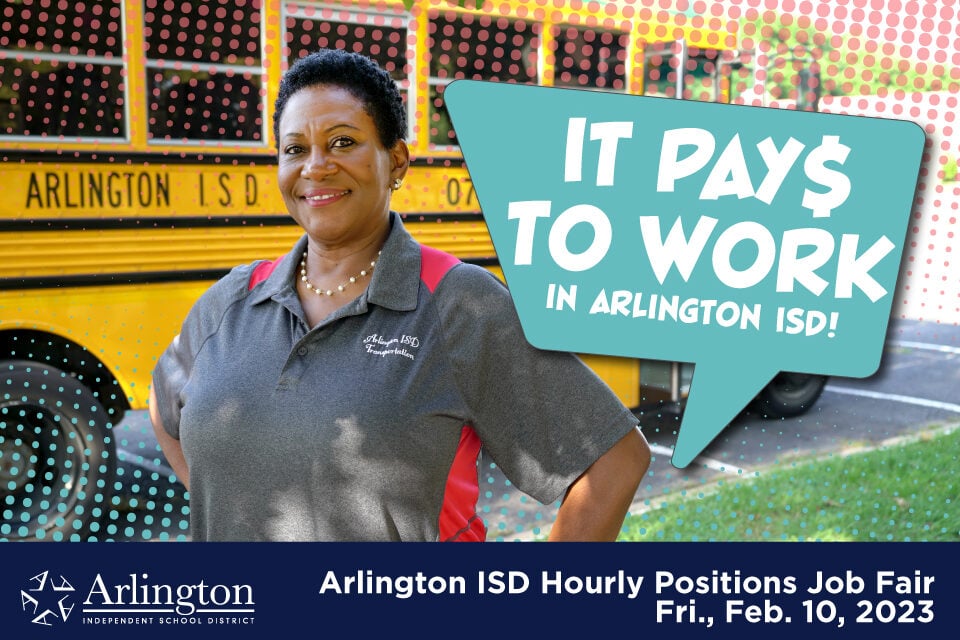 Job fair is 4-7 p.m.
If you're looking for an excellent way to start a weekend, how about doing it with a new job?
You can do that in the Arlington ISD as the district's hourly positions job fair has been rescheduled for Friday, Feb. 10, from 4-7 p.m. at our Center for Visual and Performing Arts.
If you already registered for the job fair slated for Tuesday, Jan. 31, you can re-register here and let us know you're ready to start your career in the Arlington ISD now.
Whether you're looking to help provide a safe learning environment for students or you would like to be on the same daytime schedule as your child, Arlington ISD has the perfect position for you.
With a higher-than-average starting salary, a district in the heart of the Dallas-Fort Worth metroplex, and an emphasis on leadership and advancement, you will do more than just a job. At Arlington ISD, you can multiply possibilities. The district offers flexible schedules, competitive pay rates and benefits to full-time employees.
Representatives from the transportation, food services, security and plant services departments will be present. Available positions include, but are not limited to, bus drivers and attendants, cafeteria monitors, security officers, dispatchers, special education classroom assistants, custodians, electricians and more.
After registering, please visit our jobs page to submit an online application for any positions of interest. In-person interviews will be conducted by various departments, so please bring your resumes.