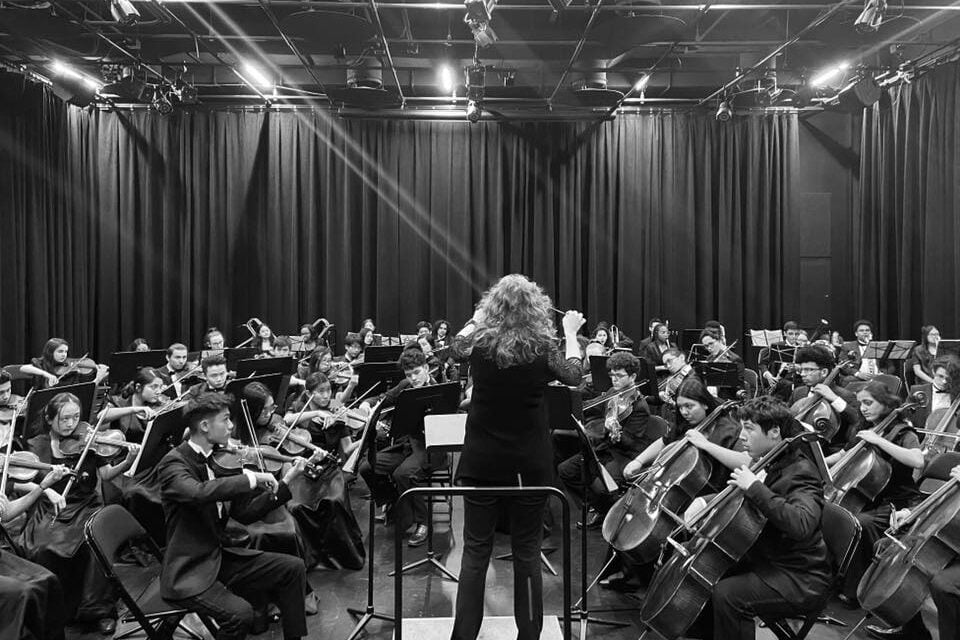 Fifty years fly by when you're having fun.
That's been the case for the Arlington ISD's orchestra program. On Nov. 5, Arlington ISD will celebrate 50 years of orchestra with a special concert at the Arlington ISD Center for Visual and Performing Arts. (More details.)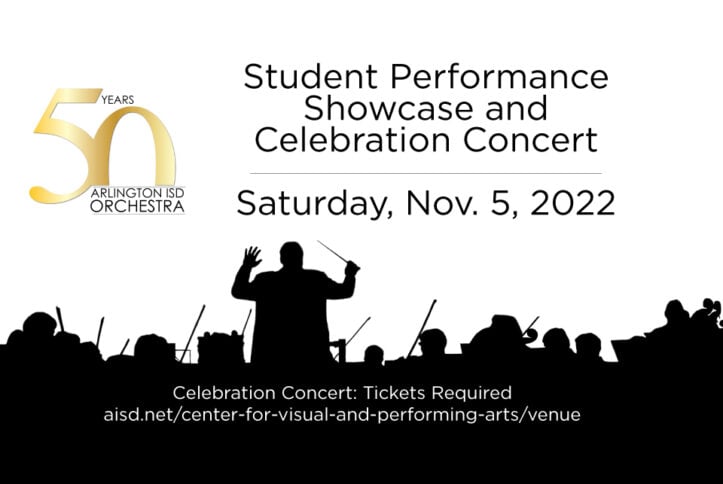 In 1972, Dean Corey, Arlington ISD's coordinator of music activities at the time, started the orchestra program with just four teachers and a little more than 100 students. It quickly grew to become one of Texas's most recognized orchestra programs. Today, the orchestra programs in the Arlington ISD serve more than 4,000 students and have received state and national recognition for outstanding performance.
The success of the orchestra program is thanks to a bunch of teachers who have given their all to their students. A few of them reflect on the 50th anniversary below.
Laura Garrett, Key, South Davis and Swift elementary schools
Since I was in the 4th grade, I knew it was a calling to teach orchestra. I have taught 5th and 6th graders for 26 years at South Davis, Swift, Duff, Dunn and Key. I love seeing students' progression from not knowing how to read music or hold an instrument to becoming skillful musicians. Teaching elementary students has kept me on my toes! I never thought I would hear myself say, "Don't eat the rosin, or please don't spin your instrument; it's not spaghetti."
I am excited for the 50th anniversary to celebrate this significant milestone, as there is much to celebrate. The founders of our orchestra program had a vision, a passion for excellence and a love for students. Their efforts have not gone unnoticed as thousands of students have gone through the AISD orchestra program.     
I am grateful for the support and vision of the administration, AISD School Board and our community who voted in the past for bond packages to provide orchestra classrooms in all the elementary schools and instruments for all our students. That's incredible! Many of my students would not have been able to afford this and now have the opportunity to learn how to play an instrument and create beautiful music. I appreciate being part of this incredible legacy with deep love, admiration and respect for all the orchestra directors, past and present.
Melina Shaffer, Seguin High School
Opening a brand-new school is always exciting, and in 2002 I was thrilled to be asked to join the fine arts team for Juan Seguin High School. I had opened another new high school in my previous district and really enjoyed the process of creating a new program and developing traditions, so I jumped at the chance to come to Arlington and do it again. The first time I saw my room, I had to wear a hard hat because we were still under construction. Twenty-one years later, I am still here!  
I would say the best thing about being an orchestra director here are the amazing colleagues I get to work with on a daily basis. I am surrounded by people who are master orchestra directors and who possess a vast amount of knowledge of our craft. They are always willing to share ideas or pass on techniques that help them in their classrooms. I am proud to call them not just colleagues, but also friends. The AISD orchestra program is unique in the fact that we are incredibly supported by the administration here. In many districts, orchestra is treated as a second-thought or an add-on to other programs, but AISD has recognized the important role orchestra plays for our Arlington students. Success comes from the talent of our students, the dedication of our teachers and the unyielding support of our school board and our administration.
I am so excited to be able to celebrate this huge milestone and to see friends and students coming together again to make music.  
Jennifer Cliborn, Bowie High School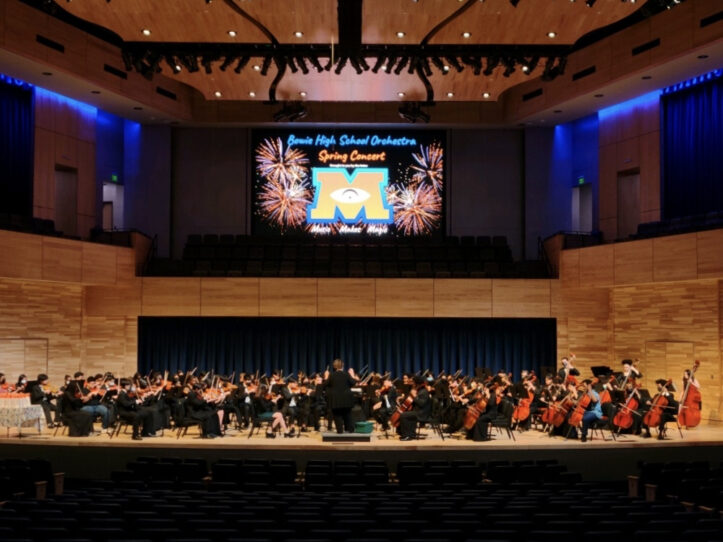 I so often get letters, emails and calls from former students who have graduated long ago and have established themselves in various careers and cities throughout the country. Without exception, they mention some musical moments from their time in our programs that impacted them so deeply that they continue to carry it with them to this day. They go to local performances, expose their families to musical culture, or even continue to play themselves. Awards and accolades are wonderful, and we have many. However, for 50 years, we have made a difference in the lives of children that goes beyond our classrooms. That is our highest achievement.  
Emily Klophaus, Foster, Short and Swift elementary schools
I began in the Arlington ISD strings program under Mandy Musser in the early 1980s when I attended the fifth grade at Hill Elementary. I took private lessons from Jo Todd, and later played at Arlington High School under Linda Keefer. These ladies encouraged me not only to love music and enjoy playing, but also inspired me to teach. As a second career, I began public school teaching just four years ago in the Arlington High School cluster at Foster, Short and Swift elementaries. I am reminded every day that teaching music is an opportunity to pour positivity and joy into the learning experience, to cultivate teamwork and to create a safe space for learning and creatively taking new risks. As a result, I am blessed with the students pouring into me and keeping me young! 
Lesly Galeana, Young Junior High and Ditto Elementary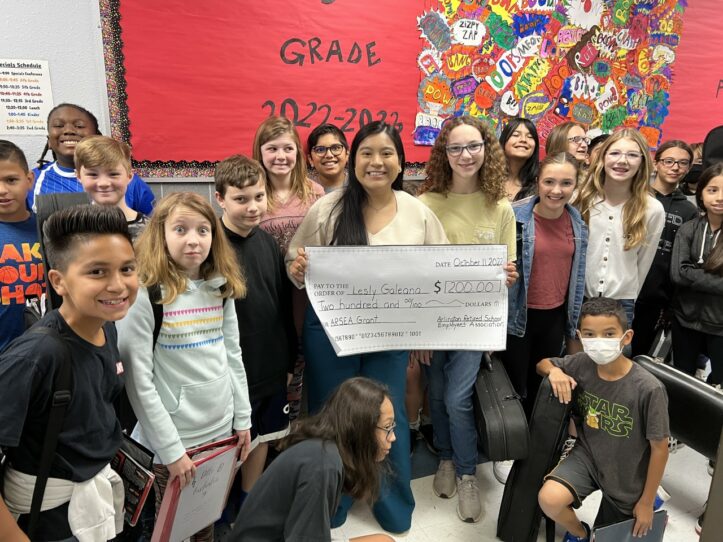 I am one of the assistant orchestra directors at Young Junior High and the orchestra teacher at Ditto Elementary. This is my fourth year teaching in Arlington ISD and 10th year living in Texas. Texas is the place to be for music education, so when attending Texas Christian University, I knew I was going to be in great hands. I had the pleasure of having Amanda Musser as my mentor while at TCU. She has played a big role in AISD and in my career. When I was a student teacher, I worked closely with Lacy McCoy and Jamie Ovalle, both TCU alumni and outstanding Arlington ISD orchestra directors. I have the honor of working in the same district where I student taught and began my career. The constant support shown by campus and district administration, as well as our parent base and surrounding community members, directly influences the continued success and strength of AISD orchestras. 
Kris Chapman, Arlington High School
I am only in my fifth year with Arlington ISD, but I am very honored to be part of such a proud and long-standing tradition of string excellence. While living up to such amazing teachers like Linda Keefer is a daunting task, we are excited to continue to develop upon the legacy they created for us. 
Michelle Schuster, Bailey Junior High
The Arlington ISD orchestra program was so influential and important to my time as an AISD student. I had so many fantastic experiences as a part of the orchestra programs at Bailey and Arlington High that shaped me into who I am today. I'm fortunate enough to now be the director at Bailey, where I went to junior high. I love getting to share musical experiences with my students like my former teachers, Mandy Musser and Linda Keefer, shared with me. I tell my students, Ms. Keefer always told us, "There's nothing like making music with your friends!" I'm so glad we're marking this momentous occasion of 50 years of orchestra in AISD with a great celebration. 
50 Years of Orchestra Celebration
The anniversary celebration concert is Saturday, Nov. 5, at the Arlington ISD Center for Visual and Performing Arts.
The day will be filled with performances from orchestra programs throughout the district and culminate with the exclusive 50 Years Celebration Concert. Pre-concert activities are free and open to the public. The 50 Years Celebration Concert is also free but requires a ticket.
The celebration concert begins at 4 p.m. in the Copeland Concert Hall and will feature the Celebration Ensemble, made up of current students, teachers and alumni from each of the Arlington ISD's six high school networks. The event will also feature video interviews with some of the district's first orchestra teachers who helped lay the foundation for the award-winning program.
Reserve your tickets here. The concert will also be live streamed.
Pre-concert activities include:
1 – 2:10 p.m. – 6th Grade Showcase/JH Showcases
2:10 – 2:35 p.m. – Reception
2:35 – 3:30 p.m. – Junior Hight Showcases
3:30 pm – 3:50 pm – Mariachi Showcase
If you can't attend the Celebration Concert in person, tune in online. Subscribe to the Arlington ISD YouTube channel and receive notifications when we live-stream the performances.