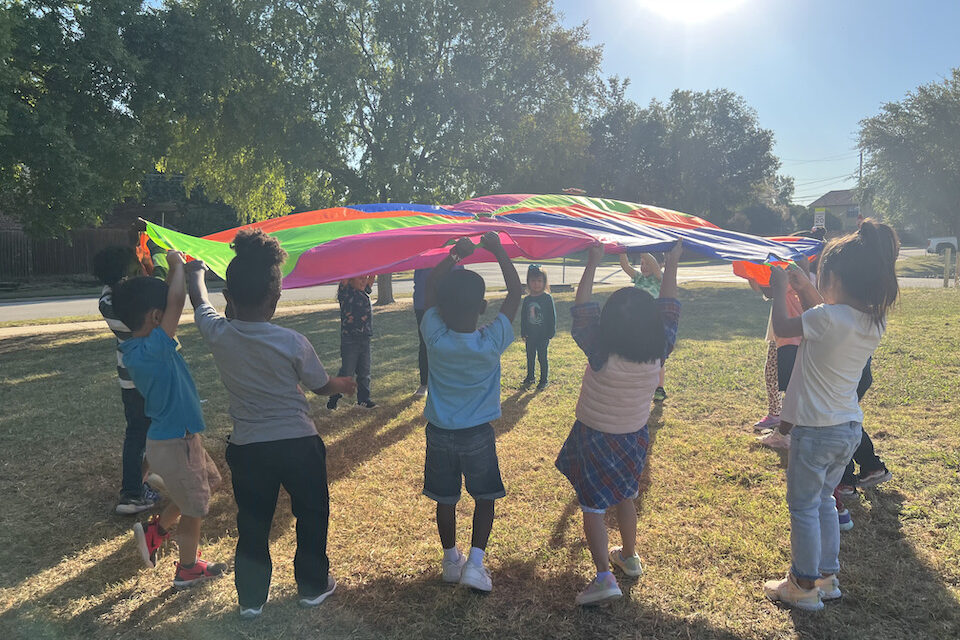 Outdoor learning offers lots of benefits
For pre-K students in the Arlington ISD, the great outdoors is an extension of their classroom. These 3- and 4-year-olds are taking advantage of the perfect Texas fall weather, using parachutes, exercise mats and more to learn outside of the classroom. And they're having a lot of fun while doing it. 
Outdoor learning can have significant benefits on students like improving their focus and social interactions with other children. Students also develop their gross and fine motor skills through outside play.
"You get to see kids become more adventurous, take bigger risks with their body movement and even improve their balance all while having fun," said Serena Webb, Bryant Elementary pre-K teacher. "We get a lot of opportunities to develop fine motor skills in the classroom, and gross motor skills can be developed more outside. We want to focus on the big moves that make them stronger like hopping, jumping and skipping."
Before Webb and her teaching assistant take the kiddos outside, they explain the game they are going to play so the little ones are all on the same page. Then, the kids walk outside with their body buddies to have some fun practicing letter sounds and getting fit. Getting a bunch of four-year-olds outside to play is an adventure all by itself.
"We just try to give them a different experience at school by giving them opportunities for exploration and teamwork," said Kimberly Bryant, pre-K teacher at Bryant Elementary. "Getting them outside to experience the environment around them is important because they might not be getting outdoor learning at home. With tablets and computers, it's easy for kids to watch shows or play online while they're at home. We like to switch it up."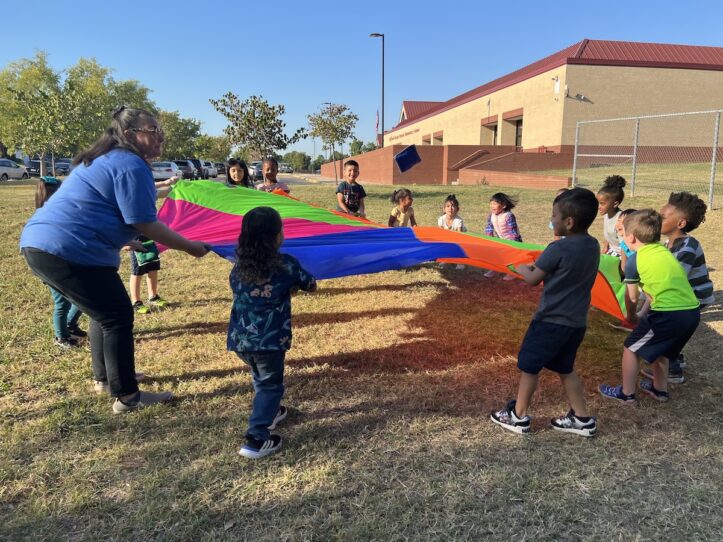 Working together as a team to master a skill or game is a big element of outdoor learning. In pre-K, independence is emphasized so students can learn to do simple tasks on their own. But when it comes to outdoor learning, kids learn the concept of team-building and social skills that will carry over into higher grade levels.
While physical movement is already integrated into students' daily schedules, now it will be enhanced thanks to a generous grant from the Texas Rangers Baseball Foundation to buy outdoor learning equipment for pre-K. Get ready for more t-balls, soccer balls, hula hoops and just about everything you can imagine a four-year-old wants while browsing through Target.
Students at Bryant Elementary have gone on nature walks and bunny hunts to spot different animals and elements in nature. Webb and Bryant also like to take their kiddos outside to enjoy the weather under the gazebo and get them excited for snack time.
And who doesn't love going outside to enjoy a good pack of animal crackers and juice box?
In Arlington ISD, pre-K is loads of fun in and out of the classroom. If you're ready to sign your little one up for a good time, head to aisd.net/prek for more information. Adventure awaits!