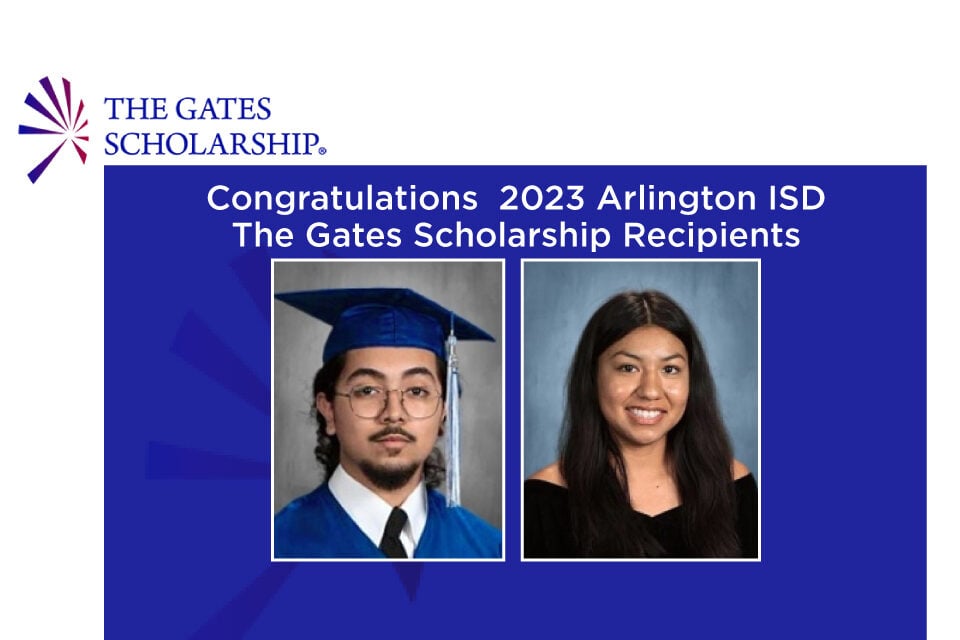 Gates scholars started together at Berry Elementary
Yessenia Martin and Kruz Hernandez have set the bar high for early college graduates in the Arlington ISD.
Not because they're graduating from high school with their associate degrees. That's now the norm at both Arlington Collegiate High School and Arlington College and Career High School.
No, both Martin and Hernandez have already set themselves up for success by each earning The Gates Scholarship, which honors outstanding minority high school seniors to help them reach their maximum potential.
More than 51,000 students applied for the scholarship, which gives full rides to their university choice, and only 750 are selected. It's an arduous process that includes an online application, essays, recommendations and then interviews before the scholarships are awarded.
It's a huge accomplishment for Martin, who is the valedictorian at ACHS, and Hernandez, who is the student council president at ACCHS.
Both are first-generation college students whose families are from Mexico. Both started their elementary careers at Berry Elementary together and now both are headed to the University of Texas at Austin.
"It was very unexpected," said Martin, who plans to major in computer science at Texas. "It was a really competitive scholarship. What are the odds of me getting it? It gives me the freedom to go to the school I desire vs. choosing based on money. UT-Austin was my first choice and when I heard I got the scholarship, I was going to UT-Austin."
Martin was originally planning to go to the University of Texas at Dallas, where she had a full scholarship. But winning The Gates Scholarship opened the chance to go to Austin. It's her dream school, and now it will be a reality.
While Martin is a first-gen college student, education is huge in her house. Both her older siblings have college degrees and she'll head to Texas with more than 70 college hours.
Martin credits her parents for the sacrifices they've made for her so that he can focus on school. She set high expectations for herself because of their work ethic. That won't change when she gets to Texas either. She already has plans to get her master's degree, and her goal is to help underserved students in the STEM field.
Like Martin, UT was more of a dream than the future for Hernandez.
He had a scholarship offer from Texas Wesleyan University and was also considering enlisting in the Air Force.
That all changed on April 20 at 7 p.m., which is when Gates recipients were notified of their scholarship status.
"I was waiting on that announcement for a while," said Hernandez, who is part of the first senior class at ACCHS. "I had the time written down everywhere. I sat at the computer from 6 to 7 refreshing my browser and waiting for that email. It came out maybe three minutes after 7. That was a gut-wrenching three minutes. I was thinking that maybe they sent it to the winners and the ones who didn't get it after. Then it came through."
Now Hernandez has a plan to major in neuroscience and either go to medical school or follow a research path.
He'll do that as the first person in his family to go to college.
"My father was born in Mexico and moved over here when he was really young," Hernandez said. "It feels surreal, especially for Hispanic families like us. There are only a few pathways we normally take. I work with my father. We're painters and do construction. To be the first in my family is a big deal. It's going to change all of our lives."
Arlington Collegiate High School principal Dr. Ben Bholan thinks Hernandez can set an example for students who follow him.
"It's huge because once you have a student like that you can point to something that's tangible," Bholan said. "They can come back and talk to others about it. It can be motivating to others to see the growth of that student. It's motivating for the students and the staff also."