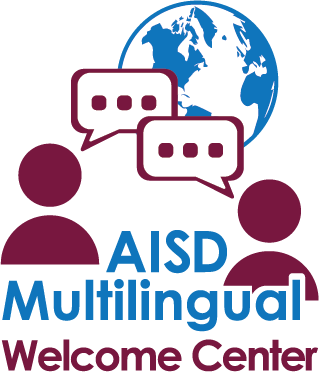 Arlington ISD serves about 17,000 Emergent Bilingual students that speak over 68 languages and come from 92 different countries.
The Multilingual Welcome Center assesses students' English language proficiency, provides orientation about resources available in Arlington ISD and connects students and families to community resources.   
The Process for Serving English Learners
When parents indicate the use of a language other than English at home during initial enrollment, the school district must conduct an assessment to determine how well the student communicates in English.  The results of the English language assessment are used to determine if Bilingual and/or English as a Second Language program services are appropriate and to inform instructional and program placement recommendations. Arlington ISD offers the following programs: 
Bilingual Education
AISD offers research-based programs for promoting biliteracy, bilingualism, and biculturalism for students. The primary goal is to prepare students to listen, speak, read and write in two languages, as well as develop an appreciation for different cultures.  These are offered at various campuses across the district.  
English as Second Language
ESL is an intensive English language instruction program provided by ESL certified teachers who are trained in effective second language acquisition methods. The goal of ESL programs is for English learners to attain full proficiency in English in order to participate equitably in school. 
The following video explains the process to serve Emergent Bilingual students. 
Video provided by the Texas Education Agency
Multilingual Language Center Services
Initial language placement assessment for students.

Provide information about the benefits of the available language programs such as the ESL program (PK-12) and the Bilingual program(PK-6).

Coordinate enrollment in the Newcomer Center for newcomer students in Junior High and High School. 

Coordinate transcript evaluation for immigrant high school students.

Provide opportunities for families to register for adult classes (ESL, GED).

Provide access to instructional supplies for immigrant students.

Orientation about resources available for families in Arlington ISD, overview of a school day and connection to community resources to guide the path for academic and social-emotional wellbeing.  

Bilingual English/Spanish staff and language line interpreting services.

Provide a welcoming environment for our families.
Hours of Operation
The Multilingual Welcome Center is open from 8:00 a.m. to 4:30 p.m. Monday-Friday.
Appointment
Home campus staff will set up the appointment for the student.
Location
4800 W Arkansas Ln, Arlington, TX 76016
Phone number: 682-867-7430