PAID TRANSPORTATION
Paid Transportation is offered on a first-come, first-served, space-available basis if Regular Education busing is offered at your campus. We are now open to receive applications online. Paper applications are no longer available. All submissions must be done online. If you need assistance, please call (682) 867-7401 to request assistance or an appointment. Thank you!
BUS BULLETIN
Please verify your students' bus number using Veratrans, then create a Bus Bulletin account or log into your existing Bus Bulletin account and update your morning and afternoon bus information if you wish to continue to receive bus notifications.
Add a header to begin generating the table of contents
Arlington ISD Transportation provides transportation services including home-to-school, special needs, and field trip transportation, as well as summer and charter trips for the district. Our Bus Drivers and Monitors serve as an example for student riders by being professional and positive and maintaining a safe and clean school bus environment.
We aim to assure the public that pupil safety is our number one priority as we adhere to all traffic laws, using defensive driving, maintaining route reliability, and dealing with communities and the general public in a respectful and professional manner.
Regular Education Routes
Eligibility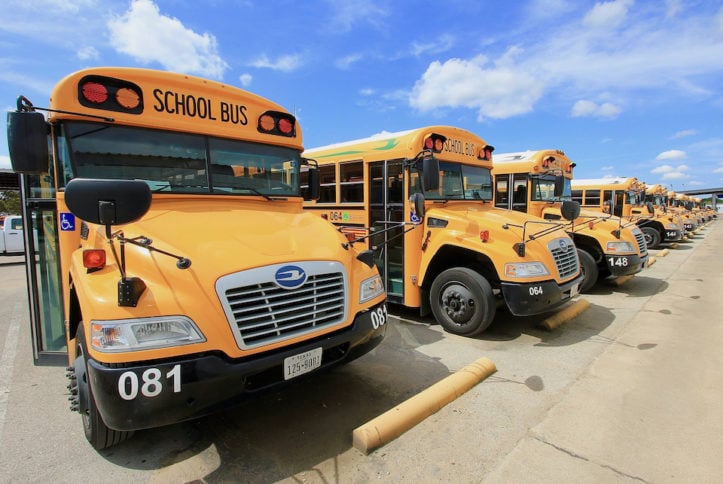 Transportation is available for children who live two miles or more from their assigned school. The distance a student lives from their assigned school is measured using the shortest route that may be traveled on publicly maintained roads between the flagpole of the campus and the nearest driveway of the student's legal residence. Students residing within two miles of their assigned school may have transportation available through our Paid Busing Program, please call Transportation at (682) 867-7850 for details.
Some students who participate in vocational programs or classes not offered at their school are transported between schools. Special education students are eligible for transportation if the need is established through the Admission, Review, and Dismissal (ARD) process.
Please note that NO transportation is provided for transfer students.
School Transportation Search
Find School and Transportation Information (Versatrans e-link).
To register for Transportation, click here and enter your students' details.
Pick Up Time Criteria
Regular transportation attempts to arrive at every bus stop on time. Due to the variances between individual clocks, weather and traffic conditions, students are asked to arrive at the bus stop at least 10 minutes prior to the scheduled arrival time. Buses will load students and depart the stop. Buses do not wait for late students.
In the afternoon, all buses will wait 7 minutes after the bell for students to board. Students are expected to proceed immediately to the buses. Bus drivers are instructed not to stop or open the door for late students and/or parents due to safety concerns.
Route Design
Bus routes are created to enhance student safety while maximizing route efficiency. Stops are created that allow students to wait off the main roadway for the bus, if possible. Stops are also created to minimize students walking in highly traveled roadways for long distances without walkways. It is the parent's responsibility to supervise their children between their home and the bus stop and while at the bus stop. Stops are not placed in dead-end streets to minimize bus accidents while backing (Backing is a very dangerous maneuver for a school bus). Stops are spread as far apart as criteria will allow in order to help decrease the number of stops each bus will make on its route; thus minimizing riding time for the students.
Elementary students may be assigned to a bus stop up to 0.3 miles from their home, under ideal conditions. For Junior High students it's 0.4 miles and 0.5 miles for High School students. Certain conditions may necessitate students to be assigned to a stop further away from the home. Bus routes are designed to limit student ride time to no more than 45 minutes one-way if at all possible.
The above design criterion is for regular students only. Students in special programs are subject to different design criteria.
Students wishing to get off at a different stop, ride a bus other than their assigned bus or are not a regular bus rider.
At times, a student may wish to get off at a different stop, or ride a bus with a friend. Designated Stop change request forms can be obtained from Transportation by parents or school administration. The requesting student must be currently receiving bus privileges in order to ride on another bus. Any changes must be approved by an administrator.
Bus Identification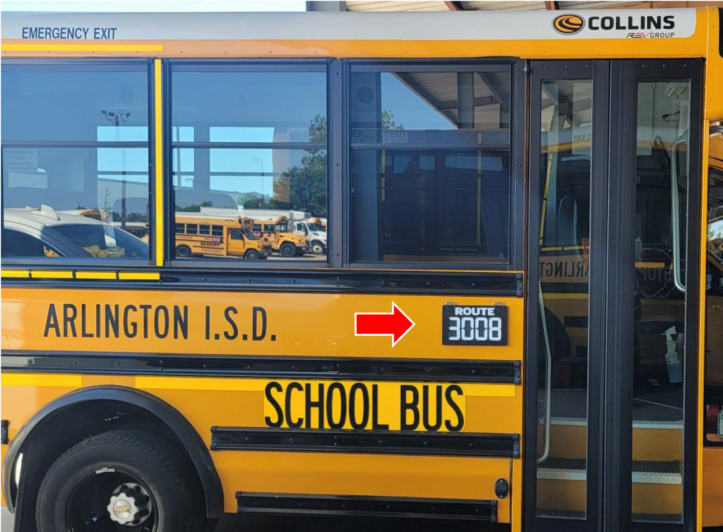 Arlington ISD uses ROUTE numbers instead of bus numbers to identify the route. Please look for the black sign with white numbers, near the loading doors of the bus, to identify the route. 
Bus Bulletin Notification System

Would you like to know when your student's bus is going to be late?
The Transportation Department of Arlington Independent School District is using Bus Bulletin notification system to notify parents and students when there are bus delays and schedule changes.
If you would like to receive instant notifications when delays or incidents affect your student's bus, please register with Bus Bulletin.
There is no cost for this service.
Registration is simple and fast.
You can choose to receive text messages, phone calls, and e-mails.
All contact information is stored securely and will not be shared or sold - your privacy is protected.
For more information, or to sign-up and start receiving notifications, please visit www.BusBulletin.com/parents.
Safety and Conduct
For safety reasons, carry-on items must be able to fit on students' lap or under the seat. Items will not be allowed in the under-storage bins.
The School Bus Rider Conduct Policy is included in the Arlington ISD Student Code of Conduct.
Contact Us
Please contact us at AISDTransportation@aisd.net with any questions or concerns and our staff will respond to you as quickly as possible.
If you're inquiring about your student's bus information, please provide your student's school ID number and your address.