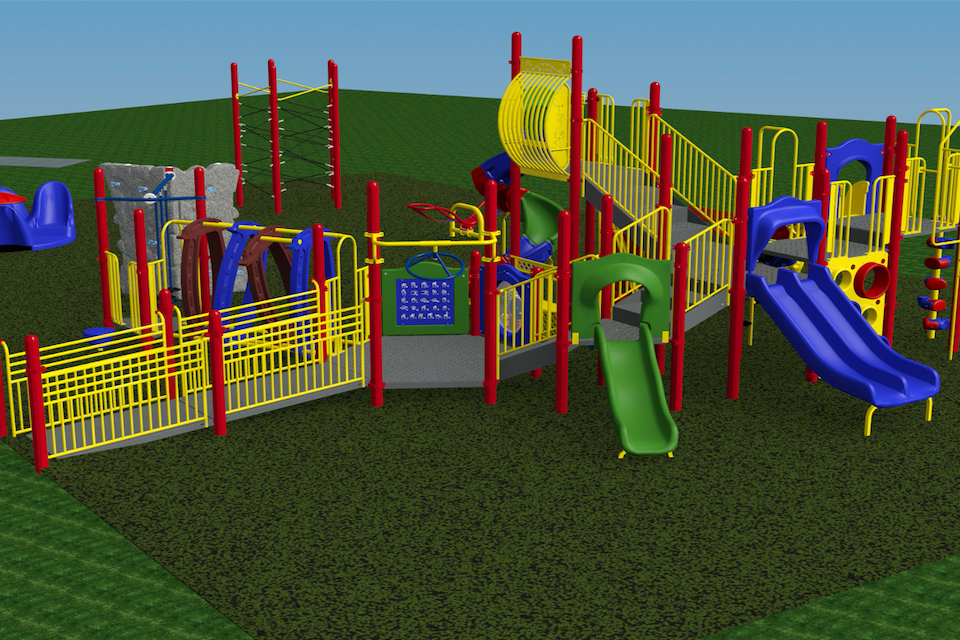 All elementary schools getting new playgrounds
COVID-19 hasn't slowed progress on the Arlington ISD's elementary playground project. In fact, construction is starting this month at the first three elementary schools – Ashworth, Bebensee and Pearcy.
The future new playgrounds are part of the 2019 Bond program, approved by voters in November 2019. The plan calls for two new ways to play at each elementary, one for Pre-K through first grade, and the other for second through sixth grade. They will include shade structures, accessible play equipment and rubber surfaces. While the equipment will be standard from campus to campus, schools will get to make their own color selections.
"Everyone is excited to have new playground equipment," said Pearcy STEM Academy principal Codi Van Duzee. "It will be wonderful to have separate covered playgrounds for the younger and older kids."
At Ashworth, where demolition of the current playground has begun, not everyone is so excited.
"Some of our kids are not so sure this is a good thing!" said Ashworth principal Stacey Maddoux. "One Pre-K student got tears in his eyes and said, 'But that was my favorite slide.' Some fifth graders who have been Mustangs since they were in Pre-K have been heard reminiscing about all the good times they remember having on the playground and how much they will miss the current structures."
Any sadness about saying goodbye to the old playgrounds will melt away once the new ones are installed.
"We know our new playground holds even better times ahead for all our students," Maddoux said.
These new playgrounds will meet a significant need at many schools. Most of the districts' current ways of play are aging. Few are covered and most are not adequately accessible.
"I am thrilled that they will now be ADA accessible," Van Duzee said. "The pea gravel and stairs of the previous playgrounds meant that children in wheelchairs or on crutches couldn't play with their friends, but our new playgrounds will have a smooth ground surface and ramps to make the equipment accessible to all."
The new playgrounds will offer fun for everyone.
"Our new fall zone and equipment will be a welcome addition to our school so everyone can create those great memories of playing on the playground at recess," Maddoux said.
Planning the new playgrounds
Planning for the new playgrounds began as soon as the bond passed in November 2019. Kelly Horn, Arlington ISD executive director of Facility Services, immediately established a planning committee comprised of PE teachers, principals, alternate curriculum faculty, district administrators and community members.
"The procurement and installation of the new equipment and surfacing is the easy part," Horn said. "Making sure that we select the right equipment is the greatest challenge."
After two meetings, the committee selected a number of equipment options and then turned to the experts – the students – for their input. (Learn more about the committee and student input.)
"It's especially exciting because we were part of the planning process," Van Duzee said. "Several of our students were able to vote last year and give their input on what kinds of equipment they wanted."
Now fully designed, the first new playgrounds are under construction. They will be installed in three phases, with 17 elementary schools in phase one. Phase one playgrounds are scheduled for completion in April 2021.