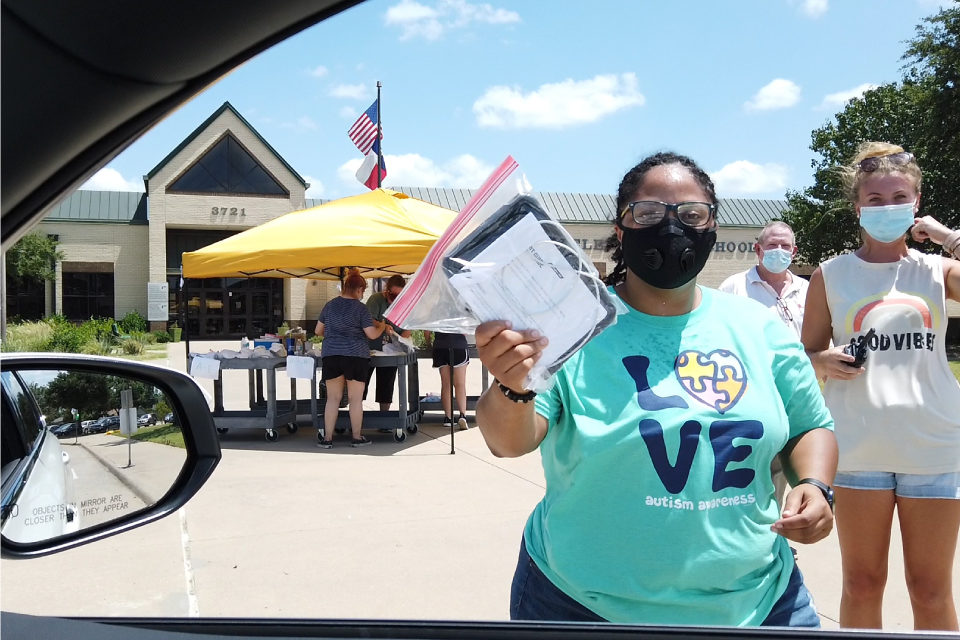 Getting Students Devices a Priority for Arlington ISD
Device distribution is a daunting task getting technology into the hands of students who need it for an Arlington ISD that has nearly 60,000 students.
In the spring, the district showed it was up for the task by distributing more than 24,000 technology devices.
With school starting online Monday, the need for devices hasn't gone away. Neither has the district's ability to meet that need. Schools throughout the district are spending this week making sure students have the devices they need to start school.
"It's really been incredible," said Dr. Eric Upchurch, the Arlington ISD's assistant superintendent of technology. "The staff has worked really hard to get through this. The campus technology people, the assistant principals, school staff, it's been a big task. They've done a great job. This isn't the kind of work they do."
Whether it's through a device-day pickup, a meet-the-teacher drive-thru or sneak-a-peeks, this week has been a busy one for campuses as they've worked to get iPads into the hands of students in Pre-K through second grade and Chromebooks in the hands of students from the third grade on.
The district had an idea of what to expect in the spring. Most of the devices that were handed out are still in the hands of students who remained in the district. More than 8,000 additional devices have been requested for this school year. Dr. Upchurch estimates by the time the need is met, more than 35,000 devices will have been issued since the spring.
Device distribution necessary
While that's a big number, it's also necessary.
"We know how important it is to have technology in the hands of every student," Arlington ISD Superintendent Dr. Marcelo Cavazos said. "Our district is committed to making sure that happens. We want every student to have the same opportunity to be successful."
In addition to the device distribution, there have been more than 3,000 requests for internet hotspots. Dr. Upchurch knows the demand for technology has increased with online schooling. Other districts are in similar situations, which has made it harder to procure technology. Similarly, the district has nearly 5,000 devices coming in the second week of school. Dr. Upchurch also said the district is working to replace older devices and transition some high school students from Chromebooks to laptops.
"We're doing the best we can," he said. "We realize there are a lot of needs, and we're working to meet them."
There was a steady flow of traffic to pick up devices at Little Elementary Tuesday. The school had three pick-up times Tuesday for families to pick up devices as well as textbooks.
"We know how important it is," said Little principal Beth Anne Woodard. "We saw that in the spring. We're happy to be able to see our families and help them out."