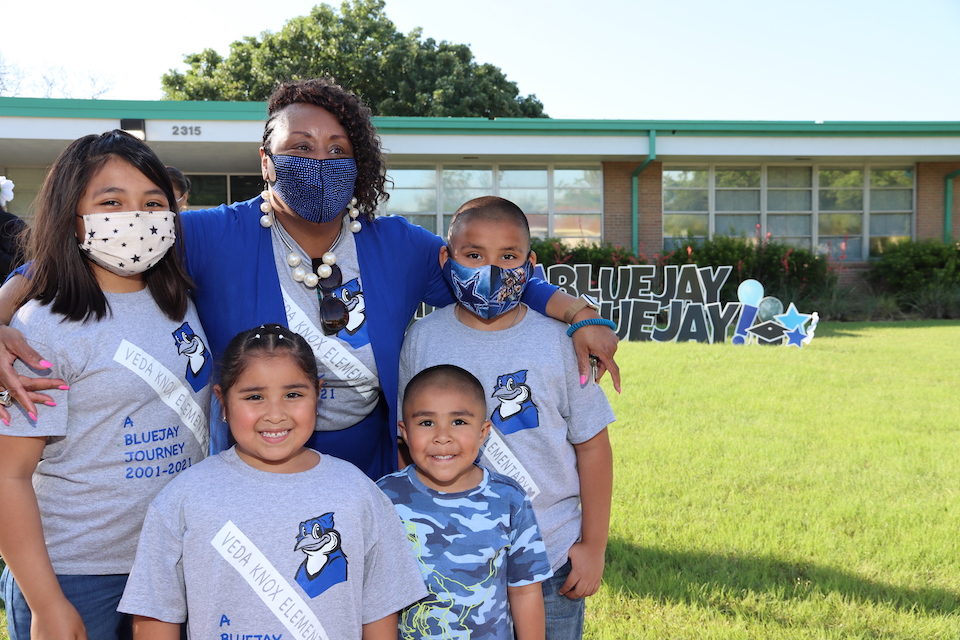 Knox Elementary didn't close its doors for the final time in a quiet way.
That's not the Knox style. Instead, Knox Elementary School's final day as Knox was filled with the sounds of a mariachi band, car horns, clapping and even a few tears.
That happened Tuesday as the school had its final clap-out for students and staff as Knox is closing, part of the 2019 Bond's masterplan for east Arlington to modernize schools and give students an optimal 21st-century education. The clap-out included students in cars, trucks and on bicycles riding and driving past the school one last time. They were met by the Knox staff who sent them on their way.
With Knox closing, along with nearby neighbor Roark Elementary, the entire area is being rezoned. Berry and Thornton Elementary schools will be torn down this summer and replaced with new, bigger buildings funded by the 2019 Bond (Learn more.).
The physical Knox building will remain open next year as the temporary home of Thornton Elementary this fall, but Tuesday's event was the final chapter for the school as Knox. But like all the t-shirts that were being worn read, "Once a Bluejay. Always a Bluejay."
There was a dinner, a few speeches and hugs involved, too. Lots of them.
"It's a great change, but it's bittersweet," said Knox principal Rose Ravin, who has been at the campus for 18 years. "This has really rocked my world. I started here as a teacher, then an assistant principal and now a principal. We knew this was coming, but you never can really prepare."
The school did its best, including a clap-out for Ravin that brought her to tears. But Tuesday night was all about celebrating. School board president Kecia Mays attended along with board members Sarah McMurrough and Justin Chapa. Chapa attended the school before it became Knox in 2001 and McMurrough's mother-in-law taught at the school.
Arlington ISD Superintendent Dr. Marcelo talked to the Knox staff before the student clap-out began.
"You have always performed in a way that has been exceptional," he said. "You have performed at a high level. The success of the Arlington ISD is dependent on you."
Ravin also talked to the families.
"This is my family, from staff to my neighborhood," said Ravin, who will take over as principal at the Berry Elementary this fall. That school is moving into the building that is currently Roark Elementary. "I get to see the kids who came from here and now they have kids. It's a unique situation. This is in my heart."
The building opened in 1960 and has served several purposes before becoming Knox in 2001. Eventually the building will be demolished, and the location will become the home of the new Carter Junior High.
Ravin said the school celebrated the Knox legacy the entire month. She also paid the price for it. The staff played the sixth graders in soccer Monday and Ravin hurt her left ankle. She was on crutches Tuesday for the final clap-out, but she wasn't going to miss it.
"I left it all on the dance floor," she said.