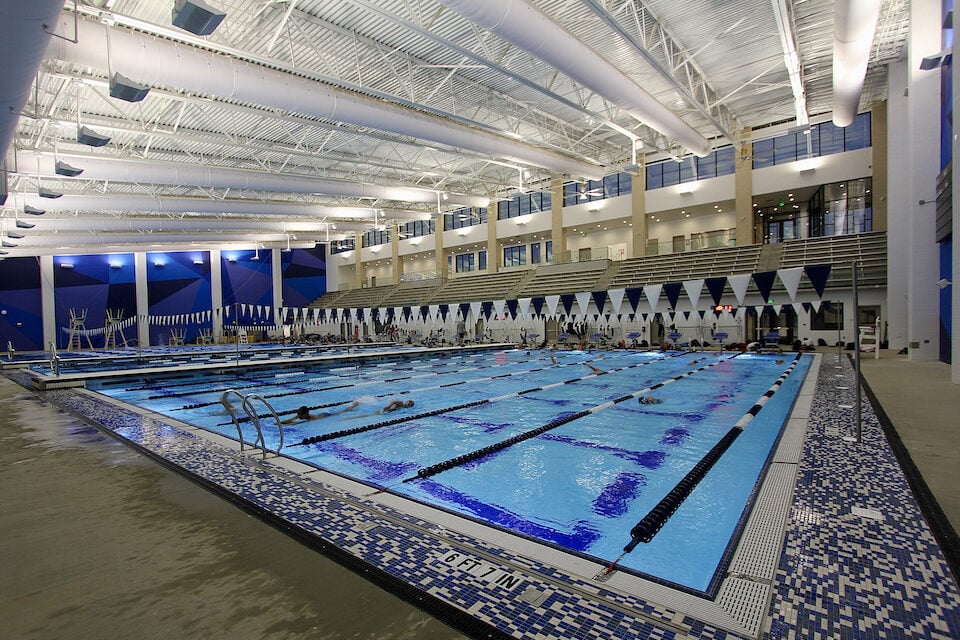 Walt Disney World isn't the only place where dreams come true. According to retired swimming coaches Cindy Lane and Jon Ivonen, dreams come true in Arlington, too. Their longtime wishes finally came true when the Arlington ISD's first district pool opened to swimmers last fall.
Both coached club swimming and in the district for more than 60 years combined and always desired a pool they could call their own after years of sharing facilities with the public.
"For years we had to rent pools at UTA, TCC, and Hugh Smith just so our kids could have a place to practice for meets," said Ivonen. "Trying to coordinate practice schedules for teams, getting kids to and from the pools, and so many other tasks simply started to become a hassle."
Season after season the idea of getting a district pool started to become a mere wish until the 2014 Bond passed.
"Disheartening is the only word I can think of to describe how we felt when it seemed like the pool wasn't a priority to most," said Ivonen. "Eventually, it turned to satisfaction when we found out the good news about the natatorium."
"We thought there would be a district pool eventually, but we just didn't know when that time would finally come," said Lane. "When we found out we were actually getting a pool, it was so exciting to finally see the natatorium go from a big idea in our heads to concrete plans."
Near the end of their coaching careers, some facilities required Lane and Ivonen to set team practice schedules up to one year in advance along with other challenging requirements that seemed nearly impossible to meet.
"To see this come through was a dream come true, and it put us on an equal platform with other surrounding school districts," said Ivonen. "For a while it felt like we couldn't compete, but the natatorium restored hope in the future of our district swimmers."
The district's new natatorium was worth dreaming about. It has a 50-meter world-class Myrtha pool built in Italy and shipped in pieces to Texas. The pool's unique design minimizes wake and gives all swimmers clean water. It also has moveable bulkheads and a diving area with four boards. It offers seating for 1,000 spectators and also houses a warm-up pool.
"It's so exciting to be able to walk into a world-class facility and know that our kids have the opportunity to swim there," said Lane. "Above all, the natatorium means more students' lives we can save."
As a component of the curriculum for third grade, Arlington ISD is beginning a course for students to teach them the basics of water safety.
Ivonen and Lane may not have received the opportunity to coach at the natatorium, but their sacrifice and dedication to ensuring the district would get one created a legacy that will impact more lives than they'll ever know.
"This isn't just a nice building for the students," said Ivonen. "This is a great facility for the entire Arlington community.
The new Arlington ISD Athletics Center, a 2014 Bond project, includes the natatorium and an arena for basketball, volleyball and wrestling. To learn more about the 2014 Bond project, please visit aisd.net/bond.