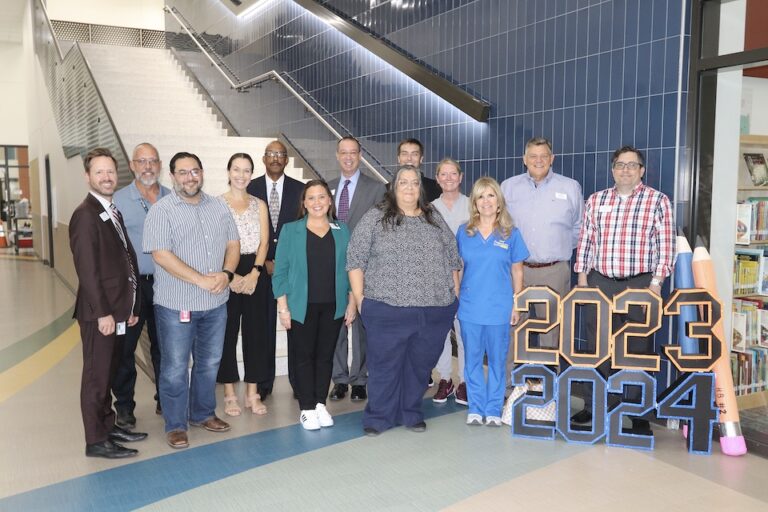 The Arlington ISD's Citizens Bond Oversight Committee kicked off its first meeting of the school year this week with a tour of the new Thornton Elementary School. The new Thornton, funded by the 2019 Bond, just opened last week.
Following the tour, the committee members met in the Thornton media center to receive updates on the 2019 Bond program from Kelly Horn, assistant superintendent of facility services. The presentation included updates on bond-funded projects for facilities, fine arts, technology, security and transportation.
There's a lot to talk about right now, especially with construction. In addition to Thornton, a brand-new Berry Elementary also just opened. Construction on a replacement school for Carter Junior High will start this fall. A major addition is underway at Arlington High School, renovations inside Short Elementary have transformed that school, a new band hall at Martin High School is coming soon, Sam Houston High School has ongoing renovations, and on and on.
The CBOC's charge is to follow the district's bond program progress and report its findings and recommendations to the Arlington ISD Board of Trustees (read the CBOC's charge).
"The Citizens Bond Oversight Committee is incredibly important to the successful implementation of the 2019 Bond program," Horn said. "The committee reports directly to our Board of Trustees to help steward the bond program and communicate any recommendations in the form of an annual report. Further, they help the district to disseminate information to the community about upcoming and on-going projects."
The committee meets quarterly and then develops a report of its findings and recommendations.
"The review and oversight of project and financial documents can be laborious, but the inside look at projects in-progress is a lot of fun for the team," Horn said.
See the presentation from this week's CBOC meeting.