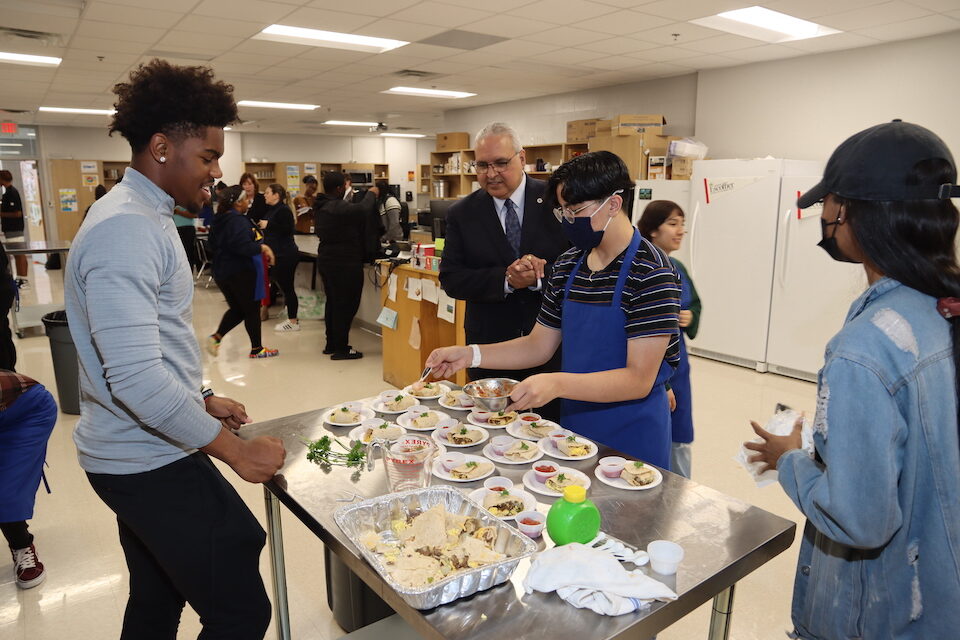 There's an old saying that goes, "If you can't stand the heat, stay out of the kitchen." Well, culinary students at Bowie High School are heating things up, but they can handle it. The budding chefs have created some special recipes that will be featured on district lunch menus this fall.
Led by culinary teacher Amber Craven, the students formed teams to create five new, delectable recipes. The entrees included a chicken po-boy, breakfast wrap, Southwest fajita bowl, fiesta scrambled eggs and chicken and waffles. In partnership with the food and nutrition services department, each recipe was created with food straight off the shelves of the district's food pantry.
Taste Testing
After coming up with the recipes, the class hosted a food tasting with superintendent Dr. Marcelo Cavazos, food and nutrition services director David Lewis and Bowie principal Reny Lizardo.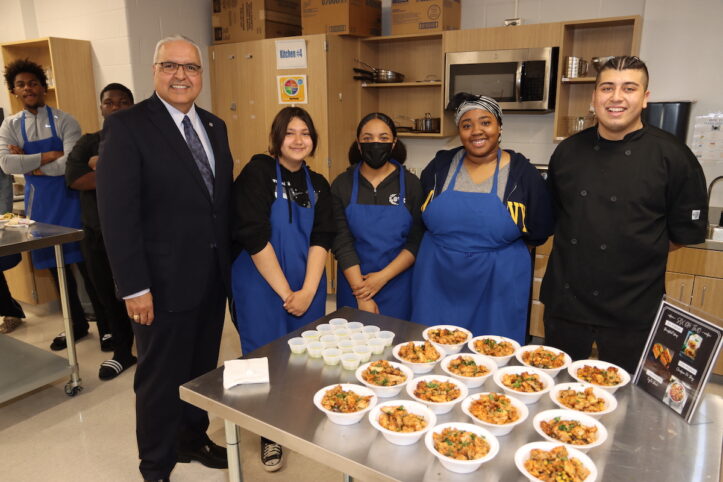 "My students were tasting new menu items that were released this year, and they thought 'We could do this,'" said Craven. "I encouraged them, and it was simply an idea to Mr. Lewis, but now I'm excited to see it all come to life."
More than fun
Some of the students thought the project was just fun and games. For others, it made them more comfortable cooking at home. For sophomore Estrella Flores, it was love at first bite.
"I love this class because you get to learn what it's like to work in a kitchen plus you get to see what you might want to do in the future," said Flores. "Personally, I'd like to become a chef, so this is a great start to my journey."
Flores and a few of her peers intend to enroll in the culinary program at the Dan Dipert Career and Technical Center, so Craven's introductory class has given them a taste of what it takes to become a chef.
Stepping it up
A special group of Arlington ISD alumni restaurant owners will also have a unique chance to add some dishes to the menus next school year. Local restaurants like Prince Lebanese, The Original Chop House Burgers and more will have the opportunity to inspire dishes with ingredients presented by the food and nutrition services department. In a nutshell, school menus are stepping it up a notch.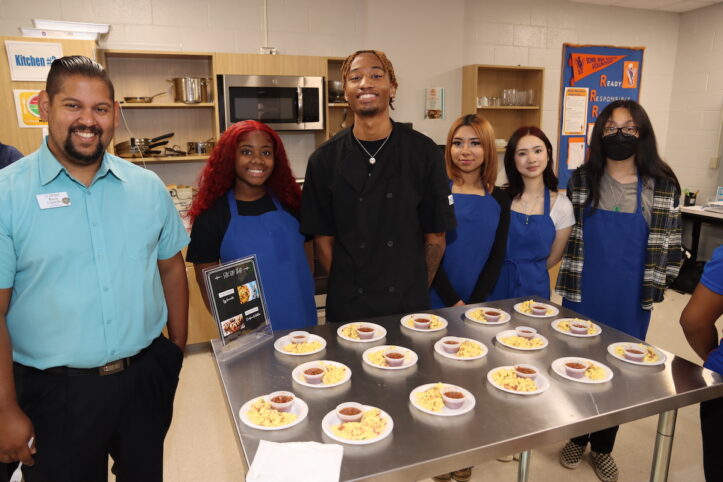 "We want everything on our menu to be student-driven," said Lewis. "I can't wait until the food they have created comes off the line next year. When students are actually eating it at lunch, I know it'll be a fantastic day."
Nothing brings people together like good food, and the culinary students are teaming up to ensure the Bowie community and all others can enjoy delicious, nutritious meals in the cafeteria every single day. Bon appétit!