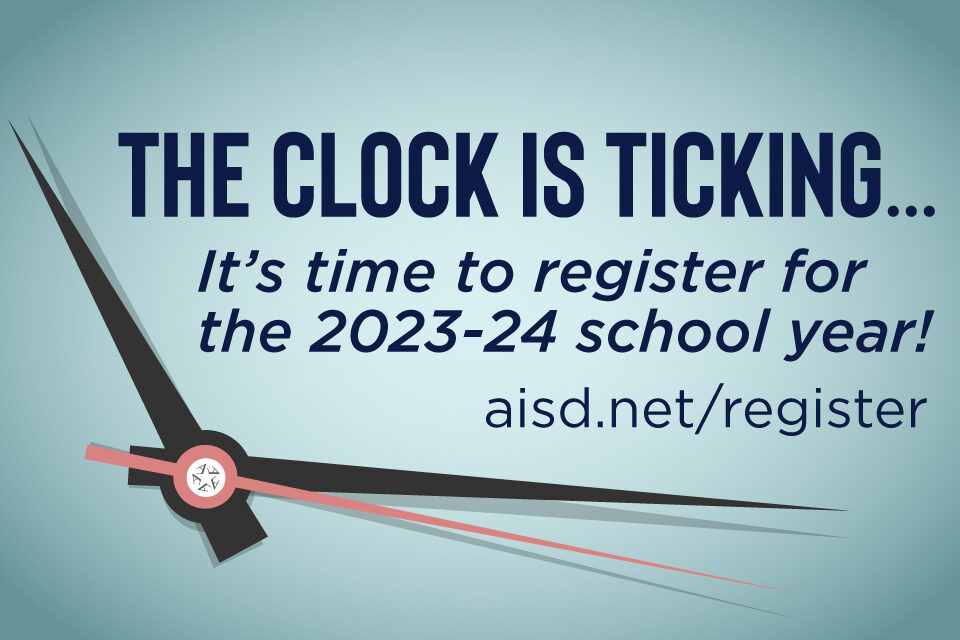 Get ready for Aug. 16
The countdown to the first day of school is officially on. And if you haven't registered yet, the time is now. Here are some of the things you need to know to get your child ready for school.
Register Now
Registration is open now online here. If you have a returning student, you can probably complete their registration online. If you need any assistance with the online registration, please email pss@aisd.net.
If you have a new student or need any in-person registration help, all schools will open soon for in-person registration. Click here for the schedule.
First Day of School
The first day of school is Wednesday, Aug. 16. Elementary, including pre-K, starts at 8:10 a.m. Junior high starts at 8:45 a.m., and high school starts at 7:35 a.m.
School Calendars
Here is the overall 2023-2024 school district calendar. Our calendars webpage also includes some other calendars you might need later in the year, like exam schedules, graduation schedules and sports schedules.
Back to School Kickoff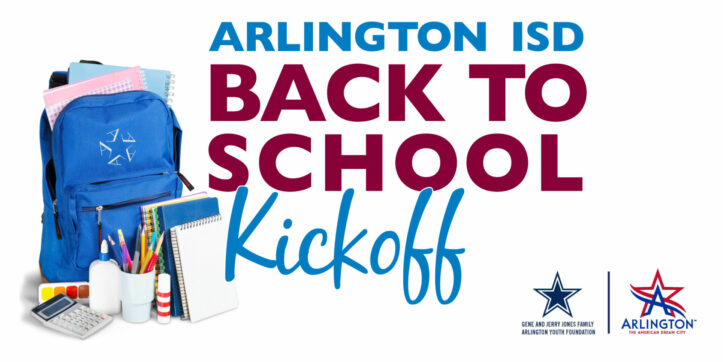 The ninth annual Arlington ISD Back to School Kickoff event offers students the opportunity to receive a free backpack full of school supplies and services in preparation for the 2023-2024 school year. This year's event is Saturday, Aug. 5, at AT&T Stadium, from 8 a.m. until 12 p.m. Registration is required. Sign up today here.
Family Support (Transportation, student meals, technology help and more)
Visit the Family Support webpage for information on lots of important topics, like school buses, student meals, technology help, volunteer opportunities and more.
Parent Self Serve
If you don't already have a Parent Self Serve account, you will want to create one. It's a one-stop shop where you can see your student's attendance, teachers, schedule, progress reports and report cards.
School Supplies
Here are the school supply lists for all elementary schools.
Grades 7-12 do not have standard school supply lists. If your student is in junior high or high school, their teachers will communicate to them any supplies needed.
School Uniforms
Most schools do not require uniforms, but there are some junior high and elementary schools that do. To find out if your school has uniforms, visit the list of Arlington ISD campuses here. If there is a single asterisk (*) by the name of the school, that school requires uniforms. Visit the school's website for more details.
Security Tracker
We all play a role in keeping our schools safe. Please visit our safety page to become familiar with Arlington ISD's safety and security terms, policies and procedures. The page also includes a security tracker, where all updates regarding any lockdown events will be posted.
Arlington ISD App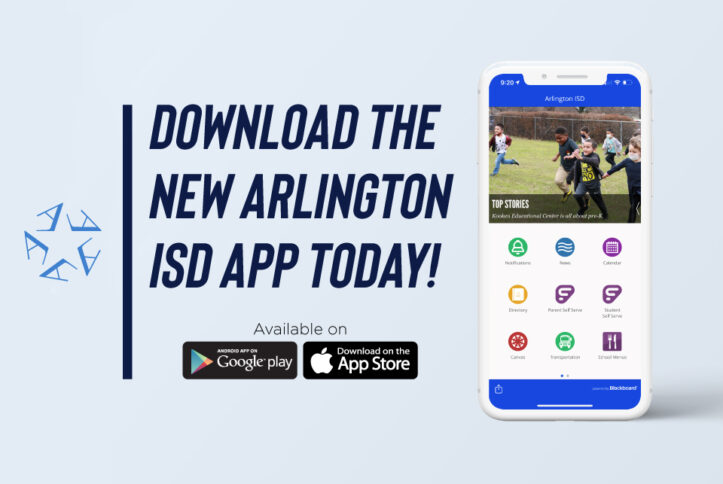 The Arlington ISD's app helps parents and staff members navigate through the school year and features everything from lunch menus to teacher contact information for families. It's also a quick way to get district notifications.
The Arlington ISD app is available to download here for Apple phones and here for Android phones.
Meet the Teacher
As we get closer to the first day of school, campuses will host Meet the Teacher events to help your child be ready for the first day. Students need to be registered in order to participate.
Counseling and the Care Clinic
Find and connect with your school counselor here.
If your student would like to visit the Care Clinic for mental health support from licensed therapists, please request a referral from their school counselor. And visit this link for immediate 24/7 mental health support.
Scholarships
If your student is in high school, it's not too early to start looking for college scholarships. Check out this long list of scholarships and start applying as soon as possible.
Stay Looped In
Keep up with what's going on in the Arlington ISD at the district's blog, Looped In. Follow us on Facebook, Twitter, Instagram and LinkedIn. And don't forget to subscribe to our YouTube channel.
The 2023-2024 school year is almost here. Get ready now, and let's have a great year!