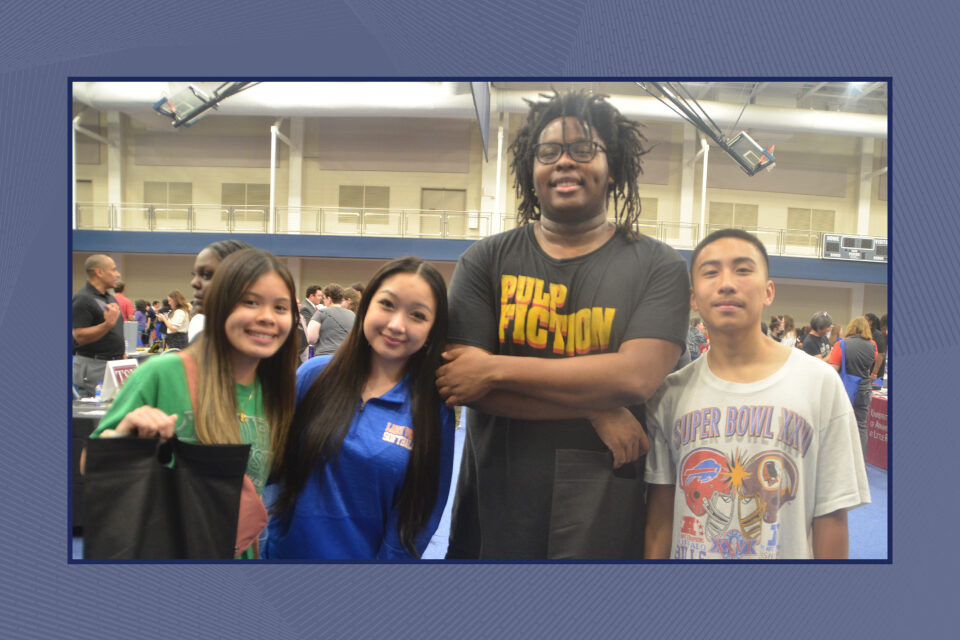 College Night at UTA was a hit!
Attending college has been top of mind for Trinity Nguyen for a couple of years now, so it was not surprising that the Seguin High School senior's time spent at Arlington ISD's annual College Night at the University of Texas at Arlington was tactically brief.
She's narrowed her career choices – a physician assistant is one, a physical therapist is another – and the university she wants to call home for the next few years.
The University of Texas at Arlington is in the running, as is the University of Texas at Dallas, which she says offers a unique medical business component that intrigues her.
"Not many colleges offer that," Nguyen said. "UTA has a lot more bachelor's degree options wise. I looked into TCU (Texas Christian University) too, but they don't offer as many options, and the tuition there is crazy high. I can't afford it. UTD and UTA are much more affordable."
Eight months before graduation, Trinity is laser-focused on her search and expects to mail off her college application in the next few weeks.  Add Vivian To, Thy Pham, Joshua Billy and Dat Cad to the list. The Bowie High School seniors arrived at College Night as a tag team support system. Vivian, Thy and Dat want to pursue nursing degrees, while computer science is what Joshua has in mind.
"We'd like to all go to the same school – that would be cool," Joshua said. "We figured this was the best place to figure that out."
It was. Over 100 universities, community colleges and military institutions filled UTA's Mavericks Activity Center for this rite of fall, a little like speed dating for higher education. Students can have face-to-face pow-wows with recruiters, who can answer everything from degree options and tuition to campus culture.
Is the campus too close to home? Too far? In state? Out of state? Too expensive? Too big? Not big enough? Does it have enough diversity? Students often leave with a shopping bag full of brochures featuring smiling college students and statistics on enrollments and how many Starbucks are on campus. (Usually at least two)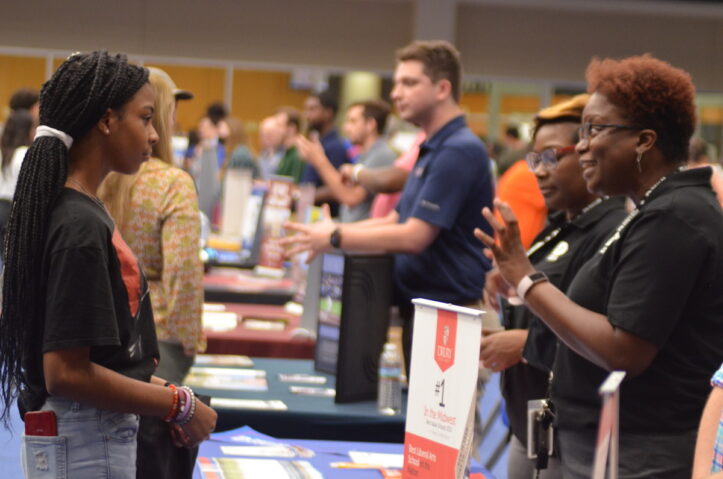 "It's a big decision," said Kailah Cobbs, a junior from Martin High School who is on track to graduate a semester early. She spoke with a recruiter from Drury University, a small private school in Springfield, Mo., that enrolls only about 1,700 undergraduates and graduate students.
"Um, a little small," Kailah said after leaving the booth.
Martin is three times its size.
Kailah's mother cared little about the size. The distance – 400 miles from their front door – gave her pause.
"I like architectural engineering, but I'm not sure where. I want to stay in the state," Kailah said, looking at her mother. "But probably not that close to Arlington. Sorry."
Parents play a pivotal role in the college choice, although many stay somewhat passive during the college fair, often standing near their students in mostly silence, interjecting with questions when given the opportunity.
"It's a fine line," said Juliette Townsend, whose daughter attends Lamar. "You want to give them the room to make their own decisions on this because it is about where they want to go, not where you think they should go. But at the same time, you don't want them to go to a place you know is not a good fit for them, but they think it is due to a maturity thing. You see what I mean?"
Arlington High senior Miracle Daniel said her parents aren't too keen on her leaving Texas, either, but "there are few schools that I see here in Texas I like," said the senior who wants to major in biomedicine.
"I am thinking of biophysics or general engineering. Something that will position me to go into surgery later," Miracle said. "But, yeah, I want to get out of Texas and see something different."
Nicholas Nguyen didn't want to leave Arlington and enrolled at UTA after graduating from Martin last year. He attended College Night the previous year. He attended College Night with Trinity, the Seguin senior, who is his girlfriend.
"I decided to stay because my family needs me around," said Nicholas. "But yeah, it's a big decision because you want to go to a school where you fit so you like it and don't have to transfer. So, you're always wondering, at least during the search, is this college good for you or is that college good for you."
For him, he said, "It was the best decision."