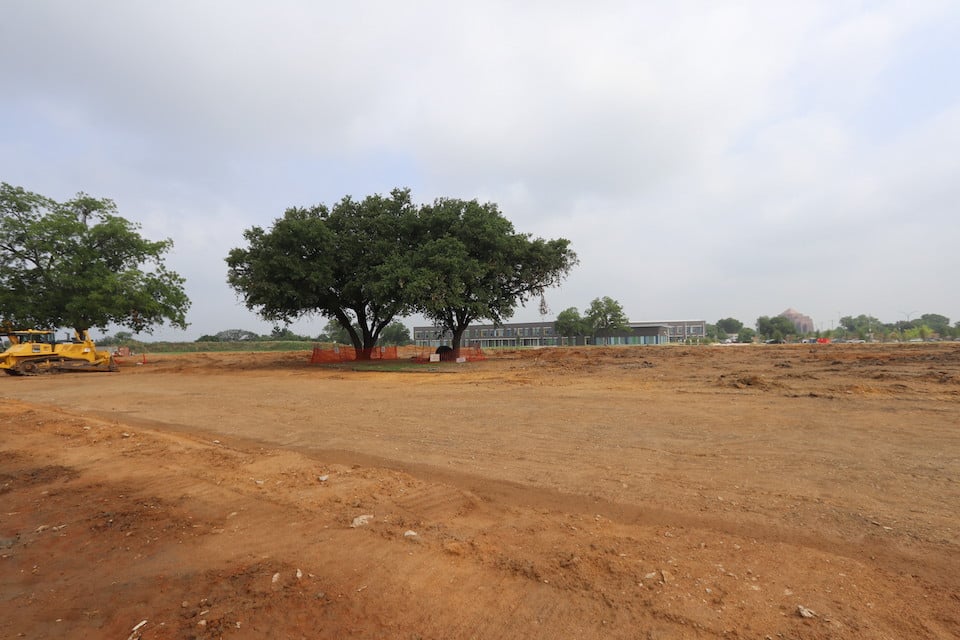 Old school replaced by the 2019 Bond
Webb Elementary School is gone. The old one that is.
The old Webb, built in 1960 as Nichols Junior High, became Webb Elementary in 1993 after Nichols moved north of I-30 to its current location. The old building served students well for more than 60 years, but it was worn out and had reached the point that it needed to be replaced.
When a new Webb, built right next door as a part of the 2019 Bond, opened in January, the demolition process for the old building began. By April, heavy machinery arrived and started knocking down the walls.
Now, nothing is left.
While the empty expanse of dirt is sure to stir some nostalgia for some, the incredible new Webb facility and what will go in the old building's place is more than enough to make up for it.
The empty field that once held the old school will become an activity field for the students at the new Webb. The field will be re-graded with a gentle slope and then fenced. A new east-west lane will also be added south of the new Webb building.
The new Webb does much more than just replace an old school building. It equips every single student for success today and for decades to come. The state-of-the-art facility is full of 21st-century learning spaces – including collaboration areas for every grade – modern technology, fine arts rooms, STEM labs, covered playgrounds with equipment accessible for every child, and special education facilities.
See photos of the new Webb.
The new Webb is the first of four school replacements funded by the 2019 Bond, an effort to modernize the district's schools and revitalize their neighborhoods. It's all about providing generations of students with the opportunities they need to succeed in the 21st century. The next two new replacement schools – Berry and Thornton – will open for students in August.
All of this – the new schools, renovations at existing schools, new fine arts instruments, new school buses and so much more – is only possible because of the support of the community through the bond program. So, thank you.
Learn more about all of the projects in the 2019 Bond.