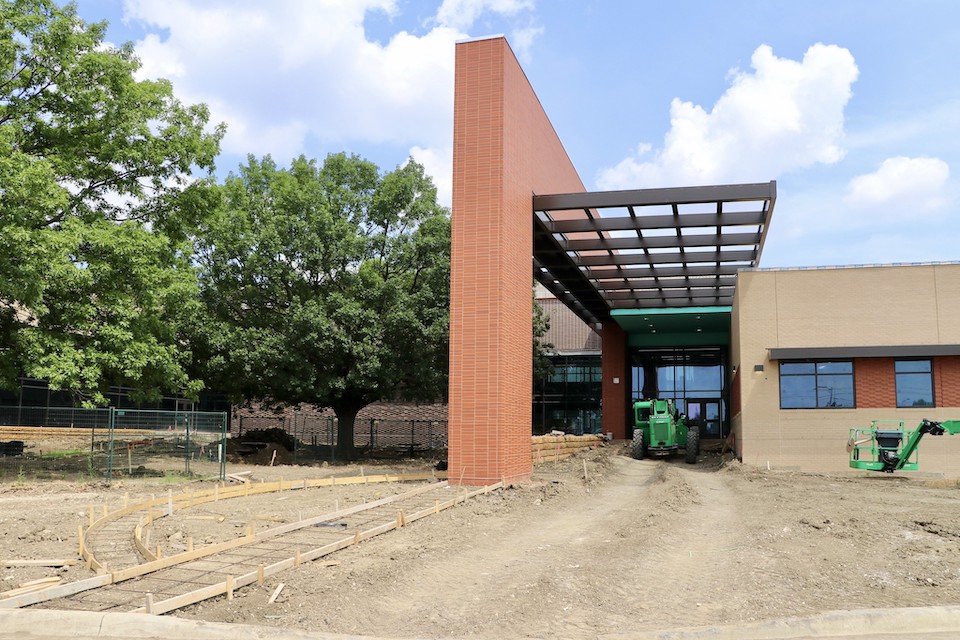 Furniture delivery started this week at Thornton
You know a new building is almost complete when they start moving furniture in.
That's exactly what started on Wednesday at the new Thornton Elementary School, where they began rolling in the new library furniture.
The new Thornton, under construction since the groundbreaking ceremony in December of 2021, is now more than 90% complete. But there's still a lot of work going on – from installing all kinds of finishes to landscaping and cleaning – to get it ready for teachers and students to start the 2023-2024 school year there this August.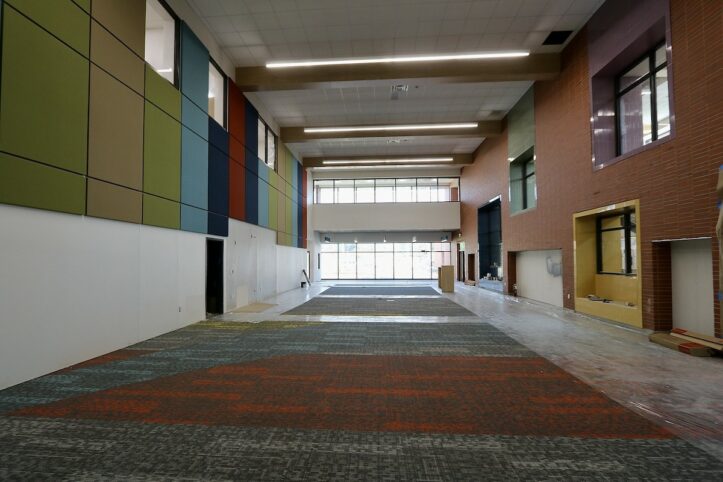 The new 105,000-square-foot Thornton, funded by the 2019 Bond, includes five classrooms for each grade (pre-K-6), a media center, fine arts classrooms, STEM labs, makerspace, collaboration spaces and more. Outdoor spaces include a new entry plaza with a canopy, an outdoor learning courtyard, a paved court for basketball and a play field.
See photos of the new Thornton.
The original Thornton, which first opened in 1956, was demolished in the fall of 2020 to make way for the new building that is now almost ready. In the meantime, Thornton's students and teachers were housed in a temporary location, at the building that was formerly Knox Elementary.
But temporary Thornton closed two weeks ago when school let out for the summer. Now, it's almost time to move back home – to the new building on the original site.
This is a move the Thornton community couldn't be happier about.
"There are so many things that our students, staff and parents are excited about the new Thornton," said Thornton principal Alicia Rodriguez. "Our students love that the school is two stories high, and they look forward to the new playground and having the soccer goals to play soccer. Our staff is ecstatic about the new spaces, including the collaboration spaces and workroom spaces for each grade level."
They are also excited about some old trees.
Construction crews took special care to preserve the two massive oak trees that have graced the Thornton site for decades. Architects designed the building to make sure the trees are located prominently near the front entrance.
"For those staff members who have been at Thornton for decades and watched students have recess and field days by the old oak trees, those will continue to stand tall in the beautiful and grand new Thornton to witness the improved opportunities and experiences for our students, staff and families," Rodriguez said.
The new Thornton is going to open for school this August thanks to the Arlington ISD community through its support of the 2019 Bond, which includes funds to replace four aging schools. Along with Thornton, a new Berry Elementary will also open in August. A new Webb Elementary opened in January, and construction of a new Carter Junior High will start in a few months.