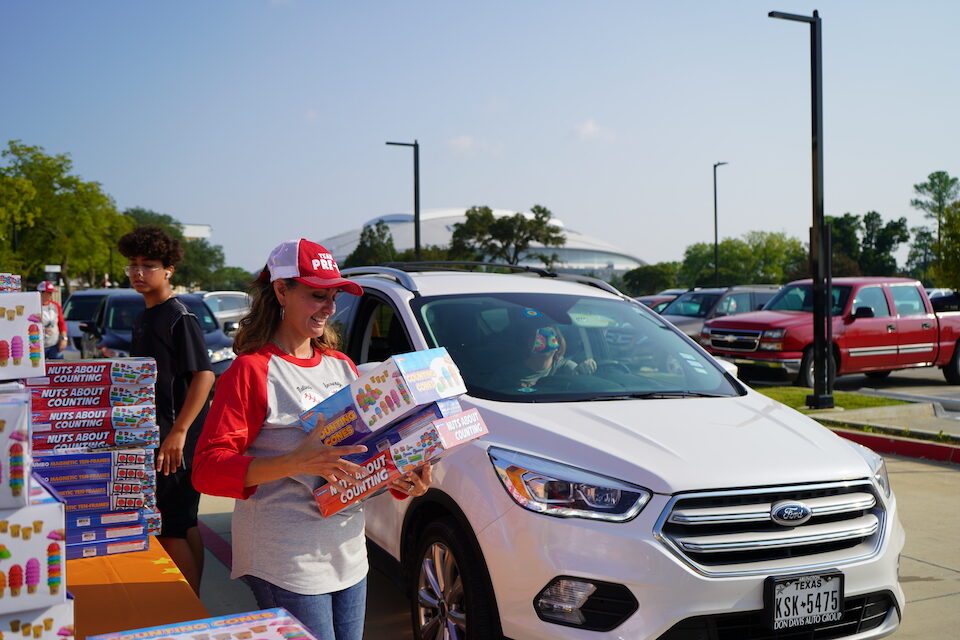 If there is one group of people that is enthusiastic about the start of the school year, it's Arlington ISD pre-K teachers. Hundreds of teachers carpooled to the Athletics Complex for a baseball-themed "Hello Pre-K" drive-thru event Friday to gear up for the first day of school.
The early childhood learning department hosted the drive-thru experience to prepare teachers to hit the field on Aug. 16, the first day of school.
Staff handed out t-shirts and scholastic bags filled with bilingual board books along with planners, pre-K guidelines and other curriculum materials. Teachers even received classroom resources such as magnetic ten-frames, counting cones and a "Nuts About Counting" set. And it wouldn't be a pre-K party without refreshments, so drinks and snacks were provided at the last station while pop music blared through the speakers.
"Moments like these always give us an extra dose of motivation before we jump back into teaching," said Robyn Contreras, a pre-K teacher at Remynse Elementary. "It's encouraging to know we have a whole department that cares so much about our success at teaching and the students' success in learning."
Contreras and many other eager instructors happily drove through the line basking in the love and appreciation shown by staff.
"We wanted this event to be a big 'thank you' to our exceptional teachers," said Melindaaprell Johnson, clerk for the early childhood learning department. "They go above and beyond for the students every single day of the school year, and they deserve to be appreciated year-round."
Johnson's co-workers agreed as they each spoke about their anticipation to engage with teachers and create a supportive network on every pre-K campus.
"We know kids at this age need face-to-face interactions to help them develop, and we're so excited to have them back," said instructional specialist Ken Foster. "It'll probably take a little adjusting to, but we're ready to visit campuses and support staff in person."
Due to the COVID-19 pandemic, the first pre-K teacher drive-thru event was held in August 2020 at McNutt Elementary. Because of the overwhelming positive response to last year's experience, district staff knew they had to do it again and make it bigger and better.
They did not disappoint.
If you want your child to learn from pre-K teachers that have a heart for early childhood development and passion for learning, register for pre-K today at aisd.net/prek. Always remember – big dreamers start small!