Survey of Parents of Students Receiving Special Education Services
Arlington ISD seeks to collect input from parents with a child receiving special education services regarding the IEP process.
All responses will be collected anonymously to help guide the district in continuous improvement.
Encuesta a padres de estudiantes recibiendo servicios de educación especial
Arlington ISD pretende recoger aportaciones de los padres con un estudiante que recibe servicios de educación especial en relación con el proceso del IEP.
Todas las respuestas se recogerán en forma anónima para ayudar a guiar el distrito en su mejoría continua. Gracias por su aportación.
Return to School Information
Department Contact:
Lora Thurston
Director
(682) 867-0800
lthursto@aisd.net
Records Request
(682) 867-7690

VISION
Empowering each student, regardless of ability, to author their own story.
MISSION
We facilitate access to inclusive opportunities with every interaction through Student Self-Advocacy, Services & Supports, Collaboration, and Specially Designed Instruction.
Parents, students and staff learn how Texas Workforce Solutions- Vocational Rehabilitation Services supports students with disabilities to meet their college and/or vocational goals when preparing for the workforce.
March 24, 2021
About Special Education in Arlington ISD
The Arlington Independent School District provides special education services to more than 5,000 students annually. All students who receive special education services and supports meet eligibility criteria under the Individuals with Disabilities Education Act (IDEA).
The AISD Special Education Department offers comprehensive special education services and supports designed to meet the needs of each student who has an individualized education program (IEP). Services and supports are determined by the admission, review and dismissal (ARD) committee and are based upon the IEP. This committee includes parents, teachers, campus administrators, evaluation professionals, the student, and other staff (when appropriate). We value and encourage parent involvement in recognition that parents are the best advocates for their children, our students.
Please browse our website for additional information and descriptions of our services and supports, staff contact information, and helpful resources for parents, teachers, students, community members and other stakeholders.  If you have comments or suggestions or would like to obtain additional information about the AISD Special Education Department, please contact us at the numbers or mailing address below. Thank you for your interest in the AISD Special Education Department.
(682) 867-0800 (Office)
(682) 867-7690 (Records Request)
(682) 867-4675 (Fax)
AISD Special Education Department
Enterprise Centre - 2nd Floor
690 E. Lamar Blvd.
Arlington, TX 76011
SPECIAL EDUCATION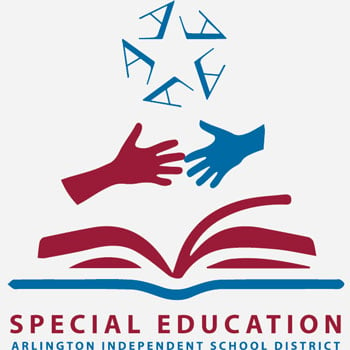 Resources
Services & Supports