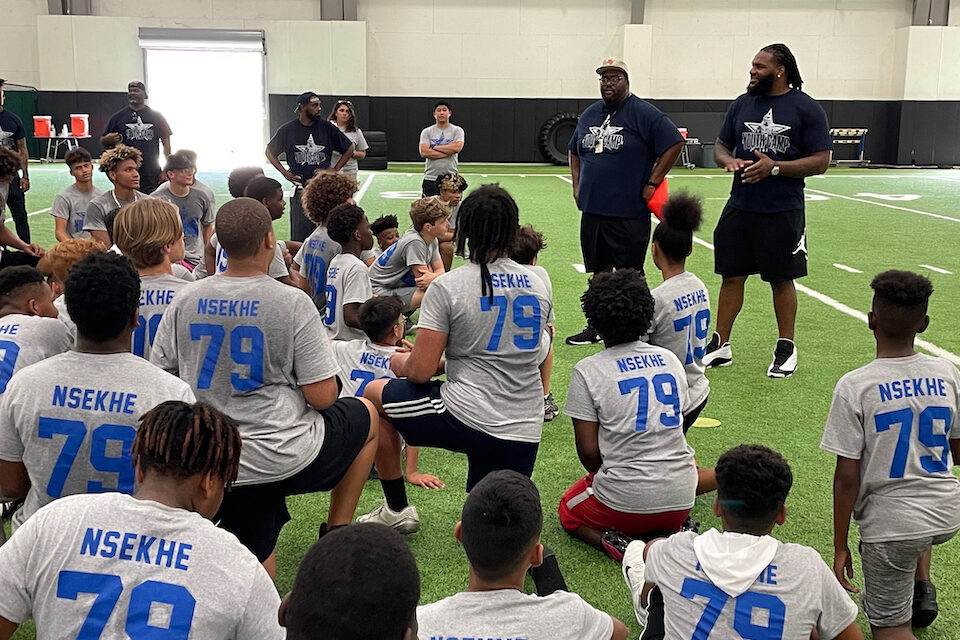 Saturday morning, 10-year-old Brayson Barnard desperately tried to catch a football thrown by Attauyo "Ty" Nsekhe, the new Dallas Cowboys offensive lineman.
No, Barnard, of Tolar, wasn't still in bed, dreaming. The two were inside Bowie High School's Multipurpose activity center, where Nsekhe was hosting a football camp. And another youth participant kept intercepting the pro athlete's passes to Barnard.
That's when his buddy Austin Roberts stepped in. Showing no fear, the 10-year-old Roberts – sporting his favorite player Odell Beckham Jr.'s Cleveland Browns jersey – yelled out to the 6-foot-9-inch, 330-pound Nsekhe. Twice. He wanted him to throw another pass to Barnard since the other kids had left for another side of the indoor field.
Nsekhe obliged. The youngster caught the 10-yard pass. The moment was priceless.
"I was so excited," Barnard said, adding that he wants to one day play for the Cowboys, a team that his "entire family" loves.
The boys were among more than 100 participants – between ages 6-18 – who attended the five-hour long, non-contact football camp. For the fourth year in a row, Nsekhe teamed up with the Arlington Police Department to host the event at Bowie, his alma mater.
Since his professional career began 12 years ago, Nsekhe (pronounced en-SECK-he) has been giving back to Arlington and surrounding communities. In 2017, the Ty Nsekhe Foundation was established to empower and enhance the lives of youth through mentorship, scholarships and various programs.
Because of the pandemic, it was crucial that he held his camp this year. Nsekhe said kids need extra inspiration and an opportunity to socialize, all while trying to improve their football skills. Such was the case for Jacob Martin and Eian Jones – who play for Young Junior High School – and Brandon Heath, a member of Boles Junior High School's team.
The close friends hung out and participated in a variety of combine drills, ranging from the 40-yard dash to position-specific training for both offensive and defensive players. However, attending the event was even more personal for Heath, who plays various defensive positions at his school. The 12-year-old's grandfather Forest Gill passed away last year.
"I just want to make my skills better so I have a chance to make D-1 (Division 1 school) … So I know that I've done something right, just to make him proud," Heath said.
Home sweet home
Like Heath, Nsekhe was once a preteen finding his way on the football field. Raised by a single mom in Arlington, he had a stellar career at Bowie before playing at Texas State University in San Marcos. Undrafted in 2009, Nsekhe began his professional career in the now-defunct Arena Football League with the Corpus Christi Sharks. He also saw stints with other teams including the Dallas Vigilantes and San Antonio Talons until 2012.
That's when the NFL came calling. Throughout his career, Nsekhe has suited up for the Indianapolis Colts, Los Angeles Rams, New Orleans Saints, Washington Redskins and Buffalo Bills. This past March, the Cowboys signed him to a one-year, $1.75 million contract. The former Bowie Volunteer, now 36, is still on cloud nine.  
"It feels like I'm in high school again … Coming home to play in front of family and friends, is love," Nsekhe said, recalling how some of his relatives and close friends couldn't travel – nor could they brave Buffalo's ultra-cold weather – to go to his games.
Nsekhe is grateful for the continued support of those loved ones for whom he's "been a pillar." His heart bleeds for local underprivileged youths as well. And for good reason.
Nsekhe reflected on how his mom once couldn't afford to buy him a pair of sneakers that cost more than $200 because of his 16 shoe size. After his mom shared the dire situation with Dallas Mavericks owner Mark Cuban, Nsekhe said he had some shoes shipped to him.
"So I just want to pay the action forward," he said.
His camp was free and the kids also received a catered lunch and complimentary t-shirts bearing his name and jersey number. But the football lessons were invaluable. The kids' races around cones and tire drills, for instance, gave them a major workout.
"We did a bunch (of drills), in a short amount of time," said event coach Joseph Williams, who serves as offensive lineman coach and run-game coordinator for Bowie.
APD Chief Al Jones also shared some laughs with the youths while encouraging them to make great choices. Trying to bridge gaps between his officers and the youths, he urged them to "come up to speak or give me a high five," if they were to cross paths with him in public. 
"I don't want you to think (police) are trouble," Jones said.
Reaching out to all
While only a handful of girls attended the camp, Nsekhe was thrilled that some young ladies accepted his invitation to help enhance their talents. He said, "It's 2021. It's time to be inclusive. You have girl sports everywhere … Why just make it a "boys only" thing?"
Maurisa Goldston, who has played cornerback in the tackle Legends Football League for years, recently started "Fierce Beauties." The first-ever all-girl flag football league in Texas, based in Fort Worth, will serve about 60 girls between ages 4-18, starting this fall.
Nicknamed "Baby Deion" (after the legendary former Cowboys star cornerback Deion Sanders), Goldston took four of her players to Nsekhe's camp.
"You need to learn from every athlete … You can't get it all from me. And especially with it being a free camp, why not soak it all up?" Goldston said she told them.
         Feeling the exact same way was Caroline Simpson – the only girl on the varsity football team for Denton's Guyer High School before she graduated this spring. The slot receiver said that she couldn't miss Nsekhe's camp. The 18-year-old hopes to land a flag football scholarship from the University of St. Mary in Kansas.
While at the camp, Simpson appreciated the tips from the coaches and the time to practice running routes. The "die-hard Cowboy fan" took pride in leaving one of the male participants in her dust during one of the drills.
Simpson quipped, "I'm just as athletic as the boys."