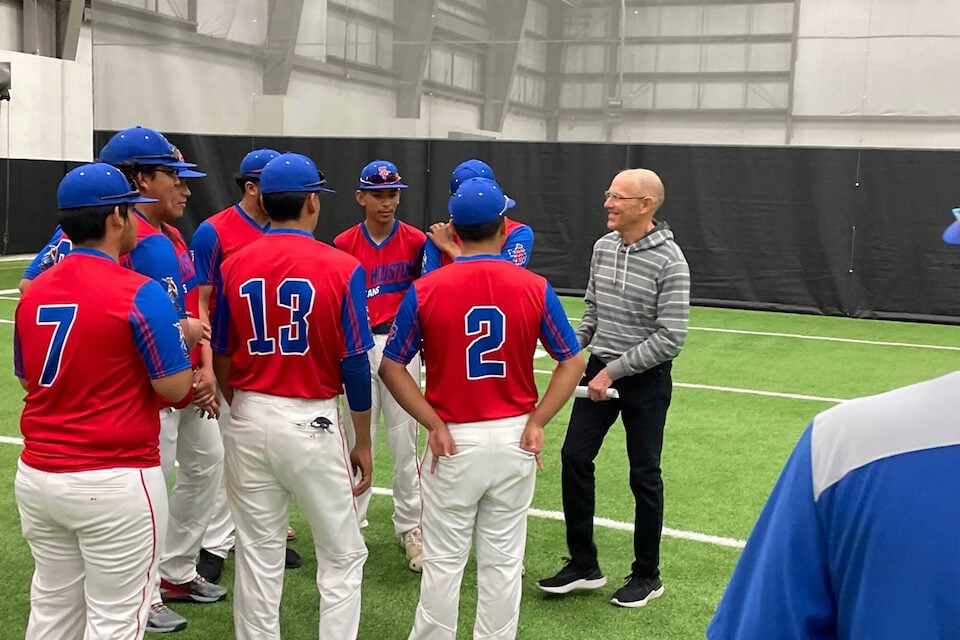 Shortly before Sam Houston High School's varsity baseball players took the field for their first district game of the season last week, they shared a few laughs inside their school's multipurpose activity center.
The teenagers' time together was perfect and gave them an opportunity to shake their nerves. The Texans talked about their difficult opponent – the Gophers of Grand Prairie High School. They admitted that their "overthinking" while attempting to make big plays sometimes leads to costly mistakes.
Then they got the surprise of a lifetime. Tom Grieve, who has spent 54 years with the Texas Rangers as a player, executive and broadcaster, walked in. With him was Mark McLemore, a former standout second baseman for the Rangers during the late 1990s.
Meeting and receiving advice from Grieve and McLemore – who, respectively, provide color commentary and analysis for Rangers' games for the Bally Sports Southwest network – shocked and thrilled some of the players. Particularly David Herrera, a pitcher who also plays first base.
"Seeing them on TV almost every day, since you were little, you recognize them. It's pretty awesome," Herrera said.
 Stepping up to the plate
The two legends were there on behalf of the Rangers, who are celebrating their 50th anniversary this year. The Texas Rangers Baseball Foundation, established in 1991, has invested more than $50 million in the community. Their efforts support children, the military, first responders and their families, as well as educational, health, and athletic programming and partnerships.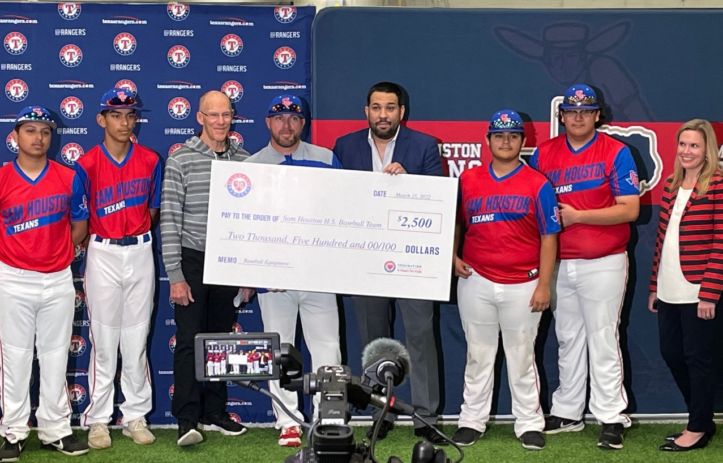 On that day, the organization donated $2,500 to Sam Houston's baseball program. Before presenting the check to the team. Ray Casas, the foundation's director of community impact, acknowledged Sam Houston and community members for their "perseverance," noting the difficulty brought on by the pandemic.
"We're just here to say thanks for all of the work that these student-athletes do each and every day … and to the families, and to the school district. Because without them, our community would really be in a difficult spot," Casas said.
After coaching at the college and professional minor league levels for 14 years, Barrett Weaver has led Sam Houston's team for the past three seasons. He said the funds will be used to purchase team bats, catcher's gear, a set of helmets and several gloves for each position.
"The Rangers contribution is an impactful donation that is very appreciated and shows the Rangers' level of commitment to local/community programs," Weaver said.
 Herrera said "any little bit can help," and that the money will cause his team to "improve as a whole unit." Yet, the senior is more excited about what will come after he graduates. "I think it's amazing because it gives us chances to keep growing the program, to keep helping other players," he said.
A grand-slam time
Before heading off to the diamond, some of the players asked to take pictures with McLemore, dubbed "Doctor of Defense". He earned this name back in the day for his outstanding fielding skills. The same went for Grieve, who is widely known as, "Mr. Ranger," partially for being with the team in the 1970s, when it first moved to Arlington and was still called the Washington Senators. 
"I love talking with the kids," Grieve said. Grieve was also surprised that the boys were so informed about the individual talents of current Rangers. Especially the Rangers recent draft choices.
"It was pretty obvious to me that they know about as much as what's going on with the team as I do right now," Grieve said. "They are big fans."
Like Herrera, senior Francisco Castaneda – a third baseman and pitcher – said that he most valued the legend's advice. It's all about respecting and bonding with teammates.  
Grieve told them, "While you're here, cultivate the relationships. You're gonna win what you're gonna win. You're gonna lose what you're gonna lose. That's not the end of the story."