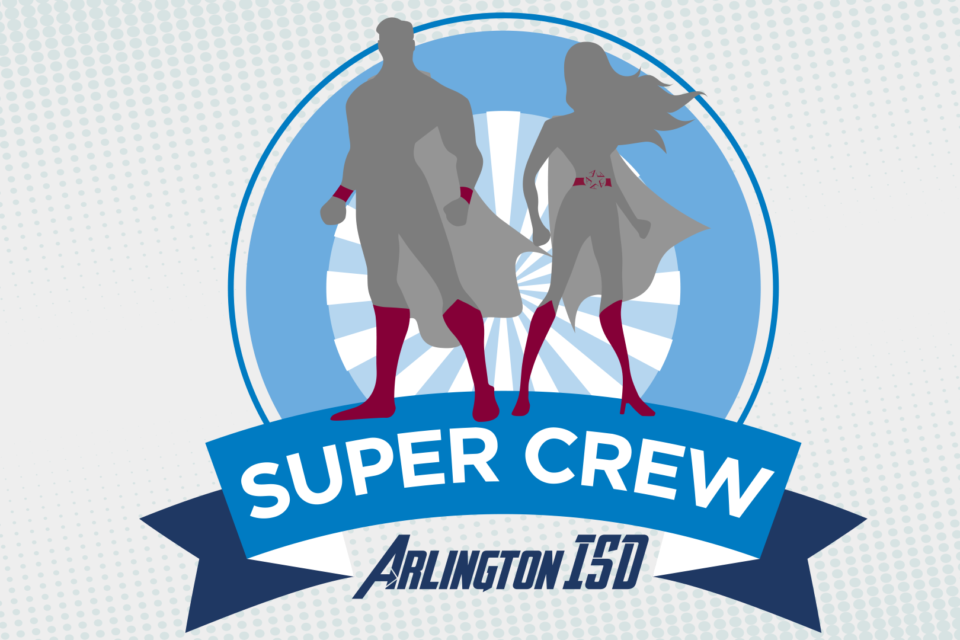 Arlington ISD Recognizes Maintenance and Operations Staff
Thanks to a group of unsung heroes, the Arlington ISD's operations and maintenance personnel (super crew), Arlington ISD schools are continuing to be cleaned and maintained throughout the coronavirus pandemic. Though school buildings are closed, 27 campuses are providing meals for children each week, and all campuses still require maintenance and cleaning on a daily basis.
It's a huge job made even more important – and risky – by the coronavirus. But the job is not only being done, it's being done exceptionally well.
"Our task is a simple one – we are here to serve," said Kelly Horn, Arlington ISD executive director of facility services. "Our folks have tirelessly reported for work every day as critical and essential members of the team." 
The super crew, from custodians to maintenance technicians, often do their work when no one else is around to see it. But their work is foundational to everything the district does. The entire community relies on and benefits from their service.
"We owe a tremendous thank you to our operations and maintenance personnel for the incredible job they always do, but even more so right now during COVID-19," said Arlington ISD Superintendent Dr. Marcelo Cavazos. "Though we always depend on them, now, more than ever, the work they are doing is critically essential. Without them, our school district simply couldn't function."
These employees are extremely hardworking and serve selflessly and professionally.
"They are some of the most generous and caring people that you will ever meet," Horn said.  "I am blessed to call them my team!"
Many also have children in Arlington ISD schools, which makes the job even more personal. 
"Keeping our buildings safe matters to them," Horn said. "They clean and maintain our schools during the day, then go home to care for their family and help with home school at night." 
By the Numbers
120 – The Arlington ISD has 120 custodians (out of 436 operations personnel during normal operations) on duty each day during the COVID-19 closure. The schools offering student meals require thorough cleaning each day. In addition, the district has one or more custodians stationed at each school daily to monitor the facilities and provide localized disinfection services whenever someone enters the buildings.
60 – The Arlington ISD has 60 maintenance technicians (out of 160 technicians during normal operations) on duty each day during the COVID-19 closure. They have continued the normal maintenance routine, including groundskeeping. In addition, they are taking advantage of the empty school buildings to service all HVAC systems and change out all filters. They are also investigating potential excessive water usage and leaks.
27 – The Arlington ISD continues to provide meals for students each week from 27 campuses spread across the district. Those schools, and particularly their kitchens, require thorough cleaning each day.
1,178,698 – This is the number of meals that the Arlington ISD has provided to children in the community during the COVID-19 closure as of May 15. None of these meals would have been possible without the support and cleaning provided by the custodial staff.
77 – There are 77 school campuses in the district plus administrative and service buildings, and each one still requires regular maintenance, even when students and teachers aren't in the buildings.
Keeping schools clean
Even before COVID-19, the Arlington ISD had a high standard for cleanliness executed daily by the operations team.
"We approach cleaning the buildings with the same mindset that we have always had: a clean, well-maintained building is a safe building," Horn said. "Our students and staff deserve a clean, well-maintained, safe building to learn and work in daily."
In fact, three years ago – long before COVID-19 – the AISD added a disinfectant misting program to its cleaning process to guarantee germs get killed and schools are thoroughly clean.
Those practices and standards ensured the district was prepared when coronavirus struck.
"We still clean thoroughly from top to bottom, but during the current situation with COVID-19, we are focusing on a more aggressive and frequent process of disinfecting touchpoints like door handles, door jambs, light switches, counter tops and restroom fixtures," Horn said.
A round of applause
Despite their importance and value to the district, the operations and maintenance employees rarely receive the thanks and recognition they deserve.
But we can change that.
"Let's let them know that we see the work they are doing, and we know how important it is," Cavazos said. "We are so grateful not only for the jobs they do, but for who they are, and for how they do their jobs with such great devotion and excellence."
Thank you to our operations and maintenance personnel. You are our dream of a super crew that exceeds expectations.