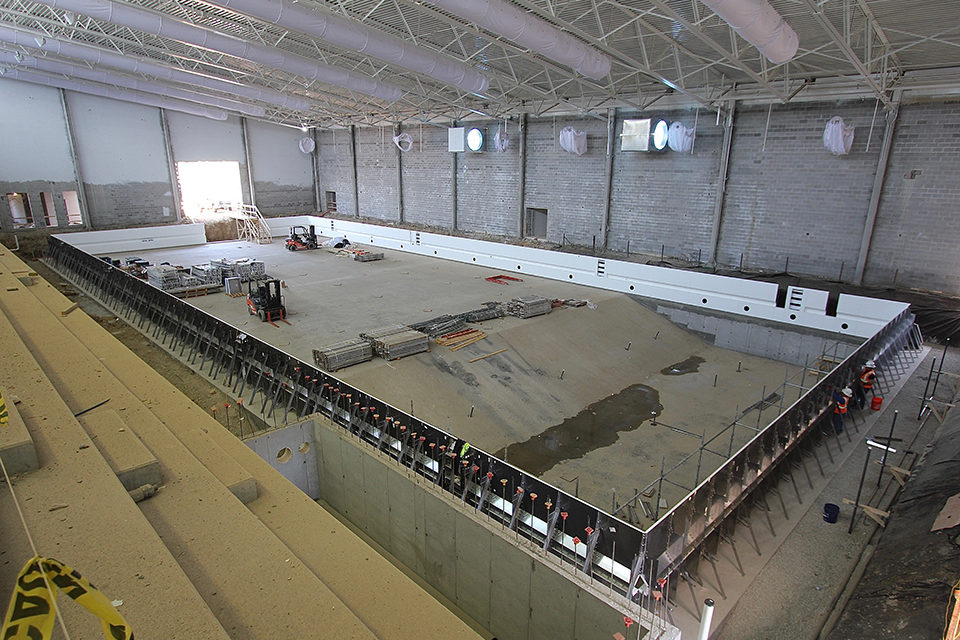 Arlington ISD Future Of Swimming Is Taking Shape
There's no water yet, but the big concrete hole in the ground is starting to look like a real pool. Construction crews positioned most of the side panels last week, giving shape to the Arlington ISD's future swimming "home."
"We are very excited to see the Arlington ISD natatorium come to fruition because our swimmers will finally have a place to call home," said Suzanne Dangelmaier, Arlington ISD aquatic coordinator and Arlington High School head varsity boys and girls swimming coach. "We will not only be able to train in a world-class facility, but we can build our champions from a young age through our water safety program."  
The pool is part of the district's future Athletics Center, a 2014 Bond project that includes the natatorium and an arena for basketball, volleyball, wrestling and elementary gymnastics and is located next door to the district's future Center for Visual and Performing Arts
The first-ever natatorium for the Arlington ISD includes the 50-meter pool with moveable bulkheads, a diving area, warm-up pool and seating for 1,000 spectators. And it gives the district's swimmers the "home" they've never had. They will no longer have to squeeze their practices in at the University of Texas at Arlington and Tarrant County College Southeast pools.
Natatorium A First For The City And Arlington ISD
The natatorium is also a first for the City of Arlington, which has partnered with Arlington ISD to host large, high-level swim competitions like intercollegiate and national club meets in the future (Learn more).
While this pool will be worthy of those major competitions, it will primarily offer Arlington ISD students daily workouts and swim meets in a world-class pool. Manufactured by Myrtha Pools in Italy and shipped in pieces to Texas, the pool will give swimmers the best possible experience. The pool's unique design minimizes wake and gives all swimmers clean water.
"We chose Myrtha Pools as they are the number-one choice for the Olympics and FINA World Championships because they provide pools that are lighter, stronger and faster," Dangelmaier said. "Additionally, Myrtha Pools provide lasting durability through their state-of-the-art design for competitive pools."
In fact, the majority of current world swimming records were set in Myrtha pools.
"The high school swimmers are eager to invite competitors to our home where new pool records will be set, all because of the support from our community," Dangelmaier said.
The new natatorium is scheduled to open this fall.