The gray skies, chilly temperature and occasional drizzle could not dampen the mood.
As Arlington ISD broke ground this week for the construction of a new Berry Elementary, Berry principal Rose Ravin's excitement and anticipation was contagious.
"We are excited about what this is going to bring to our community," Ravin said, "not just our district but especially in our east Arlington area. We know this building will provide opportunities for our east Arlington students. We are excited because they will be a part of making new history, new memories, new learning, new designs and new creations."
They will also continue a strong legacy that started when the original Berry school building opened in 1955. It's a legacy of love and community, of outstanding students and caring teachers, that will carry into the new building.
"Berry Elementary holds a special place in a lot of our hearts," said Arlington ISD Board of Trustees Vice President Bowie Hogg. When Hogg was a high school student at Arlington High School, he served as a Berry Buddy, visiting Berry each week to help mentor elementary students.
"It has been a staple of the community," he said. "It is critical to our success in the entire City of Arlington."
That's why the 2019 Bond is funding this replacement building for Berry, one of four school replacements in the bond program.
See photos from the groundbreaking.
It's Time
Though Berry is a great school, the original building was just too old. Ravin reminded everyone of that. With 18 years working in east Arlington elementary schools, she has served at Knox (built in 1960), Thornton (built in 1956), Berry and Roark (built in 1961), which is currently serving as the temporary Berry.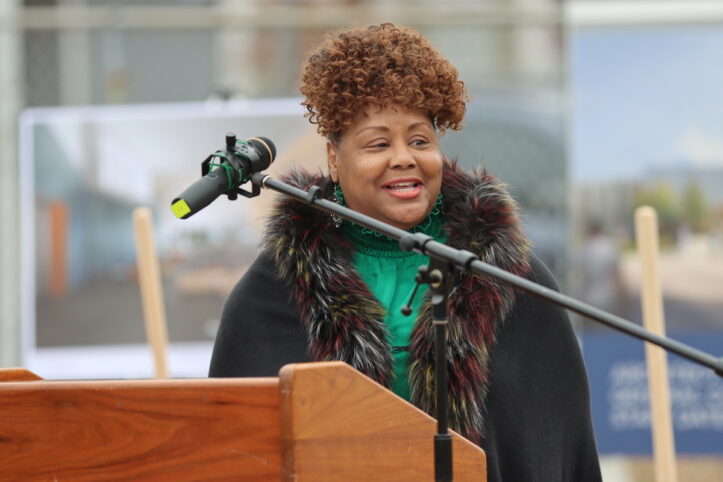 "As I reflect upon those four buildings," Ravin said, "all I can say is – it's time. It is time!"
Replacing Berry is part of a larger plan for east Arlington that is also replacing Thornton Elementary and Carter Junior High, along with building additions at Crow Leadership Academy (already open) and providing renovations at every other school. And not far from east Arlington, Webb Elementary also has a replacement building already under construction.
"It's for you," said Arlington ISD Superintendent Dr. Marcelo Cavazos, speaking directly to the fourth-grade Berry students in attendance. "It's for your future. We know that if you have the right spaces and the right environment and the right teachers, nothing can stop you."
The New Berry
Ravin told the groundbreaking attendees that she asked Berry's first graders what they want in their new school, and they gave her three things. A larger cafeteria with pizza, a larger playground and to learn more.
"Our experts have spoken up – our first graders," Ravin said, "and told us what they want out of a new school. So, we're going to give them that and more."
A lot more.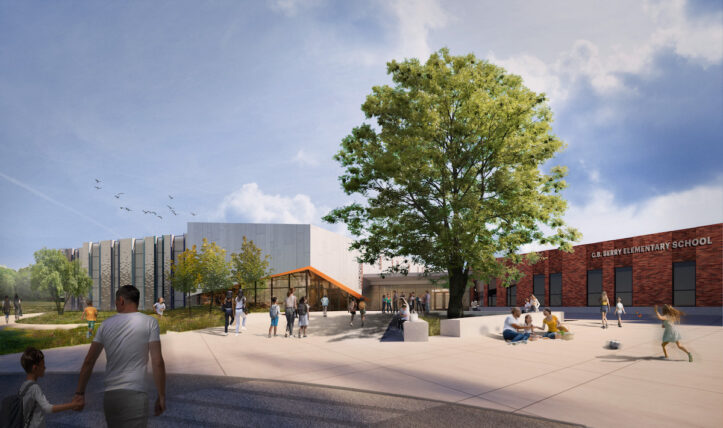 The new Berry was carefully designed by HKS Architects with input from Berry teachers and staff, students and parents. The two-story school building with nearly 105,000 square-feet will feature five classrooms for each grade (pre-K-6), a media center, fine arts classrooms, STEM labs, makerspace, collaboration spaces, outdoor areas and more.
"What's important in these buildings is providing the learning opportunities for our young men and our young women and also providing the atmosphere for the teachers to provide the highest quality education for every single one of those students," Hogg said.
The new Berry will be built by Joeris General Contractors on the site where the original Berry stood and is scheduled to open for the beginning of the 2023-2024 school year.