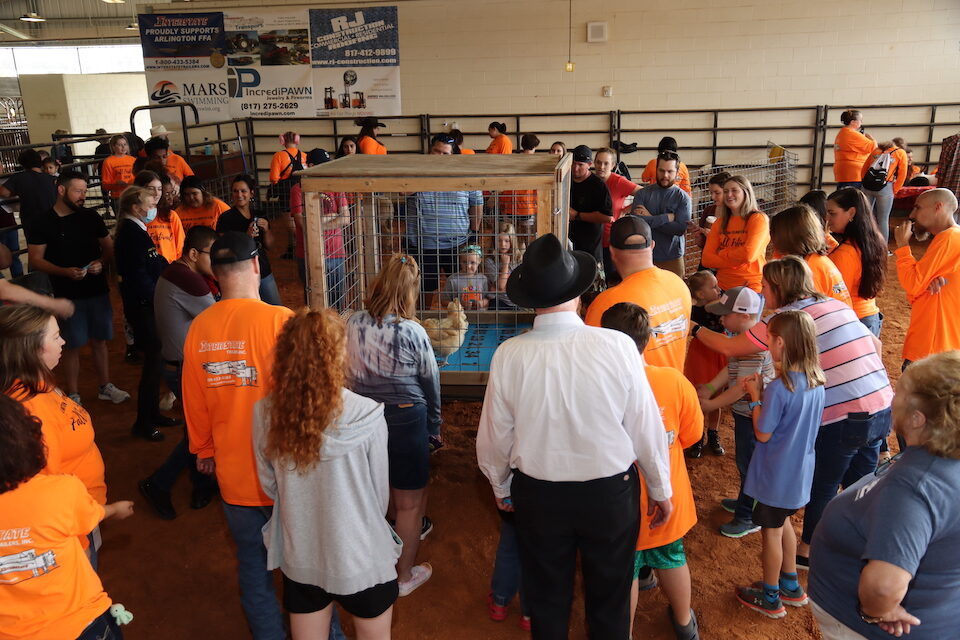 Seth Ressl envisioned a ton of enjoyable and interesting adventures as the parent of an active high school student, but presiding over a game of pooping chickens wasn't one of them.
 Yet during the second annual National FFA Organization Booster Club Fall Festival last Saturday at the Arlington ISD Agriculture Science Center, there he was, mic in hand, persuading people to sign up for Chicken Poop Bingo, where dozens of participants would eventually circle a small, elevated cage while egging on a chicken to poop on the number of their choice.
One hundred fifty dollars went to the winner – the person who picked the right number, not the chicken, although the chicken that Ressl called "the bearded lady" did get a chance to return to her pen and load up on more digestible goodies. Another contest was fast approaching.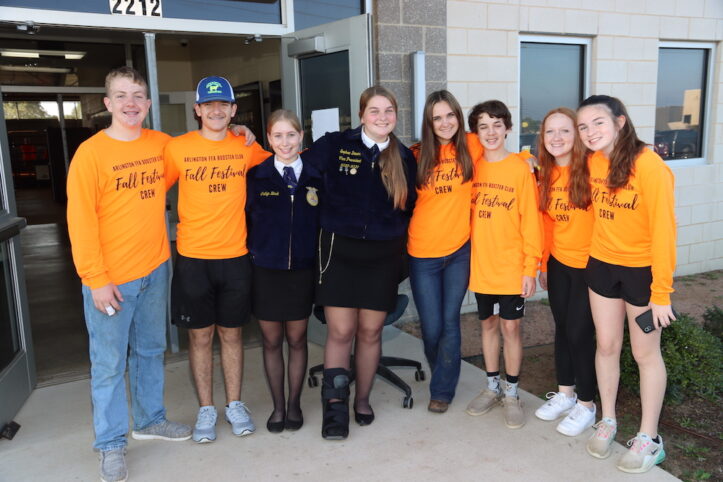 "FFA isn't what it was when I attended AISD" said Joel Winston, a former FFA member from Martin High School who had $10 riding on Tulip, a pretty brown hen. "We definitely didn't have this building with all the animals in it. Man ol' man, how it has changed."
It has, which is the beauty of holding the festival, said agriculture science teacher Kyle Durr.
"It's a great way to show off this place," Durr said of the 26,000-square foot center that houses dozens of animal pens and support areas for cows, goats, lambs and chickens. There are also classrooms, a metal shop and offices.
"Because we're right off Pioneer, people drive by all the time wondering what it is, and when they find out, they still don't know exactly what we do here. The festival is a family friendly event to have a lot of fun but also give them a sense of what happens here."
Blue blazer-wearing FFA officers strolled around the grounds answering all sorts of questions about not just the building but also what being an FFA member means and what students might expect in agricultural classes. Oftentimes they had to talk over the live music or catch participants between activities like making arts and crafts, having their face painted or petting an array of friendly goats and lambs.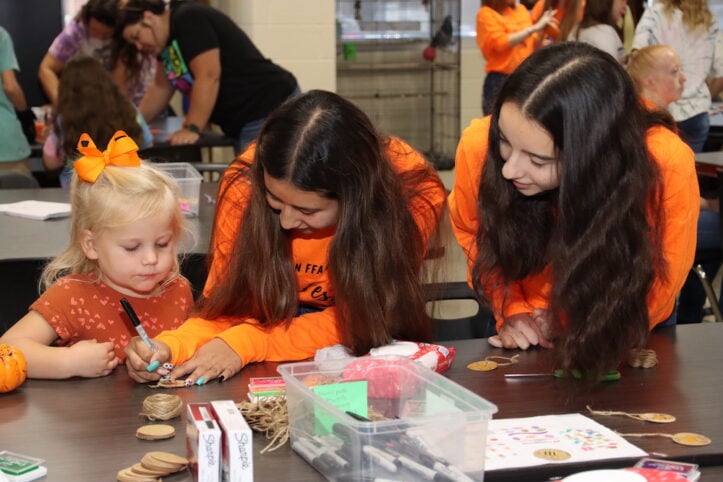 Arlington FFA chapter president Sophee Dever said they are up to 140 members this year, a jump from last year and the year before.
Part of the spike in numbers is students returning to in-person activities and part of it is a growing word of mouth.
"Because we are in an urban environment, we actually have students who don't know anything about agriculture and want to join because they hear it is fun," said Sophee, a senior at Arlington High School. "The more members we get the more people we have to advocate for agriculture. Students learn it's not just about taking care of an animal, it's about where clothes come from, where your food comes from. Members who don't like animals or eat them come in for the leadership opportunities."
Sophee is one of those students who entered high school with little knowledge of agriculture. She enrolled in an ag class her freshman year because her brother did before her, and shortly after, she was showing goats.
"Now I'd love to go to Texas Tech and eventually be a game warden," she said. "That or floral design."
Fellow students are often surprised when Sophee reveals her interests in showing goats, or any animal, especially when it comes to showing animals in competitions.
"A lot of people ask, 'you show animals? What's it for?'" Sophee said. "I tell them we show them. We breed them. And it's a lot of fun."
Ressl agrees about the fun part. He was skeptical when his daughter came home and announced intentions of buying a goat.
"I think my initial thought was 'whatever. . . come talk to me in a couple weeks,'" Ressl said, figuring the impulse was just that. It wasn't. His daughter Grace, now a junior at Arlington High, got the goat, loves FFA, and now dad is a proud member of the FFA Booster Club.
"The school district does a great job of telling kids what is offered and then transitioning them into what they might want to do," Ressl said. "FFA is not something I ever did personally but they were really good at telling us what to expect and once she got there, educated her. She's had a lot of fun. I saw her enjoyment of being a part of not just the ag science programs but the Arlington FFA Chapter as well."
As for Chicken Poop Bingo, little Tulip pooped within seconds of being put in the cage, which sent everyone into a roar of laughter and made someone $150 richer.
"I have to say that in a million years I never would have thought I'd be doing this as a parent," Ressl said as they prepared for the final Chicken Poop Bingo. "I especially wouldn't have thought I'd be enjoying it this much."