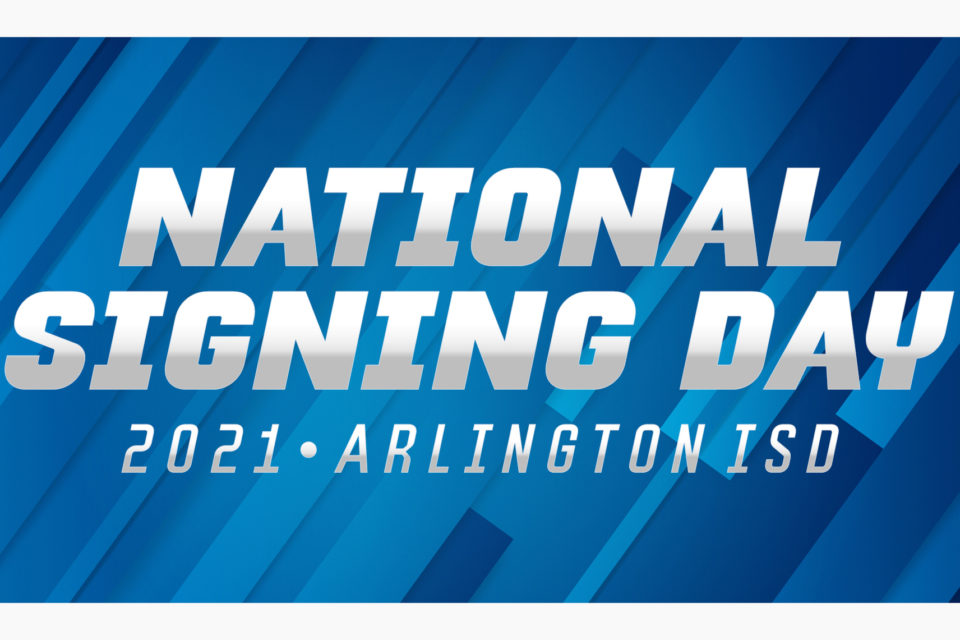 Ceremony hosted in New Athletics Center 
Seated socially distanced from her two teammates, Autumn Smith's smile beamed at the thought of reaching another milestone a lifetime in the making. The Martin High School senior girls basketball standout was among more than 70 student-athletes from across Arlington ISD honored at Wednesday's National Signing Day Ceremony at the Arlington ISD Athletics Center.
"It's a really cool experience getting everyone together, especially since it's COVID going on, you don't get to see everyone together like this, so it's great to share this with my teammates and coaches and family," said Smith, an All-State performer headed to Louisiana Tech next year.
Despite the obstacles of a challenging year, 73 student-athletes rose to the occasion to earn athletic scholarships to 54 colleges and universities. The scholarships total $4.9 million, based on a four-year college plan, according to Arlington ISD officials.
The Signing Day Ceremony is a public acknowledgment of years of dedication for an accomplished collection of young women and men. Their decisions to continue their academic and athletic careers across Texas and the country is both special and unique.
"It's such a great accomplishment," Arlington ISD athletic director Eric White said. "It's not only a sign of physical and mental hard work, it's a sign of perseverance, especially in a year like this to push through. It would have been easy to check out.
"Every year we have this it's such a great accomplishment for kids to show their dedication. And for the parents and coaches for their support and what they pour into them, it's a celebration and culmination of something they worked four years for. And it's a transition to set them up for the next stage of life and the opportunity to be successful."
All six Arlington ISD high schools were represented, with scholarships going out for 12 different sports.
"It's wonderful to look across and see kids from every one of our schools," White said. "That's a testament to our leadership, it's a testament to our coaches, it's a testament to our administration. It's creating a culture here that gives our kids an opportunity to succeed."
As much as that culture allows Arlington ISD student-athletes to pursue their many passions, it's clear that one game remains king in the Lone Star State. More than 40 student-athletes inked football scholarships at colleges such as Texas, Arizona, Kansas State, Oregon State, Army and Navy.
"It's Christmas in February," said Sam Houston football coach Anthony Criss, who had five of his players sign. "It's a great honor to see these kids get an opportunity to get an education. Awesome day. A great event by the Arlington ISD."
The competition for scholarships proved tougher than normal with the NCAA allowing an extra year of eligibility for current college student athletes due to the pandemic. But these Arlington ISD standouts aren't afraid of a little extra competition in the classroom or on the field of play.
And though they're ready for the next step, many of their high school careers aren't done just yet. Smith, along with teammates Mariah Roberts (TCU), Taliah Hill (Lamar) and the rest of the state-ranked Lady Warriors, begin their playoff run next week back at the Arlington ISD Athletics Center.
"I'm very excited about the playoffs and how that will go," Smith said. "We can't look past anyone. We have to think about the game that's coming up and what we need to do to move on to the next round. We're going to have to persevere and stay consistent."