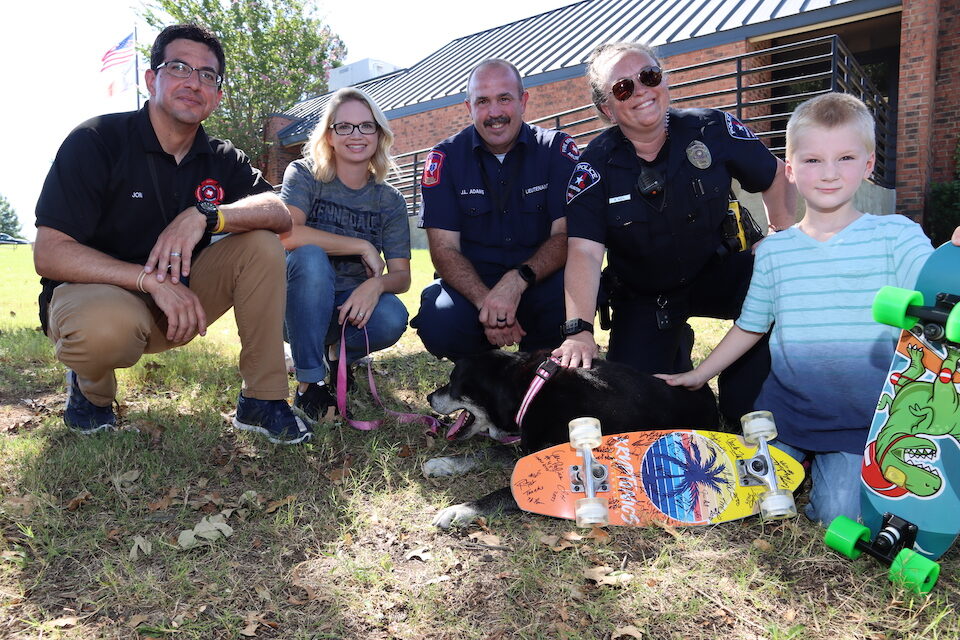 After two days of searching and 11 hours of effort by Arlington police and fire departments, the recovery mission of Zoey, a deaf dog stuck in a storm drain, had a happy ending. They didn't do it alone though. Midway through the hot August day, the police officers and fire rescue team received some help from a little neighbor with a big heart.
Firefighters began to run out of ideas to rescue the dog after exhausting plenty of options throughout the day. As a last resort, a crew member suggested asking nearby neighbors for a skateboard in attempt to slide the dog out of the drain. When the firefighters approached his family, Wood Elementary kindergarten student Hunter Pollard eagerly offered his skateboard to the rescue team.
"We were just outside talking and immediately after they asked us if we had a skateboard, Hunter sprinted to the car to get his out," said Amanda Pollard, Hunter Pollard's mother. "He was so excited to help them out, and it was such a heartwarming moment to experience."
The firefighter was able lay flat on the skateboard and slide approximately halfway through a 500-foot drain where Zoey was able to see him and began walking toward him. While on the skateboard, the firefighter was eventually able to grab Zoey and slide back out of the wet drain.
"We told Hunter his skateboard was probably going to go through some sewage and get wet, and he still insisted we use it to help rescue Zoey," said Arlington police officer Kristi Weil.
Because of his selflessness, Arlington police officers and firefighters pulled up to Wood Elementary in a big, red fire truck and surprised Hunter Pollard with a few tokens of appreciation.
Weil and members of the fire department returned his original skateboard to him which had been cleaned and signed by crew members who were a part of the rescue mission. To top things off, they also presented him with a new skateboard, helmet and pads to replace the old one. The departments honored him with a certificate of recognition, t-shirt, police and fire patches, badge stickers and red plastic firefighter helmets for his classmates. They also framed an article of the rescue story that ran in the Dallas Morning News as a keepsake of the special day. Zoey, of course, was also on hand for the day after recuperating from her ordeal.
The firefighters concluded the presentation with a lesson on fire safety at home and a tour of the fire truck.
Hunter Pollard's act of service did more than save a precious dog's life. It's a reminder that no one is ever too young or old to lend a helping hand to someone in need.
"When you're at school or out in Arlington, there are a ton of ways you can help out," said Weil. "Be kind to others, pick up trash you see on the ground or even go play with someone who looks lonely on the playground. You don't have to be a grown up to be a community helper."