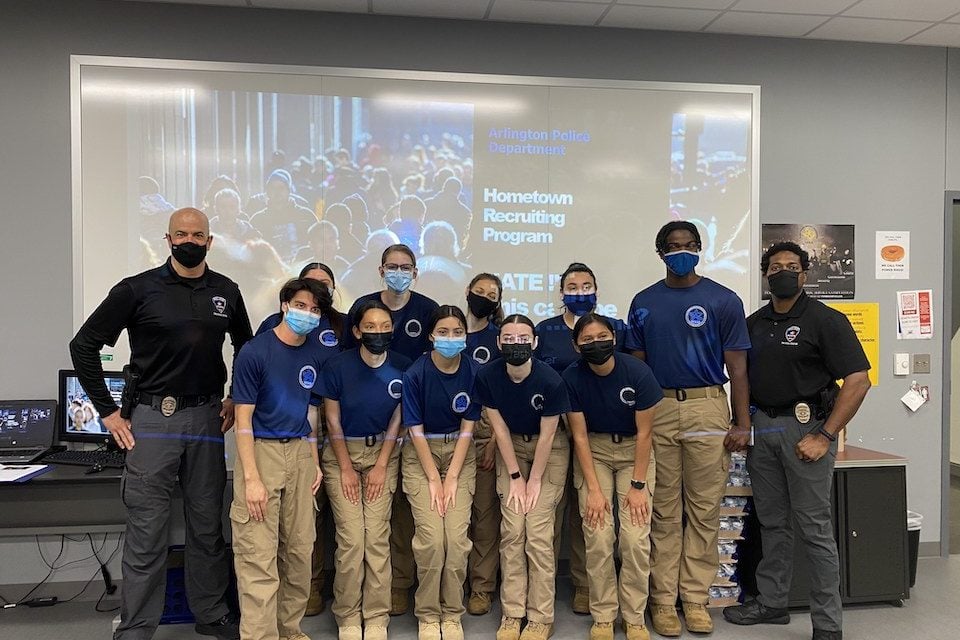 Career + Technical Center home to Arlington ISD Police Academy
Arlington ISD Police Academy students are learning early about the difficult conversations that come along with working in law and public safety, and hate crimes are among the list of topics. Officers from Arlington Police Department were able to offer their expertise on the subject last week.
Arlington Police Department officers Chris Holder and Jastin Williams visited the class at the Arlington ISD Career and Technical Center to teach students how to identify hate crimes in today's society. A hate crime is defined as a criminal offense motivated by bias in part or in whole to a person, group of people or property.
"Once we shed light on these issues, we can be the change we want to see in the world," said Williams. "Hate crimes don't just affect the individuals involved.  It affects entire communities."
Holder encouraged the recruits to think beyond the parameters of ranks and job titles when entering the workforce. "Whether you become a teacher, doctor or police officer, you define your job," he said. "It should never define you."
"You have to remember that, or you will forget why you started in the first place."
The duo also touched on the significance of embracing diversity in the community. According to a survey conducted in 2018, 20% of Arlington's population was born outside of the United States. 
"We appreciate the vast amount of perspectives in this city, and our department reflects that" said Williams. "However, we often see in other cities the lack of diversity in a police department can cause a negative impact if you're unable to identify and connect with the citizens you're supposed to protect."
Holder and Williams have presented their research on hate crimes to police in St. Louis, Mo., and also got the opportunity to present the curriculum to the International Association of Chiefs of Police  in Nashville on Saturday. The curriculum is a part of a national roll out that other departments across the nation will have the option to inherit.
"Arlington Police Department has worked diligently on educating its officers and associates on hate crime and incident reporting for the last two years," said Officer Fred Kemp of the Arlington Police Department and an instructor of the police academy. "It is crucial for us to continue education on hate crimes inside of our department and expand our outreach to community members and projects throughout Arlington in the coming months and years." 
"This program teaches students about the importance of working with the community we protect.  We have to consistently listen to the citizens that we serve to honor our motto:  One Patch, One Department, One City."
Since 2015, students in the Hometown Recruiting Program have been swapping textbooks for tactical training and intense workouts in preparation to step into law enforcement. From forensic science to conducting investigations, courses are designed to give participants hands-on experience in the field of public safety.  
From the recruiting program's inception, 132 students have graduated, two are currently Arlington Police Department officers, two are jailers and one is a dispatcher. Approximately 15% have entered the military after graduating high school, and the remainder are currently working on their college degrees or in the workplace.
For more information on the Hometown Recruiting Program, please visit aisd.net/career-technical-center.