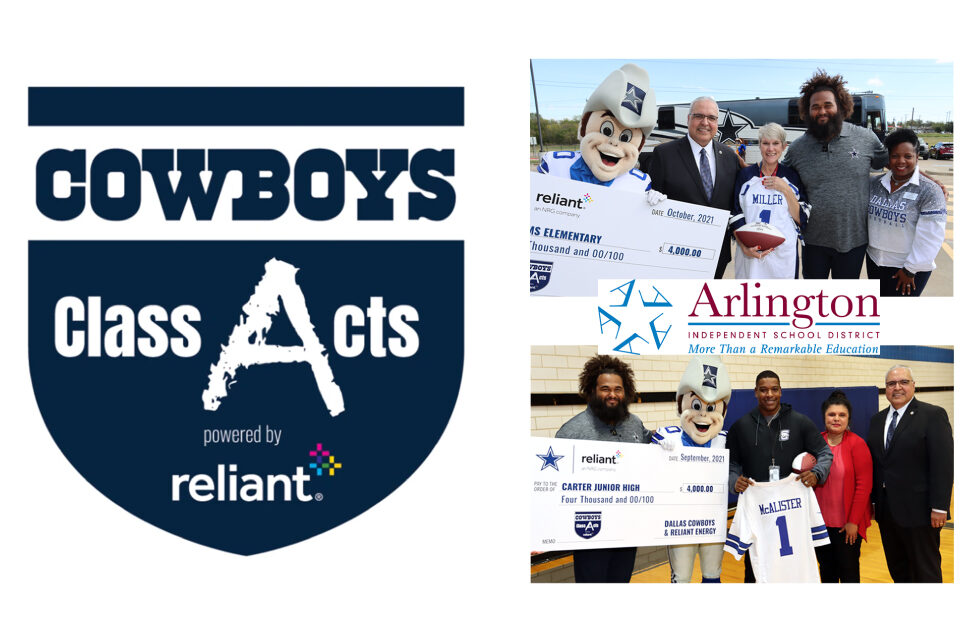 The only team on a hotter winning streak than the Dallas Cowboys may be the teaching team in the Arlington ISD.
William McAlister, a social studies teacher at Carter Junior High, and Adams Elementary third-grade teacher Tarri Miller were honored this week as the Dallas Cowboys/Reliant Energy Class Acts teachers of the month for September and October.
Both teachers were surprised on their campuses Monday as the Dallas Cowboys bus showed up with a Cowboys jersey, football, a check for $4,000 to use on campus, Cowboys mascot Rowdy and former Cowboys offensive lineman Joe Looney.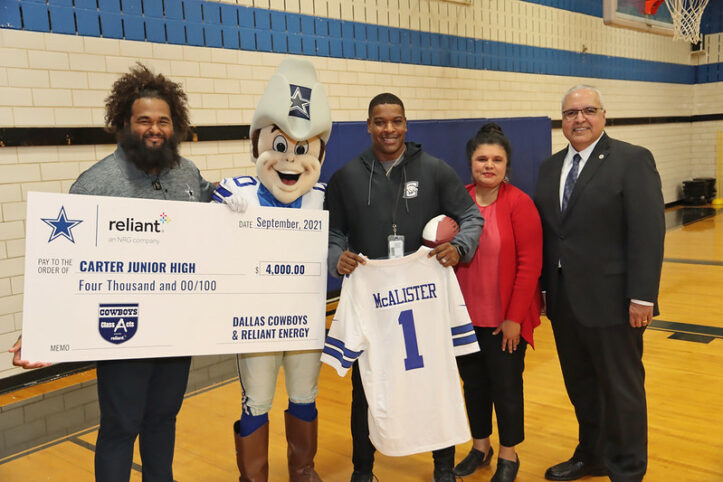 McAlister, who is also a coach, was heading to the gym when he was greeted by the Cowboys crew and Arlington ISD superintendent Dr. Marcelo Cavazos. His award was extra special as he is an Army veteran and the Cowboys wanted to honor him during their Salute to Service week.
"I'm very honored by all of this," said McAlister, who was the district's junior high teacher of the month in September. "It's all about the kids. Everything we do is 100 percent for the kids."
McAlister's students swarmed him in the gym. They also got some words of advice from Looney. Looney's message to them was there is always a right way and wrong way to do things and that you will be rewarded for doing things the right way.
"We're very blessed and very thankful to have men like you doing what you do," Looney said to McAlister.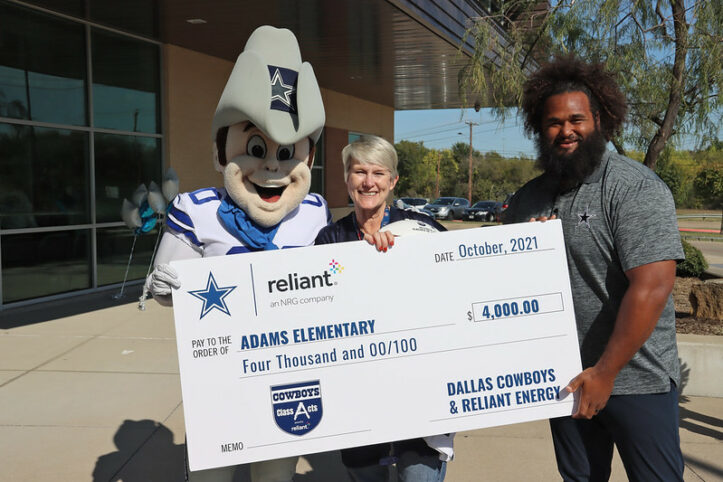 Miller thought she was heading to the front office for a meeting. Little did she know that just outside the office was the bus along with her students.
"I feel so valued here," said Miller, who is in her second year at Adams Elementary. "I'm freaking out. My heart is beating so fast. COVID had me losing my joy. I loved coming to work here every day last year. We had to persevere and be resilient. I love coming to Adams so much."
Miller got hugs from all her students and was picked up by Looney.
"This is her calling," Adams Elementary principal Lesley Maroney said. "Every day when she walks through that door she inspires me. She inspires her kids. She helps out wherever she can."
The Arlington ISD thanks the Dallas Cowboys and Reliant Energy for naming two Arlington ISD teachers as their Class Acts Teacher of the Month!
View photos from this awesome event here and watch all of the excitement here.