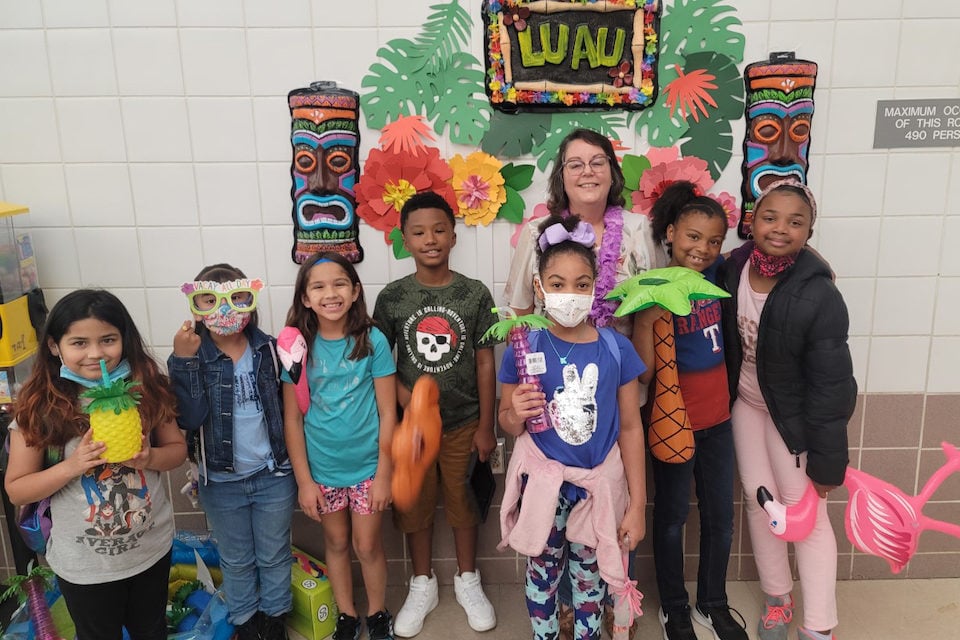 When you think of summer school, thoughts of boredom, monotony and maybe even punishment may come to the top of your head. Luckily for students in Arlington ISD, teachers and staff at Ellis Elementary are redefining the idea of summer learning by creating a welcoming environment and spicing things up in the classroom.
Students from Ellis, Larson and Peach hop off the bus in the morning and enter a Hawaiian-themed paradise as music fills the hallways. From leis to tiki huts, the school is filled with decorations to make the kids feel the fun of summer. Throughout the day, students can win tickets and redeem them for dress-up days, dance parties and other prizes at the tiki hut in the cafeteria. A luau photo booth with fun props like flamingos, palm trees and monkeys also add to the summer décor.
"Our main goal is that the students leave wanting to come back," said Principal Ayesha Ramos. "We want to make sure that we provide them fun throughout the day and ultimately feel motivated and encouraged."
Summer Learning, also known as Extended Year, would normally serve students that did not pass to the next grade level, but due to the COVID-19 pandemic, the program had open enrollment this year. Parents and teachers could sign their kids up to attend the six-week program. The curriculum includes reading, writing and math, as well as enrichment activities.
To guarantee each student has an hour of enrichment daily, the district hired a librarian, STEM lab or technology teacher and guidance counselor for every campus. The teachers also get to choose enrichment activities that they are passionate about and wouldn't usually have time to teach during the regular academic school year.
"Enrichment is a unique experience and helps build relationships between teachers and students, too," said Ramos. "Everyone is coming from different campuses, so they may not know the others in the classroom. For an hour per day, the class gets to have fun together and bond while dancing, writing educational rap songs or playing board games."
"My favorite part about Summer Learning is getting to do all of the fun activities together with my friends here," said third-grade student Charmaine W. "We're learning how to work as a team when we play different sports and learn together."
"We're already seeing our classes and staff bonding like families in the short time they've been here, and we hope they keep these connections," said Ramos.
It's safe to say the teachers are having just as much fun as the students during Summer Learning, too. Roshounda Bradley, STEM lab instructor, raved about marshmallow catapults, paper airplane contests and many other science projects she has planned for her classes this summer.
"I'm grateful I get to interact with the kids, because I don't get to see them much throughout the school year," said Bradley, a Peach Elementary testing facilitator. "We want them to have fun and consider this an extension of what they've been doing throughout the year rather than looking at it as punishment."
Whether trying to catch up or get ahead, Summer Learning has plenty of opportunities for kids to develop academic and social skills while having fun. The program will continue through July 23 for elementary, junior and high school students as they prepare to step into the next grade level in the fall. For more information about Summer Learning, please visit aisd.net/summerlearning.