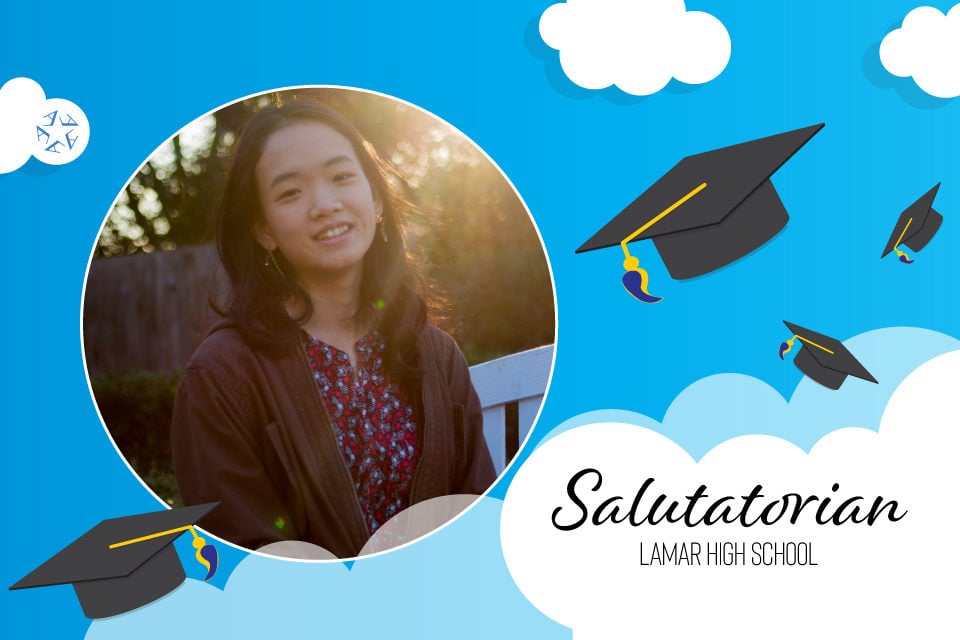 In the week leading up to Arlington ISD graduations June 3 and 4, we are celebrating the Class of 2021 valedictorian and salutatorian for all seven Arlington ISD high schools.
Name: Cleo Chiu, Salutatorian
School: Lamar High School
College attending:  University of Texas at Austin
Intended major:  Environmental Science with a Geological Science focus.
Attended Arlington ISD schools since:  9th grade
What advice would you give students entering high school?
I would tell them to take every opportunity they have to do new things or things that they love. High school is intimidating but the best thing to do sometimes is to go for it. Whether that is going to events that may be scary or staying at home and taking a nap. Do what feels right.
What was the most difficult lesson you've learned while in school?
The most difficult lesson I've learned while in school is that overthinking takes me nowhere but trying to not think too much also causes me harm. I'm still working on it now. Loving ourselves is important, so I shouldn't blame myself for random emotions or thoughts that cloud my mind.
What's the most meaningful moment you will take from this school year?
The moment that I think is the most meaningful from this year is when I began to advocate for civil rights, autism acceptance and environmental ideas on social media. Before I was worried about what other people would think – for some reason – but when I shared that first post I felt like I wasn't caged in anymore and I could do what I believed in.
What makes you the proudest about experiencing your senior year in COVID-19?
I think I am proud of lasting through my senior year with COVID-19 because it has helped me realize how much kinder we can be to each other. This year presented many challenges, and I am proud to say I emerged a better person.
What do you see yourself doing 10 years from now?
Hopefully 10 years from now I will be doing something to help the environment. I want to do something to help people transition to more sustainable lives. Hopefully, I am doing something that will take care of both the earth and its people.