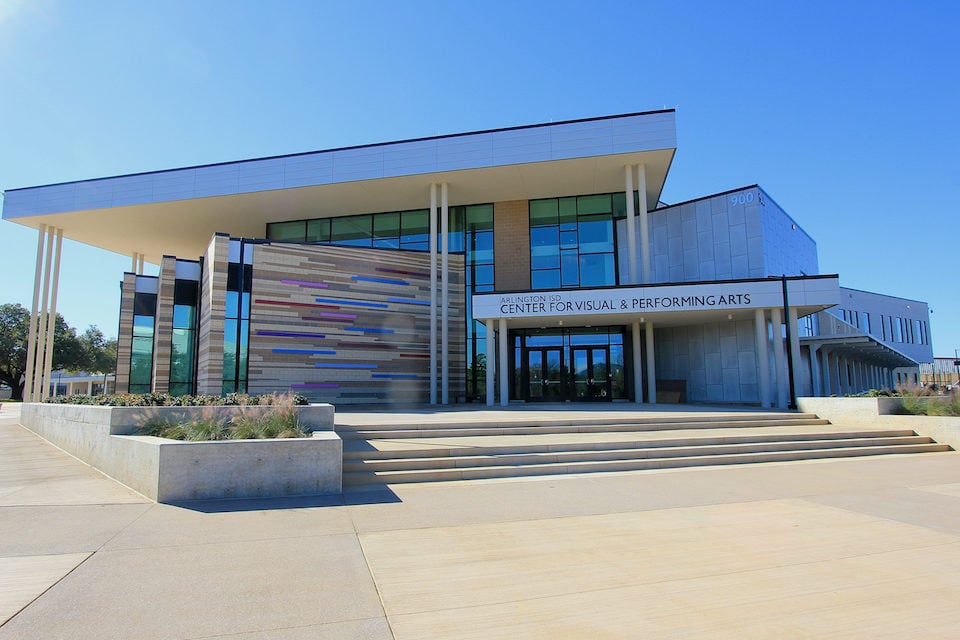 CVPA is final 2014 Bond project
The Arlington ISD's new Center for Visual and Performing Arts welcomed students for the first time last week.
"It has been a long time coming, but the day is finally here," said Dr. Christopher Anderson, Arlington ISD director of fine arts. "Students entered the facility, wide-eyed and speechless, for the first time on Tuesday."
After years of dreaming, planning and construction, the Arlington ISD's Center for Visual and Performing Arts, the final project of the 2014 Bond, is officially open. Part of the district's new Arts and Athletics Complex located next to AT&T Stadium, the CVPA is a state-of-the-art arts facility that is catapulting the district's fine arts program – already nationally recognized – to an even higher level.
Fine arts administrators and teachers have been in the building since the fall, unpacking supplies, setting up furniture, learning the new technology and doing everything they could to get the facility ready for students. 
"We have all been anticipating the day when students would finally have the opportunity to walk through the doors of the CVPA for the first time," said Christopher Bryant, director of the CVPA. "To actually see that day arrive has been well worth the wait! This amazing venue was created first and foremost for our students, and our hope is that they realize this fact everyday they are here."
The CVPA was designed to serve students from the entire district, grades Pre-K-through-12, with world-class performance and demonstration venues. It includes a 1,250-seat concert hall, 425-seat theater, classroom space, art and dance studios, instrument repair center and art gallery.
"Having students on campus brings an energy that truly makes the space light up," said Cathy Isaacks, dean of instruction for the CVPA.
That energy among the students and staff is starting to build.
"Next week, we have our first recording session, socially distanced of course, for one of our student groups," Anderson said. "That will be the first time we will get a chance to put the concert hall through its paces."
Despite the energy, COVID-19 is necessitating a slower opening for the CVPA than originally planned.
"Because of the pandemic, this will be a very deliberate opening process for the building, and we won't begin to host public events for some time yet, but the day is coming," Anderson said. "I am really looking forward to that day when we can begin inviting the public into the space—it will be a glorious experience for all."