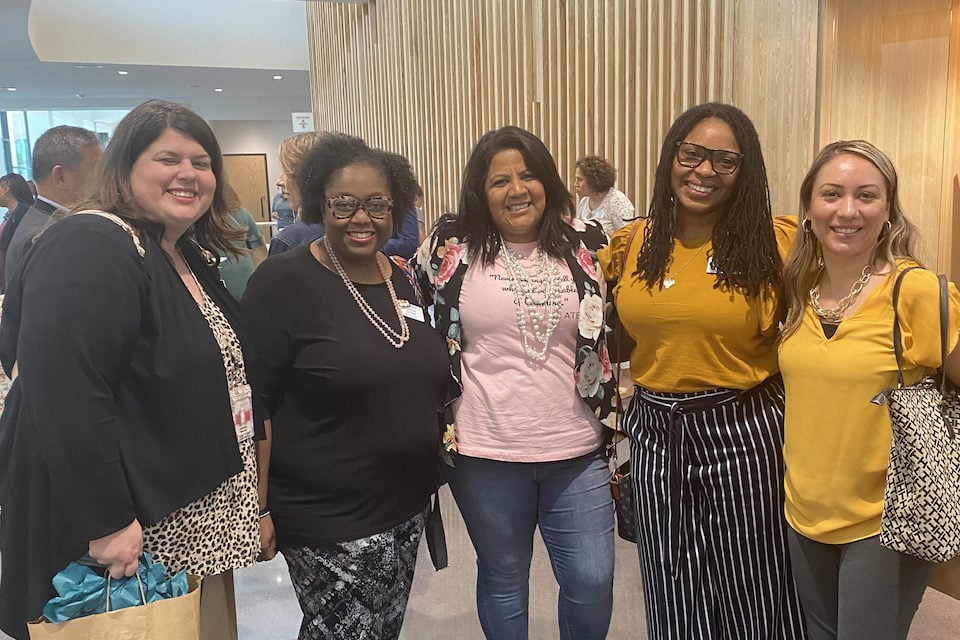 If there is any group of people that knows how rough the last year has been, it's campus administrators. Principals, assistant principals and deans of instruction were integral in the success of students across Arlington ISD during the COVID-19 pandemic. To honor their hard work and commitment to their schools and students, the Arlington ISD school leadership team celebrated them with an afternoon program filled with laughter and well-deserved expressions of gratitude.
Interestingly enough, the program began with a concerto by a grand Steinway & Sons piano accompanied by a comical scene from the cartoon Tom & Jerry. Micah Green, fine arts coordinator of theatre and dance at the Center for Visual and Performing Arts, hosted the event filled with giveaways, student performances and meet and greets with the audience.
Monologues, contemporary dances and musical performances by Arlington ISD high school students served as entertainment throughout the afternoon.
"The games, presentations and variety of performances throughout the day were absolutely amazing," said Dr. Toyia Curry, the dean at Blanton Elementary. "It definitely pumped me up to go back to school next year. I'm ready for the kids to be back, and I can't wait to interact with everybody. I'm even looking forward to getting into the classrooms and helping set up."
   
The school leadership team of area superintendents had nothing but admiration for the campus administrators throughout the program.                                 
"Your leadership skillsets have been magnified this school year," said Dr. Kristina Turner, area superintendent. "You have leaned into skills you did not even know you had and have done it exceptionally well. For that we say thank you. Thank you for leading your staff and your community through a global pandemic. We're proud to celebrate you and excited for what's ahead."
The praise party didn't stop there. Each of the area superintendents expressed their thankfulness and appreciation for the school leaders.
"In education, we're in the business of people," said Dr. T.J. Jarchow, area superintendent. "Thank you for every pivot you've made, all the Zoom meetings you've attended, and for all the hard work you've done in this business to ensure our students were served throughout this challenging year."
The many modifications that were made in the school year were unforeseen and challenging, but campus administrators handled every circumstance and change with poise and grace.
"I've told you time and time again, but the way you've exercised your leadership muscles throughout this year has been impeccable," said Dr. Tracie Brown, chief schools officer. Inspired by a piece in the art gallery at the Center for Visual and Performing Arts, Brown spoke on how hope has been the glue that held the district together this year.
"If we had nothing else this year, we had to hold on to hope. Sometimes we were holding on by a thread and sometimes we had lots of it, but hope is what was able to bring us through every day of this journey. Hope should always remind of us of our bigger calling, and we have to continue to hold on to it if we want to keep succeeding as a district."
In a year that has been nothing short of monumental, campus administrators pivoted and adjusted quickly to ensure the safety and success of each student in Arlington ISD. The tenacity, grit, focus and passion they displayed during the school year did not go unnoticed, and they deserve the biggest thank you for keeping the wheels of Arlington ISD schools turning.