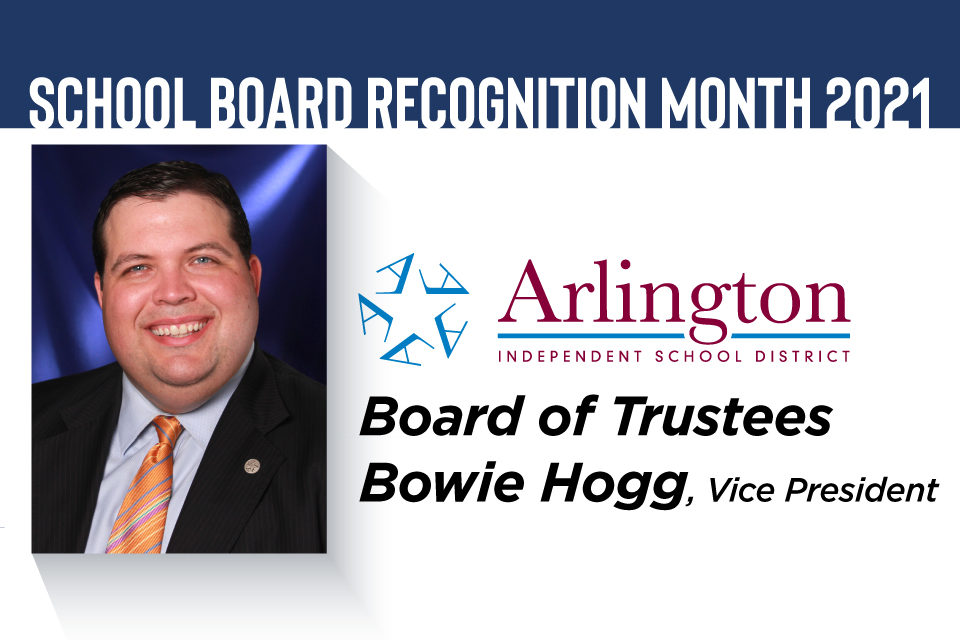 Trustee Hogg graduated from Arlington High School
January is School Board Recognition Month and fittingly the theme is Navigating To Success. The Arlington ISD Board of Trustees had to navigate through some uncharted waters in 2020. We wanted to get their thoughts on the year and what they've learned in helping lead a district of nearly 60,000 students and more than 8,000 employees through a pandemic.
Name: Bowie Hogg
Board member since: May of 2008

〉Ties to Arlington ISD:
I have been blessed to be born and raised in Arlington, and our family has continued to choose this community as our home. I attended Arlington ISD schools from kindergarten until my graduation from Arlington High School in 1996, following in my three older brothers' footsteps as AHS grads. I am also the son of two former teachers, my late father taught and retired from Diamond Hill-Jarvis High School in the Fort Worth ISD, and my mom taught and retired from Shackelford Junior High in the Arlington ISD. I am married to a former Arlington ISD teacher, as my wife Leslie Hogg taught fifth grade at Sherrod and Pope Elementary schools. Now we are blessed to have our oldest child as a first grader in the Arlington ISD and our second one will start kindergarten this coming fall.
〉What's been the toughest part about being a board member during a pandemic?
I know we are all tired of hearing the comment, "in these unprecedented times," but it is very accurate in relation to this pandemic. We have contingency plans built out for almost every situation or we can connect with colleagues around the state to brainstorm best practices if they have experienced something similar before. This pandemic is something no one has dealt with before and the path must change multiple times to provide the best options to our students, staff and community. The other toughest part about being a board member during this pandemic is the split community. In my 13 years I have never seen a more divided issue on beliefs regarding this pandemic. Balancing the pleas from staff, students and the community is challenging to say the least, but luckily our experienced Board and senior staff have been able to come to decisions that we believe are the best for the community and be nimble when we need to change.
〉What have you learned about yourself in the last year?
I don't know all the answers and know that no matter what decision is made, some will feel like they lost and some feel like they won. It is also apparent how this is truly my ministry to provide the best decision I can make for the community. Sometimes the work of boards can get lost in the shuffle, but it has become very apparent during critical times like these that the difficult decisions have to be made. I have learned the community trusts us, and my continued effort to make what I believe is the best decision for the Arlington ISD community is still the right path forward.
〉What's helped you get through the last year?
First my belief in solving all problems, lots of prayer, but also listening to all parties involved. While many people had very strong opinions, almost all people were truly kind and understanding that this was a very difficult decision no matter what was decided. I think of my wife and mother in the classroom, but also think of my children daily in all my decisions. We have a very strong board team and senior administration that has had full transparency with each other.  
〉The theme for the month is Navigating to Success. What do you think has made the Arlington ISD a success?
A unified board and district leadership team. Over the years we have challenged the status quo and made sure we are a proactive and innovative district. Arlington ISD has the full support of the community and with the buy-in from staff, students, parents and the community we have put together very aggressive strategic plans. Being very intentional about the path has led to our success. It is easy to get distracted but keeping our focus on student achievement and best needs for our students and staff is what has pushed us to being a success.
〉How have you seen Arlington ISD students rise to the challenges presented to them over the last year?
Not only students, but staff, parents and the community. It is amazing during these scary times for all that the general good in people has shown through. Knowing that at any time we all have to be flexible in all decisions and be willing to change in a moment's notice. Our district is very large and it is not easy to be nimble, but I credit the students for showing the entire community that the goal is still the same, it just may look much different than anyone planned.
Learn more about our Board of Trustees.