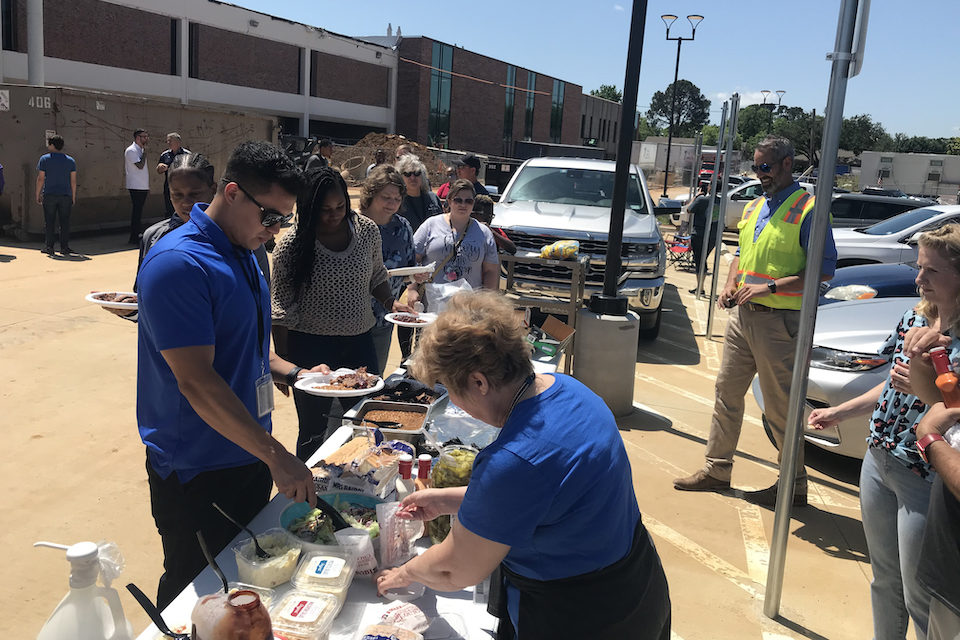 A massive construction project months ahead of schedule is practically unheard of. But at Gunn Junior High, where additions and renovations are turning the school into the district's first fine arts/dual language junior high academy, months ahead of schedule is actually the project's current status. It's thanks to a strong partnership among Gunn and Arlington ISD's team with the architect, Stantec, and the construction manager, Pogue Construction.
Pizza and Brisket
The partnership is so strong, it even tastes good. As the school year wrapped up, Stantec and Pogue jumped in to make sure the year finished right for students and teachers, which means lots of good food. Pogue took care of the students and Stantec handled the staff.
After the end-of-year awards ceremony in May for the seventh- and eighth-grade students, Pogue sponsored a reception and bought pizza for all the students.
"They purchased so much pizza that we were able to send boxes home with students," said Gunn assistant principal Geovany Garcia.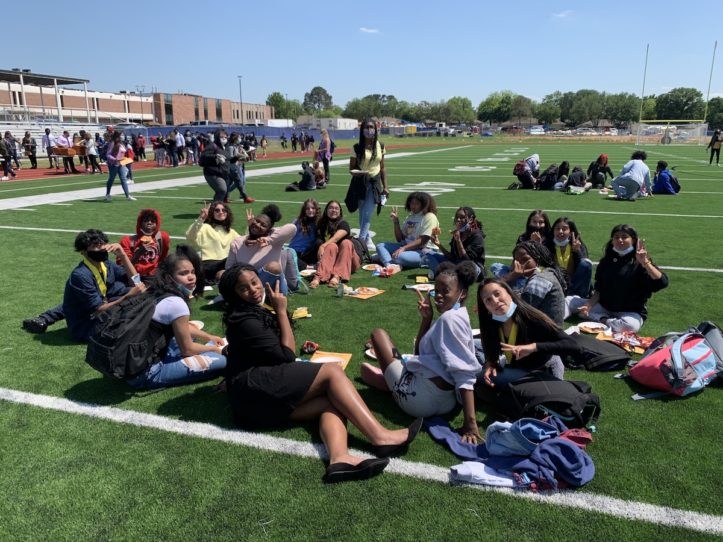 "A great plan only works if everyone involved does their part," said Jason Davis, Pogue's project manager for the project. "The students at Gunn most definitely did their part this year! They have been amazing and executed the plan that was laid out to them by Principal Matt Varnell and his staff flawlessly. We had several challenges at Gunn this year and the students handled all of them in stride and Pogue wanted to say thank you by giving them a pizza party!"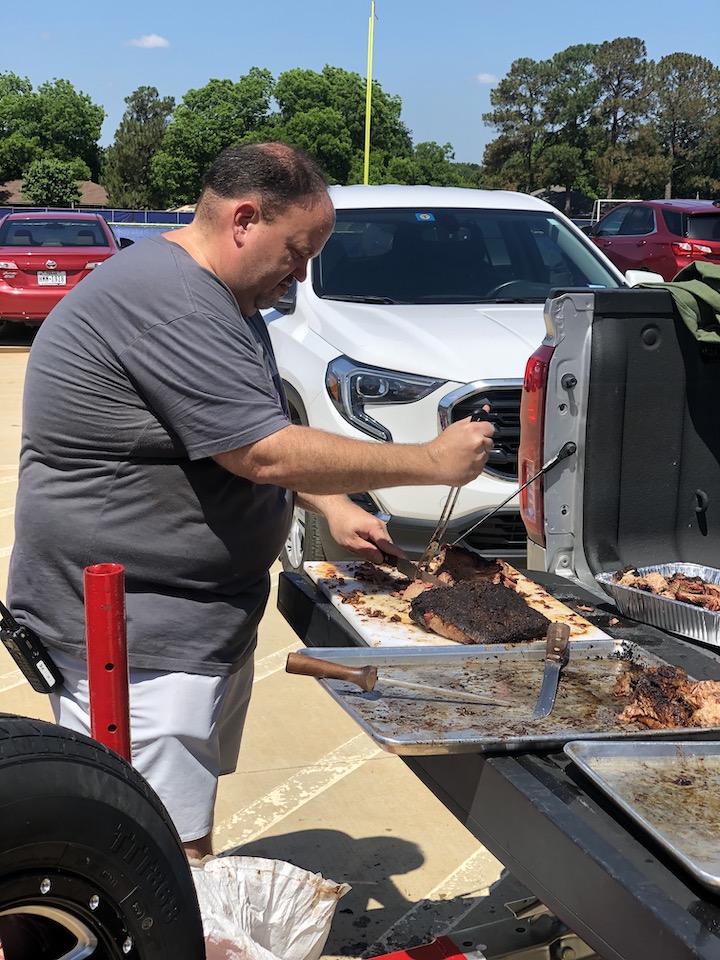 Then, once school was out, Stantec sponsored a cookout and bought all the meat to honor Gunn's teachers and staff. Gunn Principal Dr. Matt Varnell took to the grill and made sure the brisket turned out just right.
"An incredibly complex project like Gunn would not be this successful without the unwavering support and resilience of the teachers and staff," said Brett Holzle, Stantec's principal architect for the project. "Given the complexities of COVID over the past year, how could we not support these wonderful folks?! This great AISD, Gunn, Pogue and Stantec team embodies one of our guiding principles that 'We Are Better Together'."
Better Together
Holzle is now a veteran on Arlington ISD projects. He also designed the renovations that turned Corey Elementary into Corey Academy of Fine Arts and Dual Language back in the early stages of the 2014 Bond program. Varnell was Corey's principal then, and Pogue managed the construction. That history together has helped form the partnership that is now so successful at Gunn.
"When you're doing a remodel, you're going to be in each other's way," said Varnell. "We understand we have to work together."
A "remodel" is a bit of an understatement. The years-long project, funded by the 2019 Bond, includes three additions. The largest addition – all classrooms – is on the south end of the building. The second addition, which is enclosing what used to be open space between the existing building and the gym/cafeteria building, will house an all-new cafeteria (the old cafeteria was demolished), a kitchen expansion and a media center. The third addition, on the north end of the building, will house new locker rooms. Plus, the existing building is getting completely renovated.
A project like this has lots of moving parts and requires a lot of flexibility. The key to making it successful has been constant communication, well-executed plans and a consistent commitment to student safety first.
"Even without COVID and Snowmageddon, it's been a tricky year," Varnell said about the constant juggling required on a campus with both school and construction going on.
"They've had to make concessions and adjustments around our schedule and activities," Varnell said about Pogue and Stantec, "and we've made adjustments to help them be efficient and avoid work pauses."
Varnell is a consistent presence in the weekly construction meetings with the district, Stantec and Pogue, and stays in constant communication with the project superintendent.
"The Gunn team has been just that – a great team," Davis said. "Dr. Varnell has interjected himself into this process in a way that has had everyone's goals in mind. We all want to get this project done in the most efficient and safe manner with the least amount of inconvenience possible to the students. Dr. Varnell, Stantec and Pogue have worked extremely well together laying out a plan that did just that."
Project Status
The result is a project that is months ahead of schedule. While there are many factors that impact a project's timeline, the strong partnership and effort to always work together is a big reason why the classroom addition and new cafeteria are now scheduled to be ready in time for school to start in the fall, and the new library media center is not far behind.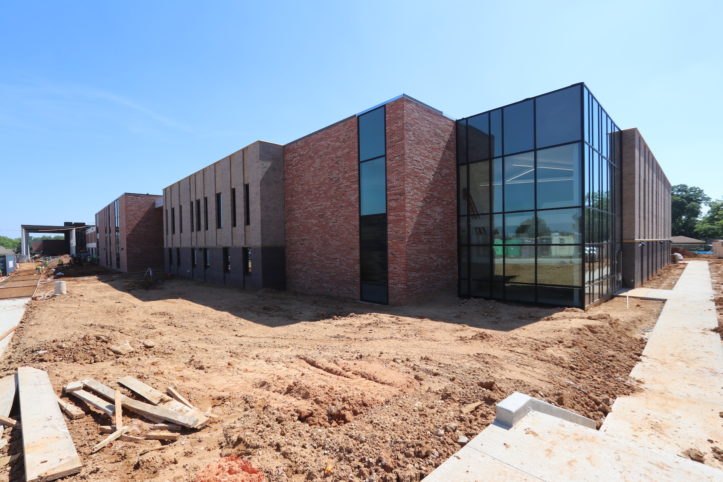 See more construction photos from this week.
Gunn's new turf athletic field is also complete, the new parking lots are all paved, and the new retention pond is done.
While much progress has been made since construction kicked off just after the bond passed in November 2019, there is still a lot of work to be done. Construction will continue throughout the summer and into next school year and is scheduled to wrap up in 2022.