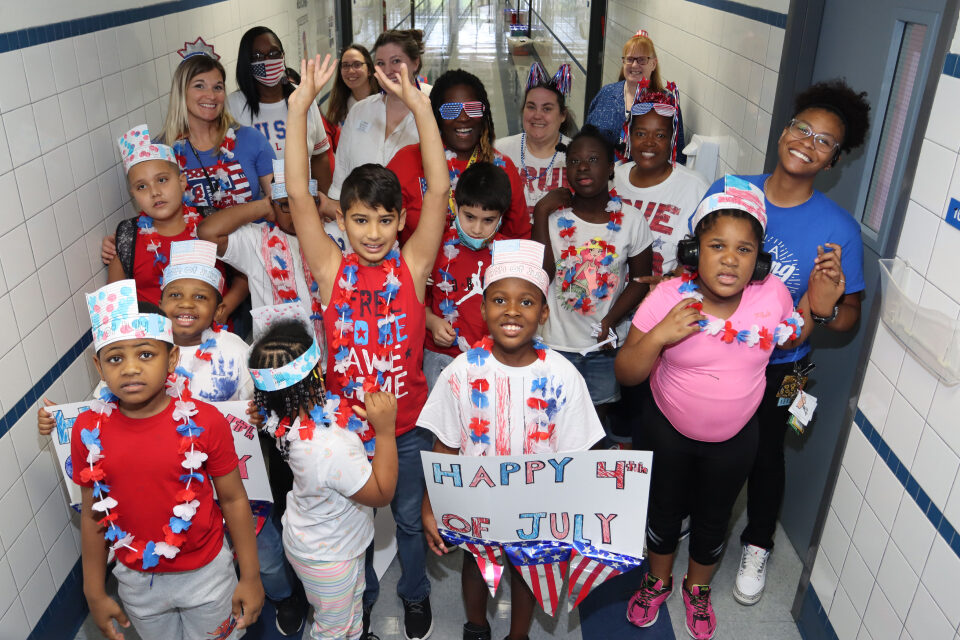 Independence Day
Summertime is known for smoky BBQ and festive activities for Independence Day, and Arlington ISD students are showing us how to celebrate. From Williams Elementary School to the Agricultural Science Center, students beamed with excitement heading into the holiday weekend.
At Williams, the school was painted red, white and blue. Well, the building wasn't literally painted, but kids showed their pride with festive outfits, balloons and flags. Each summer learning class even made large signs to show their spirit.
For one group, the occasion was extra special. Every year, the special education department organizes a parade for students with special needs. This year, Williams was the host, and the kids lit up like fireworks as they walked the halls with handmade posters and streamers.
"This is for the kids," said Shayla Chapman, Gunn Junior High teacher. "It means a lot for them to stay in the routine of going to school over the summer, which makes it easier to adjust when starting the next school year. We try to make learning fun each day, and the parade is a great way for students to shine."
On the other side of town, Future Farmers of America (FFA) chapter members were gearing up to participate in the Arlington Independence Day Parade in downtown Arlington on Monday, July 4.
Students and club sponsors gathered at the Agricultural Center to decorate the trailer with flags, pennants, pom poms and all the Independence Day decorations you can think of. Although the parade celebrates the country's independence, the club is glad to shed some light on what they're doing in the district.
"This organization is giving kids the opportunity to learn about where their food comes from," said Kyle Durr, FFA advisor and Arlington High School alum. "We focus on leadership skills and developing our students so they're prepared for life after high school. Since a lot of people don't know what FFA is, I love being able to advocate for it and tell people who we are and what we do."
FFA is the largest student-run organization in the nation. That's something certainly worth celebrating.
"FFA isn't just farms and animals," said Grace Ressl, Arlington High School senior and FFA chapter president. "People don't realize you deal with agriculture on an everyday basis when it comes to your food, plants and the environment. The club encompasses agriculture, but it prepares us for life, and I'm glad our chapter will get a chance to be recognized in the parade."
The parade begins at 9 a.m., but there's plenty of family-friendly activities planned throughout the day. For more information on the parade and ways to celebrate in Arlington, check out the official website.