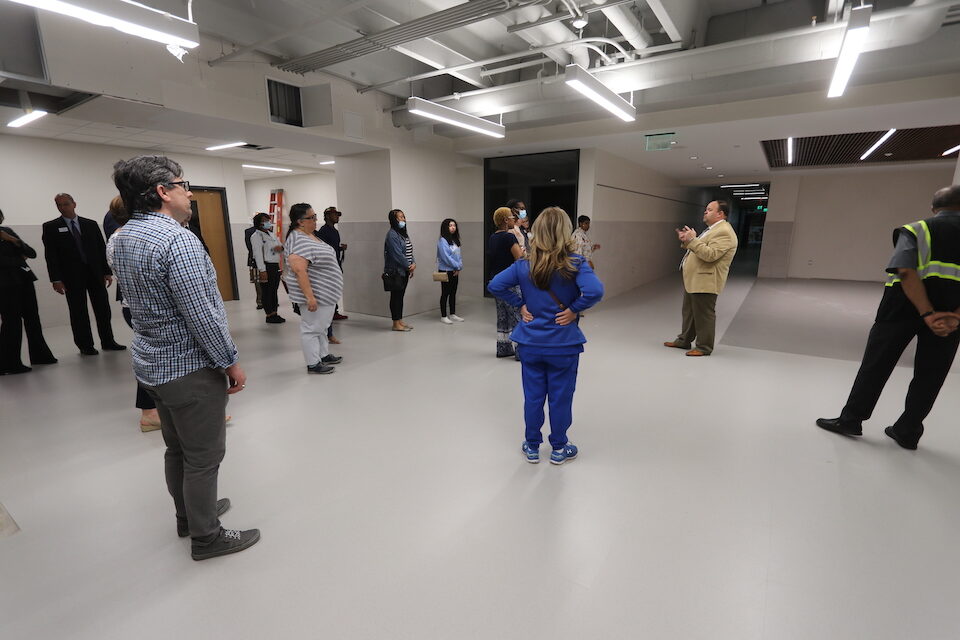 Arlington ISD's Citizens Bond Oversight Committee got to see the 2019 Bond in action this week. The oversight committee held its final meeting of the school year at Gunn Junior High and Fine Arts and Dual Language Academy.
Before starting work on the CBOC's annual report to the Board of Trustees, the committee members received a tour of the Gunn campus, home to one of the biggest 2019 Bond projects and the first to start construction after the bond passed.
Gunn Principal Dr. Matt Varnell led the committee through the building, which looks nothing like it did just two years ago. The campus has been completely transformed with multiple additions and extensive renovations throughout the original building to accommodate the district's new fine arts and dual language academy while still hosting seventh and eighth graders zoned for Gunn. (Learn more about Gunn.)
"We built this building around what we want to accomplish as a school," Varnell said. "The instructional goals were key to determining what kinds of spaces the building needed." 
While Varnell pointed out all the fine arts spaces – like the dance studio and black box theater – the collaboration spaces and the still-under-construction fab lab, he focused on the ideas behind all the spaces.
"Finding connections across disciplines makes learning stronger," Varnell said. "When students can connect their academics and the arts, students' understanding is deeper, and the learning lasts longer. That's the idea behind arts integration. Finding authentic connections between the arts and non-arts create neural networks. We're trying to make learning as relevant, meaningful and as individualized as we can." 
It's about meeting each student where they are and inspiring them to learn and build on their personal strengths.
"The question we ask is, 'How are they smart?'" Varnell said. "Finding the way that a kid is smart is the key to their success."
That means providing a diversity of learning opportunities with facilities to match so every student will be inspired to learn and grow. And that goes for both the students in the academy and the seventh and eighth graders in the traditional Gunn junior high program.
The long construction project at Gunn is nearing the end and is several months ahead of schedule. The construction manager expects to finish this summer.
See photos of the Gunn transformation.
BACK TO WORK
Following the tour, the CBOC reconvened in Gunn's new cafetorium to begin working on its annual report to the Board of Trustees
The CBOC's task is to follow the district's bond program progress and report its findings and recommendations to the Arlington ISD Board of Trustees (read the CBOC's charge). The oversight committee meets on a quarterly basis to receive updates on implementation progress of the bond and then develops a report. The committee chair will present this year's report to the Board of Trustees at its June meeting.