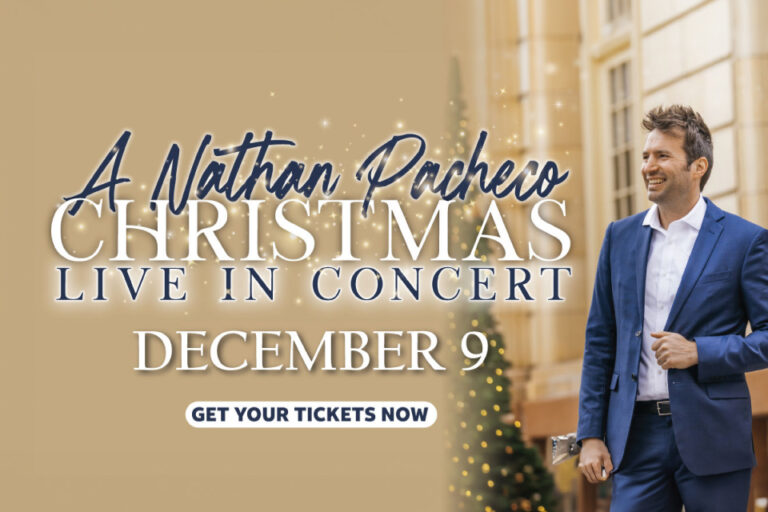 Pacheco will sing favorites, classics and originals
The holidays are almost here! Only 47 days until Christmas, and 29 until the very first collaboration between a celebrity artist and Arlington ISD students.
That's right, Arlington ISD will be performing alongside national recording artist Nathan Pacheco on his Christmas Tour.
Pacheco will be coming right here to the Arlington ISD Dr. Marcelo Cavazos Center for Visual and Performing Arts on Saturday, Dec. 9, at 7:30 p.m. The event will take place in the Robert G. Copeland Concert Hall.
"We are all about unique educational experiences that can be offered at the CVPA," said CVPA director Christopher Bryant. "This event is an amazing opportunity for our kids."
Pacheco is one of the greatest tenor voices of his generation and has performed all over the world. Students are set to be his opening act and special guests during his performance.
"The fact that our students have the chance to be a part of something like this before they graduate is just another example of the investment our fine arts department and Arlington ISD have in the lives of our kids," Bryant said.
The opening act for Pacheco will be the Martin High School Chamber Singers. The group goes on at 7:30 p.m. But that's not the end of their night.
The singers will also participate in the closing song by Pacheco, whose performance will provide an unforgettable night of Christmas favorites, original music and lots of classics.
"We believe that they can be the best in any professional and career path they choose to pursue. Providing moments like this where they can see this belief in action helps motivate them even more," Bryant said.
It'll be an exciting way to kick off the holiday season in the Arlington ISD community! You won't want to miss it.
Grab your tickets here.