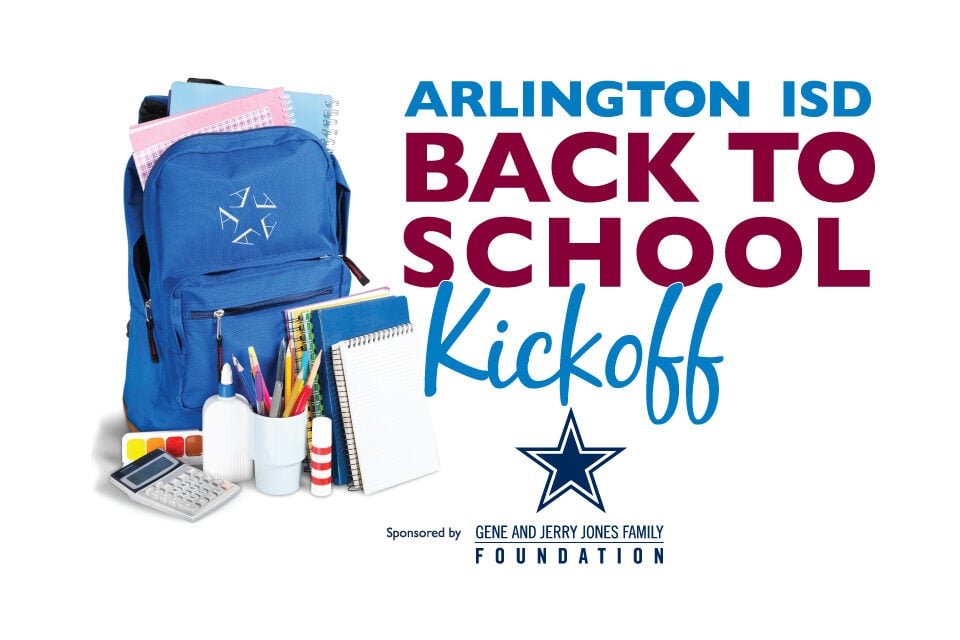 Now is your chance to put a backpack in the hands of Arlington ISD students who can use the support.
Back to School Kickoff
For the first time, the annual Arlington ISD Back to School Kickoff page has a link where you can contribute money to help cover the cost of a backpack filled with school supplies for Arlington ISD students this fall.
Every $20 contributed covers the cost of one backpack. The annual cost of the event is around $200,000. The district has sponsors to help cover the costs, and contributing a backpack is just another way to help support the event. If you would like to contribute, you can do that here.
The Back to School Kickoff is slated for Saturday, Aug. 6, at AT&T Stadium from 8 a.m. to 11 a.m. The district will distribute 10,000 backpacks for students that day as the kickoff returns to an in-person format.
About our kickoff sponsors
"Our sponsors and supporters have been great partners since we started," said Aaron Perales, the Arlington ISD executive director of equity, engagement and access. "We know there are people who want to help but can't on a larger sponsorship level like the Gene and Jerry Jones Foundation, our biggest sponsor. This allows individuals to share what they can and know exactly where their support is going. It's going to help a student be ready for the school year."
In addition to the backpacks, the kickoff features a resource fair and access to vision and dental screenings, information on immunizations and more.
The kickoff is also looking for volunteers to help at the event. If you would like to sign up to volunteer, you can do that here. You can still register for a spot to receive a backpack here.