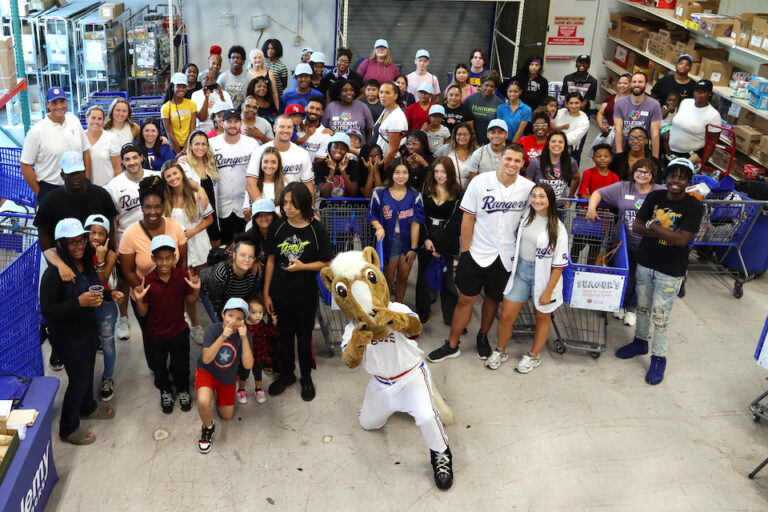 Seager helps students in Families in Transition program
Last Friday, Texas Rangers shortstop Corey Seager thrilled the crowd at Globe Life Field by crushing his 26th home run of the season. The three-time All-Star has battled hamstring and thumb injuries throughout the season, but his recent return to the lineup couldn't have come at a better time. The Rangers kicked off the month of September amidst a playoff push with a nine-game homestand.
Despite the timely dinger, Seager's most important effort while back in town might not have taken place inside the stadium. Saturday, the 29-year-old inspired 50 Arlington ISD students by treating them to a back-to-school shopping spree at Academy Sports on the city's southwest side. 
Given $400 each to spend, the youths whipped in between aisles of the athletic store, filling up carts with sweatshirts, pants, shoes and more. Some even quipped that they were able to "purchase" brands that they had never been able to afford. Nike, Adidas, Under Armor, you name it.
It was almost a dream come true for the students, who are all in the Arlington ISD's Families in Transition (FIT) program run by the district's student outreach services department. The program aids students and their families who lack a fixed, regular and adequate nighttime residence. That includes families who are homeless or who live with others due to loss of housing or economic hardship. Or they may live in motels, cars, abandoned buildings or emergency or transitional housing.
Among the invitees was Seguin High School junior Kevin Villanueva, who is being raised by his aunt. Shopping at Academy for the first time, Villanueva spent time searching for Nike jackets and pants.
"It's a blessing … I go to church and I pray to God," Villanueva said, considering the spree to be a result of divine intervention. 
But he wasn't alone. Julianna Adegoke, a senior at Venture High School, said family issues led her to spend a lot of time taking care of herself. She felt "blessed" that she was able to stock up on sweaters and socks to prepare for the upcoming winter season. She grinned from ear-to-ear as a cashier checked out her items, which also included pairs of Nike shoes.
"I'll be honest, this is something that I didn't really expect. This is amazing," Adegoke said. "It is a dream."
A grand slam event
Heart-warming stories like these were exactly what Seager had in mind when he decided to host the event, which kicked off just before the Academy opened. When the families arrived, they were greeted at the door by student outreach services staff and Rangers' staff members. 
Inside the store's backroom, they dined on bagels, sandwiches and pastries before being offered a barrage of encouraging words. The students were also given powder blue Rangers' caps. The team's mascot "Captain" even cheered them on before they grabbed carts and hit the sales floor. 
Seager, who signed with the Rangers in December 2021, said he hoped the shopping spree would "give some kids some confidence" while on their way back to school. "And just to help them out any way that we can," Seager said, as he listened to some of the families' stories and enjoyed seeing their excitement about their new digs. 
Prior to arriving in Texas, Seager spent years with the Los Angeles Dodgers, with whom he won the 2020 World Series. Ironically, Seager was awarded that series' MVP trophy inside Globe Life Field. Amidst the COVID-19 pandemic, the World Series that year was held in the Rangers' ballpark in a semi-"bubble" environment.
On Saturday, Rangers' general manager Chris Young, his family and other Rangers' front office executives joined Seager. His teammates – Robbie Grossman, Josh Jung, Marcus Semien, Josh Smith – and their significant others also helped. The players posed for photos, and some even shopped for some of the FIT students who couldn't make it.
"From top to bottom, this is a group effort," Seager said. 
His wife, Mady Seager, chimed in. "We play in Arlington, and that is where a lot of our fans are at. So, it just felt important to give back to them, and give them what they needed to start school."
Stepping up to the plate
Student outreach services support specialist Daniel Reese said the FIT program supports about 2,500 families who meet the criteria for the McKinney-Vento Act. The federal law ensures all students the right to an education regardless of their living situation. Reese said whenever a donor reaches out to his department, his team immediately assesses the situations of all students who qualify for assistance. Such was the case with Seager's shopping spree. 
"The students that get those (documents) back to us were able to take advantage of this opportunity," Reese said. 
Unfortunately, not all students take them up on the services due to embarrassment about their circumstances.
"That's why it is so important for social workers to be on campus … so they can see a familiar, friendly face and be vulnerable to take that step, and say, 'I'm in need,'" Reese said.  
Tamiah Smith, a Martin High School senior, teared up while discussing how several of her peers who are in similar situations are too ashamed to reach out for help. She said she's benefited from the FIT program. Her guardian Antoinette Davenport – who has raised Smith since her parents divorced and moved away – accompanied her at the event. Both felt "blessed" that the teen was able to receive some shoes, jackets, socks and sweatpants from Academy for the first time. 
"I've been here to shop, but not for me. I always go with other people when they need something," said Smith, who hopes to major in accounting or economics in college next year. By the end of the spree, she said it gave her a "peace of mind."
Going the distance
Ashlee Scott, a sports fanatic, was thrilled that Academy was the store selected for the shopping spree. Scott invited her family friend, Lamar High School senior Kahliya Graham, to live with her after moving from Missouri to Texas so that she could successfully repeat her final year. 
Kahliya needed a new start after enduring challenging family issues while back in Missouri. Getting fresh gear such as hoodies, pants and shoes to kick off her school year made it even better.
"It was really nice. I hadn't expected anything like this to happen, ever," Graham said.
"It was a fun experience," Scott added. "I'm glad that she was able to do this. I'm thankful for her social worker for trying to help her out because it has been a transition. We're still adjusting. But it is working out for the best."
Ashley Razo, regional marketing specialist for Academy, was elated to see the smiles on the faces of students like Graham.
"The opportunity for us to be a small part of this event is exciting," Razo said. "We're just really grateful that the Rangers thought of the Academy when they wanted a place (for the students) to shop," Razo said.