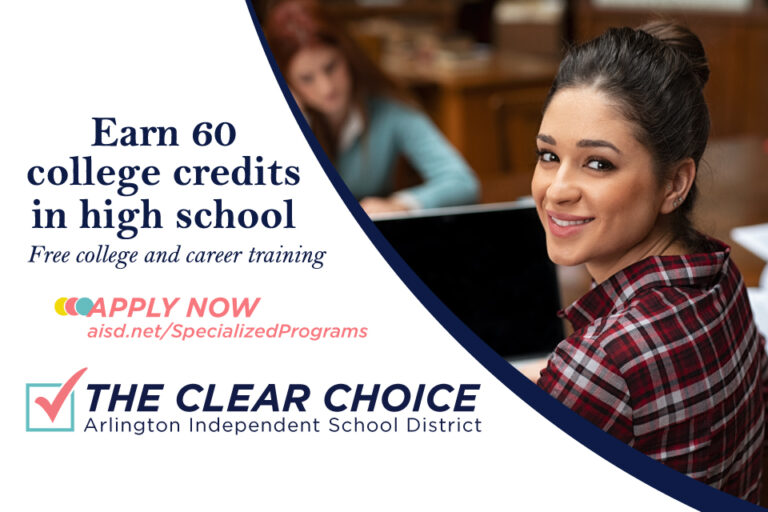 Apply now for an early college high school
You know college is going to be expensive for your kids. But do you have any idea how expensive?
The average cost for a student who lives on campus at the University of North Texas is $27,937 – per year!
That's nothing if you're aiming for Texas Christian University. The Horned Frogs charge $57,130 per year – FOR TUITION ALONE. Want to live on campus? They estimate one year will cost $72,820.
Of course, if you stay at home, it'll be less expensive. Less, that is, but still expensive. UT Arlington estimates tuition and fees at $12,208 for two semesters. But if you're going to live on campus, that shoots up to $29,256. Tarrant County College is your cheapest option at $69 per credit hour, but that doesn't include any fees, books, transportation, housing, etc.
But what if your child could complete two years of college for free while still in high school? That would save your family anywhere from about $5,000 to $145,000.
That's a real choice in the Arlington ISD at any of our six early college high schools. Each school offers students the opportunity to complete 60 hours of dual credit – or two years' worth of college classes. Many students even graduate with an associate degree before they graduate from high school.
While the financial savings these six schools offer is huge, that's not the biggest reason to choose one of them. The biggest reason is the exceptional education they offer – the preparation they give students for a successful future.
Need proof?
Take Arlington College and Career High School and Arlington Collegiate High School for example – early college high schools designed to enable students to complete high school and an associate degree at the same time. In the State of Texas, approximately 40% of students at early college high schools graduate with their diploma and an associate degree. In the Arlington ISD, more than 90% of our students achieve both.
Or consider the graduates themselves. Kruz Hernandez was part of the first graduating class from ACCHS last year and earned the highly competitive full-ride Gates Scholarship. He's now at the University of Texas majoring in neuroscience. And Yessenia Martin, the valedictorian from Arlington Collegiate last year, earned the Gates Scholarship, too, and chose UT Austin to study computer engineering.
The other four early college high schools don't have any graduates to brag about yet because those programs are newer and haven't had a senior class yet. They're all P-TECHs – Pathways in Technology Early College High Schools. Each school has an industry partner and offers students real-world experience in high-demand fields. Plus, all are located at traditional high schools, so students can participate in all the sports, fine arts and extracurriculars available at those schools.
If an early college high school sounds like the right choice for your eighth grader, the next step is to pick which one and apply. With six to choose from, there is an option for every student.
Here are your choices:
Arlington Collegiate High School
Arlington College and Career High School
P-TECH at Bowie High School (Health Science)
P-TECH at Lamar High School (Cybersecurity and Business)
P-TECH at Sam Houston High School (Logistics and Mechatronics)
P-TECH at Seguin High School (Engineering and Computer-aided Drafting and Design)
Learn more about each program here and apply by Jan. 17, 2024.